Despite criticism from fellow musician Billy Bragg that Taylor Swift had 'sold her soul to Google' by making her albums available on its new YouTube Music Key service, it has emerged that the star's back catalogue will not be on it.

With the first batch of invitations having been sent out for Music Key, early adopters are discovering that while they can play Swift's singles – those that have videos on YouTube – her full albums are not available on the new service.
Here's a comparison of what those users will see when they search for Taylor Swift compared to another major artist, Beyoncé: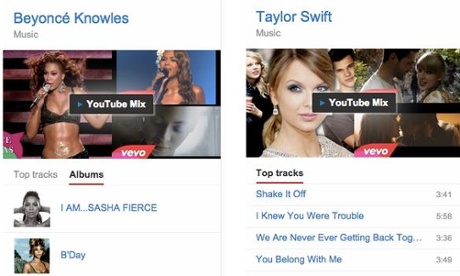 Note the "Albums" tab on Beyoncé's profile within YouTube Music Key, and the lack of one on Taylor Swift's profile. Clicking through to the former's albums pops up full-album playlists with a mixture of music videos and static artwork for non-single tracks.
One implication: Bragg's Facebook criticism of Swift for seeming to have done a deal with YouTube needs to be reassessed.
"She should just be honest with her fans and say 'sorry, but Sergey Brin gave me a huge amount of money to be the headline name on the marquee for the launch of You Tube Music Key and so I've sold my soul to Google'," wrote Bragg.
"If Ms Swift was truly concerned about perpetuating the perception that music has no value and should be free, she should be removing her material from You Tube, not cosying up to it."
Bragg has now published a new Facebook post apologising to Swift: "I now realise that I was mistaken in this assumption and wish to apologise to Ms Swift for questioning her motives," he wrote.
"The time will surely come when content creators have to band together to challenge deals done between rights holders and service providers, details of which are kept from artists and their representatives. If Ms Swift is going to lead that fight for transparency, she will have my full support."
More interesting, though, is why Bragg got the idea that Swift had done a deal with YouTube in the first place. His Facebook post linked to an Observer feature – mine – about Swift's current dispute with Spotify, which included this statement:
"Swift's albums were made available through Spotify's latest rival, Google's YouTube Music Key, which launched last week – despite it having the same free and paid tiers, and a similar hardline policy on labels not being able to restrict music to the latter."
At the time those words were written, they were correct: Swift's back catalogue – all her albums bar her latest one '1989' – were accessible through Music Key on Wednesday 12 November, when it was demonstrated to journalists in London.
Later that day, Google confirmed to the Guardian that the albums were available on Music Key, in response to a specific enquiry about Swift's music. Her label, Big Machine, has not responded to a similar question asking for clarification from its side.
It was a puzzling situation, as Swift and Big Machine had made it clear in public statements that her albums would not be available on free streaming music services: the reason for her back catalogue's recent removal from Spotify.

"I just don't agree with perpetuating the perception that music has no value and should be free," Swift told Yahoo in an interview. "We determined that her fan base is so in on her, let's pull everything off of Spotify, and any other service that doesn't offer a premium service," said Big Machine boss Scott Borchetta in a separate radio interview.
This week, YouTube confirmed to the Guardian that the albums are now not available on Music Key, and that the demonstration shown to journalists before launch was an internal-only version of the service.
Reading between the lines, Swift's albums were pulled in between those demos and the launch, although there must now be strong doubts that there was ever a licensing deal in place to have them available on Music Key in the first place.
At least she's not suing YouTube. The company may not be so lucky with music industry veteran Irving Azoff, whose Global Music Rights (GMR) firm is demanding that the company remove more than 20,000 tracks from Music Key by its roster of songwriters including Pharrell Williams and The Eagles.
GMR claims YouTube does not have the necessary licensing deals in place for the songs, and claims that if the company does not either strike deals or remove the tracks, it will be committing "wilful copyright infringement".
• YouTube Music Key takes on Spotify as streaming battle heats up