Price £14,295
MPG 58
Top speed 103mph
I have a confession to make. I've lied to a priest. Father Dominic recently sent me an email from his church in Italy, in a village near Cortona, asking for advice about a car. I imagined him tapping away in the crypt of the ancient chapel, a guttering candle throwing shadows across the stone floor, the organist practising next door, a wild boar piglet snuffling in the straw at his feet… Anyway, the padre was after a vehicle that was both rugged and reliable at coping with the dreadful rural roads yet small and tidy enough to squeeze along the hill town's medieval streets. I figured he'd also need something Italian and that Pope Francis would approve of. Bugatti's Veyron and Maserati's Ghibli were out on the grounds of frugality and celibacy. There seemed to be only one candidate: Fiat's Panda 4x4. The problem was that I'd never tested one. Could I really recommend a car I'd never driven – to a priest? I figured God would understand. Weeks later I received an ecstatic email from the padre. He loved it and now wanted me to recommend a car for his mother…
So I thought I'd better find out what Father Dom liked so much about the Fiat Panda 4x4. It first appeared in 1983. Back then, as the world's first small car to have all wheels driven, it was years ahead of its time. It shares the same boxy shape of the standard Panda, but the 4x4 is so much more than just a more agile Panda (if such a creature exists). It comes with steel bash plates to protect its delicate underside, chunky bumpers and high wheel arches to cope with its raised suspension, and a revolutionary electronic rear differential system that means it can roam wherever you want. Don't think of it as a weedy Land Rover – it's more a giant quad bike with a roof.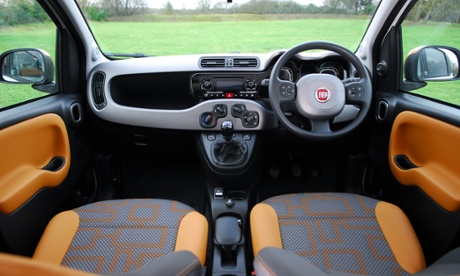 This model is the third generation of the car. It's as fun and funky as ever, but it now also has the quality, comfort and technology of a much more serious vehicle. It's hard to get your head around just how multi- talented it is: it seats five yet has a tiny road print; it's short and narrow yet has a high roof, so it feels roomy; its small engine is economical yet it's powerful enough to tow a caravan; it's built for rough tracks yet feels very at home on motorways.
Under the bonnet there's a choice of an 875cc TwinAir Turbo or a 1.3-litre MultiJet 2 turbo diesel. Both come with start-stop technology and an indicator which tells you when to change gear in order to achieve the best economy. The car comes with "Dualdrive" electric power steering with a City function which means at slow speeds the steering is much lighter. An option you might want to invest in is a low-speed collision- mitigation system usually found only in much bigger cars. This reads the road ahead and when it detects an obstacle it slams on the brakes automatically. If you don't think you'll be needing the four-wheel drive system, the Panda Trekking model is for you: it has the same engines and chunky looks but is 2WD and £1,500 cheaper.
Having spent a week with the Panda, I found it reliable when the going got tough, cheap to run and a lot cooler than you might guess… Everything you would hope to find in your local priest.
Motorhome madness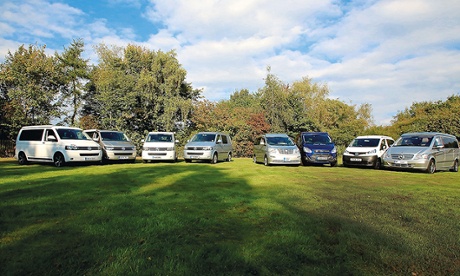 Earlier this summer I test drove the Wellhouse Ford Terrier SE and loved it. But I'm not the only one who has fallen for its charms. Which Motorhome, the UK's number one magazine for motorhome testing, has just completed an extensive group test of eight campervans, featuring four VW T5-based campervans and four key non-T5 alternatives. The VW T5 campervans featured were Bilbo's Space, CMC Reimo Trio Style White Line, Hillside Birchover and the Volkwagen California SE. The other campervans tested were the Auto-Sleeper Wave (based on Mercedes Vito), Hillside Dalbury Action (based on Nissan NV200), Wellhouse Alphard (based on Toyota Alphard) and Wellhouse Terrier SE (based on the Ford Transit Custom). The test team looked at campervans that gave almost equal priority to everyday use as they do to living outdoors. They were looking for compact dimensions and the ability to get under car park height barriers, plus minimal camping facilities including a small cooker, fresh water supply, beds and storage. The winner? Wellhouse's Ford Terrier SE, of course. Editor, Peter Vaughan said: "The VW T5 has dominated this sector to the degree that many customers simply say that they are looking for a Volkswagen camper. So for the Ford-based Terrier to come out on top speaks volumes about how good this campervan is." Which Motorhome is available from all good newsagents on the second Thursday of every month. For more information, go to which-motorhome.co.uk. Digital issues and subscriptions are available at pocketmags.com.
Email Martin at martin.love@observer.co.uk or visit theguardian.com/profile/martinlove for all his reviews in one place. Follow Martin on Twitter @MartinLove166