Why, Sonos! What has happened to you? You've not only got a spiffy new logo that's somehow reminiscent of a summer of love, but you've also sold a million units, and you've introduced a new integrated player, the PLAY:3, which for its size (about the same as a farmhouse loaf) produces a fantastic sound.
But most of all, Sonos, you've lowered your prices. You're becoming affordable. This is good news for anyone who hankers after high-quality music delivered wirelessly to their room, but couldn't really justify the previous prices.
Longtime readers will recall that Sonos – which uses its own mesh Wi-Fi networks to connect its devices; only one has to be connected to your router - was notable for quality, and prices.
But as it has become more popular, and as the cost of the chips has fallen, so it has brought down prices. So you can, if you want, just buy a PLAY:3 (yours for £259), plug it into your router, and control it using the free app for Windows, Mac (compatible with Lion and earlier), iOS or Android.
Alternatively, you can buy the device that plugs into the router – called the BRIDGE (formerly ZoneBridge), which sets up the mesh network – for just £39 (used to be £79) and put the PLAY:3 or its bigger brother, the PLAY:5, somewhere else in the house. Control as before, or use the nifty iPod Touch-like controller, the Sonos Control (£349 – the price drop hasn't quite reached there yet).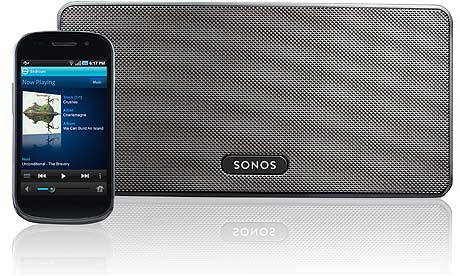 Yes, yes, you could just plug your computer into your amplifier and speakers. It's not very satisfactory, though, and what Sonos brings to the party is the simplicity of setup (literally, a couple of button presses gets you all networked up) and that you can play different songs or streams in different places, or "pair" them together, create separate playlists for the "zones", and control it all from one or more places. It's streaming music for the rest of us.
Included free services are radio streaming (you can get all the BBC ones) and Last.fm streaming. You can also connect it to paid-for accounts with Spotify, Napster and Deezer.
So, the PLAY:3. (Notice how Sonos is leaving gaps in its numbering: plenty of room there for a PLAY:1 and PLAY:2, as well as a PLAY:4 in the middle.) As mentioned above, it's about the size of a farmhouse loaf, and available in greyish-black or white. There's an Ethernet port and a power socket on the back, and on the top a small volume up/down button, a white LED and a mute button.
For specification freaks, this is surely galling. No USB ports? No line-in? Arguably those latter two could be useful – or even essential – for those who DEMAND to be able to play anything that they have on any medium. Music stored on a USB drive? Yes, but Sonos doesn't do that. Audio from a DVD player? Yes, but the PLAY:3 doesn't do that. (There are other Sonos products – the ZonePlayer series – which offer line-in.) The Sonos system will however play music off a networked drive, so you could attach the USB stick there.
Get the PLAY:3 into a system, and the sound really is impressive. The bass comes through distinctly, as does the treble. The three-speaker system inside does a very impressive job: the sound doesn't have the "boxy" quality that so many small single-unit speakers can give. Next to the pair of Bose Companion 2 Series II speakers (my own, costing £100; they're powered speakers which together are about the same size as the PLAY:3) that I compared it against, the Sonos has a much more level reproduction – no obvious boominess in the mid-range, which is where lots of such systems fail. Yet the treble sound is clear too. And you can ramp up the sound without getting any serious distortion.
Overall? A winner. And the general downward trend in prices for Sonos kit has to be welcome. It's taken since 2002 to get to the first million, but it might be rather less time to get to the second one.
PLAY:3: £259 from Amazon
PLAY:5 (not reviewed here): £343 from Amazon
ZoneBridge: £39 from Amazon
More details: Sonos.com