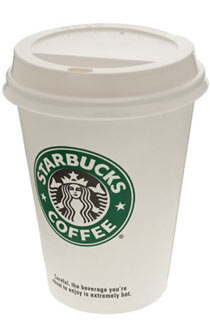 Forgive Jonathan Stark if he seems a bit caffeinated. In a unique crowd-sharing experiment, this new father from Rhode Island in the US has persuaded more than 1,000 strangers to contribute to the balance of his Starbucks card.
The idea behind Stark's card is simple: if you don't have the money to buy a coffee, but you do have a smartphone, you can download his Starbucks card barcode and make a purchase. Once in a while, Stark hopes you'll give something back – and so far more than 1,000 strangers have ploughed over $11,000 (£6,760) back into the pot.
"Get a coffee, give a coffee" started with Stark, a mobile app consultant, playing around with the Starbucks app. "I thought it hilarious that I managed to buy a coffee with a picture," he says. "I went to my blog, put $20 on the card, uploaded the barcode image, and told everyone that the next person at Starbucks would get a free coffee."
A surprising number of people took him up on the offer – and after a while he noticed the balance had gone up. "That freaked me out as I thought someone had hacked my account," Stark remembers. "It turned that one of the guys who'd read my original post had discovered that you could anonymously put money on anyone's card as long as you had the number. That's when the lightbulb went on. I set up the website, the Twitter feed and in the last week it has gone from 100 followers to over 13,000. It's overwhelming."
Starbucks is working with him to find the best way to use his card benefits, which allow him a free drink after every 15 purchases. "Initially I thought the free coffee would be added to the card but that's not the case," he explains. "They send you a postcard. At one point I had over 1,000 coffees owed so the plan is to wait until it dies down a bit, take a month of transactions, work out what the money equivalent is – it could be $10,000 or more – and give it to charity."