Governments across south-east Asia are following China's authoritarian censorship of the digital world to keep political dissent in check, the Guardian can reveal.
Vietnam, Burma, Thailand, Cambodia and the Philippines have all moved or are moving towards monitoring internet use, blocking international sites regarded as critical and ruthlessly silencing web dissidents.
• In Vietnam, the Communist party wants to be your "friend" on the state-run version of Facebook, provided you are willing to share all personal details.
• In Burma, political unrest can be silenced by cutting off the country from the internet.
• In Thailand, website moderators can face decades in jail for a posted comment they did not even write, if the government deems it injurious tothe monarchy.
While much is made of China's authoritarian attitudetowards internet access, a majority of south-east Asian governments have similar controls and , rather than relaxing restrictions on internet use, many are moving towards tighter regulation.
The Guardian has spoken to five leading bloggers across the region about the present restrictions they face and future fears.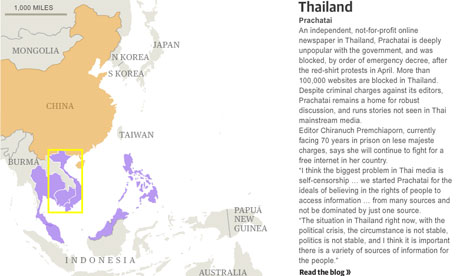 Raymond Palatino, a Filipino MP and editor with Global Voices, says governments, in addition to crudely blocking websites, are starting to use arguments of morality and decency to censor access to information and quash criticism.
"There is direct censorship to block political dissent. You have repressive laws in Myanmar [Burma], in Vietnam, in Singapore. In fact I think Vietnam is catching up with China in terms of building strong firewalls to prevent dissidents from accessing critical content on the internet.
"But we also see governments using the excuse of protecting the public morality in order to censor internet content. Governments use the excuse of censoring pornography as a safe argument to make censorship acceptable to the public."
More than a decade ago, George W Bush asked people to "imagine if the internet took hold in China. Imagine how freedom would spread". But rather than emerging as a catalyst for democracy, the internet has become another way to to stifle dissent.
Palatino sees governments using the internet for their own selfish advantage. "They are learning how to prevent people for using the internet to criticise government. Instead of being a potent tool for empowering the people, the internet will be in the hands of an authoritative, repressive government."
With a population of more than 600 million, south-east Asia has about 123 million internet users. But penetration ratesvary from 0.2% in Burma and Timor-Leste to more than 80% in Brunei Darussalam and 77% in Singapore. But south-east Asian use is still dwarfed by China's384 million users.
In the Philippines, cybercrime legislation before the parliament would outlaw anything deemed obscene or indecent. Palatino says: "The laws are deliberately broad and vague so they can be used to shut down anything subversive."
Cambodia's government is seeking to monitor all internet use inside the country, by appointing the state-owned telephone company to operate the sole internet exchange.
Websites will be monitored to filter out pornography, officials say, but opponents say sites critical of the government are also likely to be blocked.
In Thailand, century-old lese-majesty legislation is combined with new computer-related crime laws, to mute criticism on the web.
Lese-majesty laws – defaming the monarchy - are imposed inconsistently in Thailand, but wielded often enough, and against defendants of sufficient profile, to stifle almost any discussion of the monarchy's role in a country riven by political factionalism. Chiranuch Premchiaporn, the editor of Thailand's English-language news website Prachatai.com, faces up to 70 years in jail for allowing the monarch to be insulted online.
The charges relate to five of 200 comments posted about an interview with a Thai man who was charged for refusing to stand for the anthem in a theatre.
Premchiaporn, known as Jiew, did not write the comments, and pulled them from the website but, according to police, allowed them to stay up ''longer than the appropriate period'', a period never defined by authorities before or since the charge.
Now on bail, the prospect of jail weighs heavily on her. "And it isn't just about 'Oh, how long I will have to spend in the cell', my whole life is uncertain. I cannot plan my life because of this legal charge, it makes everything hard."
Thailand's strict laws, and harsh punishments, have had a chilling effect on political discussion on webboards and blogs.
"I think the biggest problem in Thai media is self-censorship … but we started Prachatai for the ideals of believing in the rights of people to access information … from many sources and not be dominated by just one source," Jiew says.
Prachatai is blocked in Thailand, under order of the emergency decree after the red-shirt uprising of May. It is one of more than 100,000 websites blocked in the country. "We want to promote the rights of the people to speak up about their issues, not just only people who have a big name, or who are important in government."
In Vietnam, web-users can become "friends" with their communist government, joining the country's own version of Facebook. A trial version of go.vn was launched in May. A full version is expected online by the end of the year.
The functions are familiar to those versed in social networking. Users can update their status, post photos and links, and send messages back and forth.
There are news links, historical articles on founding father Ho Chi Minh and other revolutionary heroes, and members can also play state-approved network games (in one particularly violent example, players join a band of militants sworn to fight the spread of global capitalism).
The site is closely monitored by the government's security services, and while, for many, the attraction of the internet lies in its anonymity, to join go.vn users must submit their full names and state-issued identity numbers to the government.
The Vietnamese government says it expects to have 40 million members, half the country, in five years. Perhaps because web dissidents are dealt with so ruthlessly by the communist regime – four bloggers were recently jailed for 16 years for anti-government posts – five months on, take-up of go.vn is a bare few thousand.
Burma has one of the poorest records on internet freedom in the region.
All .mm sites and email addresses are closely monitored by the ruling military junta, and international sites banned, but the tiny internet cafes that dot the former capital, Yangon, are adept at bypassing the government's firewalls, using proxy servers to evade the censors and access banned sites.
Outfoxed on technology, the junta responds during times of stress by simply unplugging the internet, especially to stop unwelcome news getting out of the country.
At the height of the monk-led Saffron Revolution in 2007, the junta's generals shut down access completely, later claiming a break in an underwater cable had cut the country off.
With Burma heading towards its first elections in a generation early next month, and the anticipated release of political prisoner Aung San Suu Kyi a week later, there is an expectation the web blackout may be repeated.