The 50 best comedians of the 21st century
From apocalyptic standup Frankie Boyle to the many hilarious faces of Tina Fey, Steve Coogan, Sharon Horgan and Kristen Wiig, we present the funniest people of the era
Hannah J Davies, Paul Fleckney, Harriet Gibsone, Brian Logan and Stuart Heritage
18, Sep, 2019 @2:45 PM
From Beyond the Fringe to Nanette: five shows that changed the face of comedy
With the Edinburgh fringe in full flow, here are the five standup sets that catapulted their creators to fame
Brian Logan
21, Aug, 2018 @9:00 AM
Tears of clowns: who are the saddest of TV's sad comedians?
Television shows built around standup comics have taken a turn for the despairing. Louis CK has a lot to answer for
Simon Miraudo
25, Aug, 2017 @6:58 AM
Tig Notaro review: a delightful return to pre-tragedy form
The comedian has moved beyond her breast cancer diagnosis to more easygoing material, and she's better at it than ever
Elise Czajkowski
06, Nov, 2016 @7:27 PM
Their lives are a mess, but TV's new heroines make us all feel better
A new wave of shows are being told through a woman's perspective, from sharp-tongued Fleabag to the darkly honest One Mississippi
Sarah Hughes
10, Sep, 2016 @11:04 PM
One Mississippi: Tig Notaro's cancer comedy embraces triumph and tragedy
Notaro is the latest comedian to take her troubles and turn them into prestige dramedy. Unlike some recent attempts, she rises to the challenge
Charlie Lyne
10, Sep, 2016 @8:00 AM
One Mississippi: Tig Notaro bares her scars in intensely dark comedy
The comedian draws on her experience of cancer, family trauma and death to create a sitcom some viewers may find hard to take
Brian Moylan
09, Sep, 2016 @2:56 PM
One Mississippi: Tig Notaro has created a truly miserable comedy. It's wonderful
The standup has turned a very bad year – in which her mum died, she almost died and she was diagnosed with breast cancer – into breathtakingly tender TV
Stuart Heritage
09, Sep, 2016 @11:00 AM
Best TV of the week: Atlanta, One Mississippi and Oprah's latest drama
A hip-hop comedy, a sugar-cane family epic, a bitcoin thriller. This is a busy and diverse week
Brian Moylan
05, Sep, 2016 @7:58 PM
Catch-up and download: from One Mississippi to Poldark
Tig Notaro's sad-com manages to be bleak but funny, while Simpsons star Harry Shearer's podcast offers up a ramble through hot-button issues
Phil Harrison
03, Sep, 2016 @8:00 AM
Tig Notaro: 'People were wanting to take care of me, just to look good'
She was a little-known comedian until a catalogue of tragedies changed her life. The cult favourite talks sellout shows, being let down by famous friends and life after breasts
Hadley Freeman
11, Jun, 2016 @11:00 AM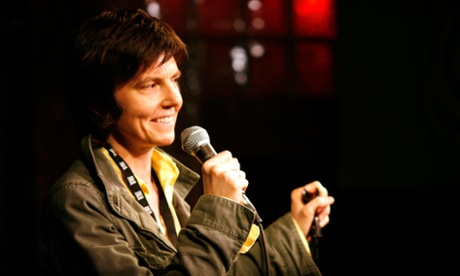 Send in the frowns: is this the age of the serious standup?
A New York Times article suggests that 'public truth-telling has become the responsibility of comedians'. For evidence, look to Tig Notaro, Bridget Christie and Shazia Mirza
Brian Logan
05, Oct, 2015 @2:09 PM