Simon Brodkin review – the private life of prankster Lee Nelson
In his first gig as 'himself', the comic best known as a cheeky-chappy explores male emotional inarticulacy and antisemitism
Brian Logan
03, Aug, 2019 @2:00 PM
Simon Brodkin: 'I ate some off tuna and ended up in an ambulance'
The prankster character comic behind Lee Nelson dishes the dirt on the things that make him laugh the most
Rachel Aroesti
11, Aug, 2017 @12:00 PM
Is comedy infectious to doctors?
A white coat is often a sign of funny bones, as periodic outbreaks of medically trained comedians demonstrate
Brian Logan
08, Feb, 2017 @4:12 PM
Prankster in chief: why I threw swastika golfballs at Donald Trump
He stage-invaded Kanye, gave Blatter a cash shower, and got cuffed for riling Trump. As Simon Brodkin gets his own TV show, he reveals why Scottish police are the best – and Swiss officers the worst
Stuart Jeffries
01, Feb, 2017 @8:00 AM
Channel 4 to run week of programmes on fake news
The programmes, including documentaries, news investigations and panel shows, are scheduled for February
Jasper Jackson
19, Jan, 2017 @11:53 AM
Masai Graham's organ donor gag is Edinburgh fringe's funniest joke
Award goes to care worker who says winning gag isn't his best – 'only clean ones get on the list' – but he's not complaining
Mark Brown Arts correspondent
22, Aug, 2016 @11:01 PM
Readers suggest the 10 best stage invasions
Last week we brought you our 10 best stage invasions. Here, we present your thoughts on the gatecrashers who should have made the list
Linsey McFadden
25, Feb, 2016 @1:33 PM
The 10 best stage invasions
Rather than spoiling an event, a stage invader can often make it truly historic. Here are 10 of the most memorable
Michael Hogan
19, Feb, 2016 @12:00 PM
The comedy trends of 2015: nostalgia, oversharing and new-school mimes
From newfound political awareness to the resurgence of mime, 2015's comedy landscape was bumpy but invigorating
Brian Logan
21, Dec, 2015 @12:25 PM
Should Dapper Laughs be forgiven?
The lad's comic Daniel O'Reilly killed his on-stage persona after a sexism storm last year. But Dapper Laughs says he's changed. So can he prove he's a feminist – or even funny?
Brian Logan
23, Nov, 2015 @6:02 PM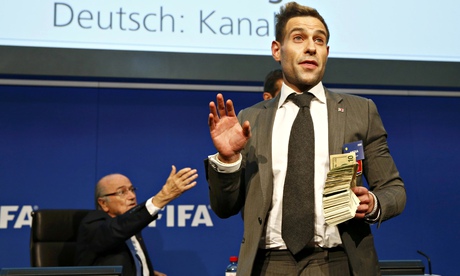 Comedian Simon Brodkin charged by police over Sepp Blatter cash stunt
Swiss authorities have announced that comedian Simon Brodkin will be charged after he interrupted a Fifa press conference on Monday
Daniel Smith
22, Jul, 2015 @3:27 PM
Glastonbury 2015: Sunday daytime as it happened – Lionel Richie, Patti Smith and the Dalai Lama
Did the sun come back for a brief Sunday moment? Patti Smith didn't need the Dalai Lama on stage to earn five stars, Lionel Richie warms everyone up, and Paloma Faith hits Instagram bigtime
Caspar Llewellyn Smith, Pamela Hutchinson and Gwilym Mumford
30, Jun, 2015 @9:11 AM