Denis Leary's No Cure for Cancer: still electrifying and obnoxious 25 years on
Cited as one of the all-time great standup sets, Leary's show both hasn't aged well and has never been more topical
Brian Logan
07, Feb, 2018 @10:56 AM
Louis CK: laughter ends as years of allegations dog comedy superstar
The fallout from CK's sexual misconduct accusations has begun, with HBO dropping his shows and colleagues condemning a man once hailed as a genius
Rory Carroll in Los Angeles
10, Nov, 2017 @12:15 PM
From The Americans to Drunk History: the best film and TV streaming in Australia this month
Eccentric artists, lethal weapons and drunk histories: we've scoured the local streaming services and picked out the best offerings
Lauren Carroll Harris
03, Feb, 2017 @9:36 PM
Hidden presents: 10 Christmas movies you might not have seen
From violent heist films to lo-fi indies, there's no need to rely on It's A Wonderful Life to get you in the festive mood
Scott Tobias
14, Dec, 2016 @1:30 PM
Rock'n'roll suicide: is TV's bromance with rock nostalgia finally over?
TV viewers have made their point – rock fantasy turned TV series are not worth watching – and it's time for delusional show creators to sober up
Megan Koester
19, Sep, 2016 @5:18 PM
'The Fat Jew': joke-stealing parasite or social media genius?
The comedian has been accused of nabbing other comics' jokes, but in the age of Instagram and Tumblr, is he just a product of his environment?
Elise Czajkowski
19, Aug, 2015 @5:41 PM
Jon Stewart confirms last guests before his Daily Show finale
The satirist revealed Amy Schumer, Denis Leary and Louis CK will join him in the lead up to his last show on 6 August
Lanre Bakare
31, Jul, 2015 @3:07 PM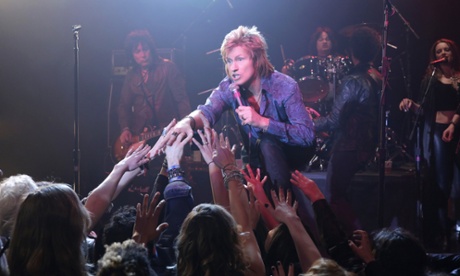 Sex&Drugs&Rock&Roll: TV show about a washed-up rocker is a played-out tune
Denis Leary's series for FX is big on romantic rock cliches, but the tunes are terrible and a musty air of self-righteousness neuters the thrills
Brian Moylan
16, Jul, 2015 @7:32 PM

Another goddamned appreciation of the late, lamented Bill Hicks | Stewart Lee
Stewart Lee: That lonesome preacher's boy poured bilious scorn over his targets back in the day. What would he have made of today's legion of hagiographers?
Stewart Lee
01, Mar, 2014 @7:00 PM

Rescue Me – box set review
Sarah Hughes: Denis Leary's crudely macho firefighter wrestles with the demons of 9/11 in this unflinching, compassionate show
Sarah Hughes
06, Feb, 2014 @4:01 PM

Comedy gold: Bill Hicks's Relentless
Leo Benedictus: Early death does wonders for an artist's reputation, it is true, but Hicks was a major talent – raw, angry, sincere, unhappy, weeping and yelling at a complacent world
Leo Benedictus
25, Oct, 2012 @4:49 PM

Ice Age 4: Continental Drift: watch the trailer - video
The latest escapade in the Ice Age series sees Manny the mammoth, sabre tooth tiger Diego and Sid the sloth set adrift in the ocean after Scrat's endless pursuit of an acorn leads to a cataclysmic tectonic event