As director of improvisation specialists Improbable, Phelim McDermott can be guaranteed to give things an individual spin. In this case he adds a hot-wash cycle as well, as the production opens with the cast pouring soap powder (Ariel, naturally) into a machine whose rumbling vibrations set off the opening storm.
Perhaps it's the spotless appearance of the usurping lords that inspires the laundry theme. They express astonishment that their garments "hold notwithstanding their freshness and glosses, being rather new-dyed than stained with salt water".
In Becs Andrews' design, Prospero's cell resembles the back room of a charity shop, piled high with mounds of unsorted jumble and polyester shirts hung out to dry. Tyrone Huggins's Prospero is a make-do-and-mend type of magician with an enchanted staff recycled from a broom handle and a broken sieve, but he displays a vindictiveness towards the natives that suggests his takeover of the island is far from benevolent.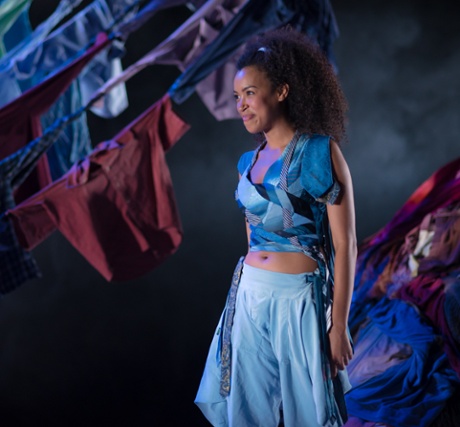 Jade Ogugua's Miranda displays a touching unworldliness befitting someone who has spent their first 16 years of life wearing old men's cast-offs; Peter Peverley's Caliban has a ferocity to match his horrible orange sweater and if Eileen Walsh's Ariel were not busy spinning enchantment you could picture her pushing a hostess trolley around Abigail's party.

McDermott is an advocate of the "mosaic acting" technique, in which actors absorb their lines from a recording in rehearsal. It creates gains and losses: though the comic episodes have a pleasing spontaneity, some of the long, discursive passages feel a little sticky. But the island is full of noises, mostly emanating from the remarkable Brendan Murphy, who attends to an array of esoteric glass percussion instruments like a sound-alchemist pottering around his cell.