This theatre seems to be specialising in factory-set musicals based on British movies. But where Made in Dagenham diluted its source, this show, which originated on Broadway, visibly improves on the 2005 film. Jerry Mitchell's direction and choreography, in particular, give the show a physical dynamism that offsets the story's feelgood factor.
Harvey Fierstein's book closely follows the outline of the movie. It remains the story of Charlie Price, who turns an ailing Northampton shoe factory into a roaring success by catering for a niche market: that of drag queens demanding thigh-high red boots that offer "two-and-a-half feet of irresistible tubular sex". At the same time, we see how Lola, the project's design consultant, overcomes the prejudices of Charlie and his co-workers to the sight of men in frocks. All ends happily at a Milan shoe fair where the collapsing business is glamorously rebooted.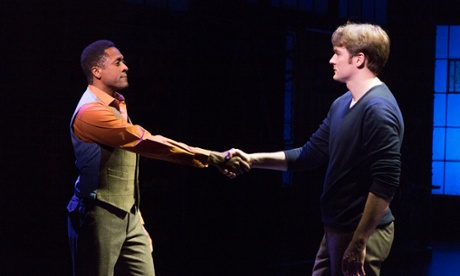 The musical makes Charlie seem less of a drip than he was in the movie. This is partly because Cyndi Lauper's score and Fierstein's book heighten the parallels between Charlie and Lola, both the victim of paternal expectations who here get to sing a touching duet, Not My Father's Son. It also helps that, as Charlie, Killian Donnelly – lately impressive in Memphis – succeeds in making ordinariness interesting. The one moment that defeats even Donnelly is an improbable tirade against Lola and his kind that seems inserted just to prove the persistence of antiquated attitudes to gender illusion.
The show is ultimately powered by Matt Henry as Lola. Good as Chiwetel Ejiofor was in the movie, he always made you believe more in Lola's past as a heavyweight boxer than in his present as a Soho drag queen. Henry, however, is both muscular and at ease in mascara. He makes you feel Lola takes pride in his profession, dismissing recreational transvestites as people "who look like Winston Churchill in their mum's knickers". A finalist in BBC's The Voice, Henry also sings up a storm. The one false moment comes when he belts out one of Lauper's heart-throb numbers, Hold Me in Your Heart, as if he were in Carnegie Hall: only later do you discover he is in a care home in Clacton.
The musical is often manipulative in its desire to spread the message, in the style of La Cage aux Folles, that we must all be what we are. But it gains enormously from the ubiquitous presence of a sextet of drag artists, known as the Angels, who follow in Lola's footsteps. While sporting a variety of exotic costumes, they do splits, cartwheels and even turn up in the Northampton factory to parade on the conveyor belt as a prelude to their climactic catwalk display. While the ensemble numbers are good, the show also gives life to the supporting characters: Lauren, the factory worker with a crush on Charlie, is played with real spirit by Amy Lennox, who gets one of the show's best numbers, The History of Wrong Guys.
You could make a case against the musical as a piece of preachy uplift about sexual tolerance. But it won me over through the quality of the lead performances, the verve of its staging and its conviction, in its fetishistic worship of thigh-high boots, that there's no business like shoe business.
• At the Adelphi, London, until 6 February. Buy tickets at theguardianboxoffice.com or call 0330-333 6906.