Matthew Warchus begins an ambitious, eight-play first season at the Old Vic with a real cracker: a contemporary comedy about education by Tamsin Oglesby that, astonishingly, features a cast of 23 and two musicians. Where most plays on this subject focus on a single issue, Oglesby offers a comprehensive account of the built-in biases of our educational system and the bewildering choices facing parents, teachers and self-styled experts.
The action is framed by a debate about whether to admit Alia, a 17-year-old Pakistani, to an Oxford college. But, within that, the play contains three narrative strands. One shows Alia's old English teacher, Mr Crane, wrestling with the daily problems of life at a Sussex state school. Another segment shows Alia being invited to join a fractious committee compiling a report on education and equality. In the third section we see a mixed group of mums in a primary-school playground working out how best to manipulate the system to their children's advantage.
There's almost no aspect of education Oglesby leaves out: private versus public, the postcode lottery, parental dilemmas, institutional tribalism. But her play is bound together by a passionate belief that teachers are the only real test of a school's quality.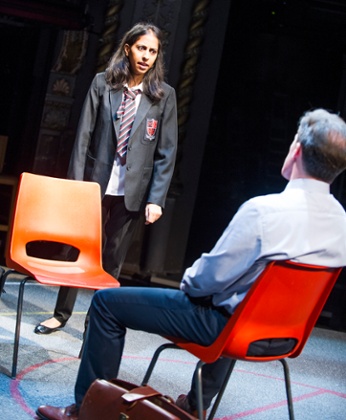 To that end she shows the high-flying Crane, played with just the right bright-eyed fervour by Rob Brydon, helping his pupils to distinguish between taste and prejudice and coping with outbursts of racial antagonism. The other unifying factor is Alia, whom it is tempting to see as over-idealised until one remembers the inspirational example of Malala Yousafzai, the Pakistani schoolgirl who fought for the right to female education. Whatever the role's origins, it is played with breathtaking assurance by Nikki Patel in her stage debut.
What is hard to convey is the sheer amount of fun both in the writing and Warchus's ebullient ensemble production. Two physical scraps between warring adults may be excessive, but the playground scenes are hilarious, with Lucy Briggs-Owen capturing perfectly the moral contortions of a middle-class mum opting for the private sector and Natalie Klamar equally good as her idealistic opposite. Class divisions also erupt in the committee scenes, with Joshua McGuire as an Etonian defender of the status quo going head-to-head with Brian Vernel as an equally passionate opponent of the enshrined privileges of our educational system. The debates will be familiar to many of us. But Oglesby has given them new life in a fast and furious play that crackles with intellectual energy.