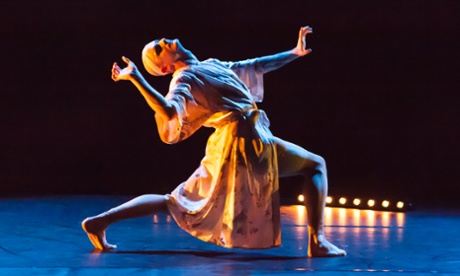 Carlos Pons Guerra grew up on the island of Gran Canaria. As a teenager he was anxious to broaden his horizons, and persuaded his parents to pay for him to read English at Leeds University. Once in Leeds, however, he used the money to attend the Northern School of Contemporary Dance. "I thought my parents were far enough away," Guerra says wryly. "I thought they wouldn't find out. But of course they did. And they were not pleased."
In 2012, having persuaded his deeply unwilling parents to allow him to complete the course, Guerra founded DeNada Dance Theatre with fellow NSCD alumna Victoria Da Silva, from Barcelona. Guerra's work, saturated with the angst of post-Francoist Spain, is as absurd as it is perverse. Drama queens strut and fret, nostrils are flared, lace-trimmed fans snap and flutter. Passionaria, set to Manuel de Falla's El Amor Brujo, is a solo for dancer Phil Sanger. Backstage at a seedy cabaret, a powdered and sequined drag artist dances out her internal conflicts in a florid balletic monologue. For Guerra, the drag artist embodies the identity crisis of Spain, and of Hispanic outposts such as the Canaries. A culture of "crotch-grabbing" men in which, growing up gay, "you are not able to be yourself".
In a ritualised murder, La Passionaria stabs her fascist lover. Her knife is thrust not into human flesh, but into a cured Iberian ham. This greasy, salty symbol of machismo, with its phallically upthrust trotter, is present in all of the evening's three pieces. In Young Man!, a sly parody of Roland Petit's 1946 ballet Le jeune homme et la mort, a haughtily dominant Da Silva deploys the ham as a dildo, menacing Azzurra Ardovini's submissive femme. As Da Silva struts, Ardovini cringes, worshipfully kissing her lover's toes and nuzzling her armpits. It's a luridly funny piece, but Guerra's point is that we adopt roles as protective covering. "In so many parts of the world, the more racist, homophobic and fascist you are, the more of a man you are. I heard my dad say horrible things, scary things. But at home he was different. Machismo is a costume."

Further meditation on the mistress-slave dichotomy, and more invasive pork-work, in O Maria, set in a 1950s Seville kitchen. Da Silva, looking like Goya's Duchess of Alba with her ornamental comb and black lace mantilla, has Ardovini masked and tied to a chair. Enter Sanger's Virgin Mary, solver of household problems. To Bellini's Casta Diva, she lovingly and ritualistically unbinds and undresses Ardovini, and the two perform a rapturous pas de deux. A bitch-fight develops between Da Silva and the Virgin, which is resolved with deep kissing (I'm paraphrasing somewhat, but you get the picture).
Guerra, now 27, is a dance-maker with an agenda, and a clear idea of where he is going. That said, Ham and Passion is obviously early work, and there are times when you sense the lack of a through-composed choreographic arc. But the dance world has picked up on DeNada. Sanger and Ardovini are already highly rated performers, and Da Silva is a terrific discovery – funny, sexy and flamboyant. It was noticeable that in the tiny auditorium of the Blue Elephant theatre on Wednesday's first night, there was an entire row of critics.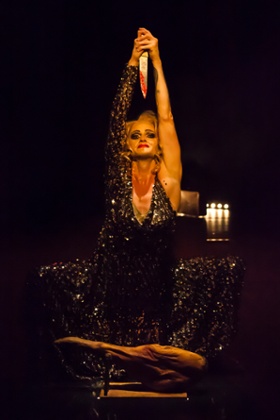 Small, bold outfits like DeNada are hot right now. Lost Dog, Sweetshop Revolution, Rosie Kay Dance Company, Impermanence Dance Theatre and others like them are delivering with an urgency that larger contemporary ensembles are not. Rambert and Richard Alston Dance Company, for example, occupy positions not dissimilar to Radio 2 and Radio 3. Comfortably funded, faultlessly professional, part of the cultural furniture. But hardly risk-taking or provocative. And the conversation between classical and contemporary dance, which seemed to promise so much, and on which so much has been spent, is faltering. Hofesh Shechter's Untouchable for the Royal Ballet, earlier this year, was underwhelming, and this month's revival of Wayne McGregor's Raven Girl, again for the Royal, just looks twee and odd.
Revealingly, Guerra was warned by his teachers at Leeds to avoid narrative or representational dance-making, and concentrate on abstract choreography. "Make the audience work," he was told. But Guerra didn't share their views. "I want a connection with my audience," he says. "If they're figuring out what's happening all the time, that connection is lost." Those queueing for returns at the Blue Elephant would agree. They don't care that the work's tiny in scale and occasionally rough-hewn. They're there for that connection. And, perhaps, the gamey whiff of ham.