There are no half measures in Joe Hill-Gibbins' radical version of Shakespeare's problematic play. We first see characters emerging from a swirling mass of inflatable sex dolls. We get film footage of Claudio and Julietta in bed. At the same time the show is saturated in religious imagery. But this two-hour production, starring the astonishing Romola Garai as Isabella, gets closer to the heart of Shakespeare's strange fable than many more orthodox versions.
For a start there is a logic behind the apparent excesses of Miriam Buether's inventive design. The plastic sex dolls evoke the hedonistic decay into which Duke Vincentio's Vienna has fallen. With the installation of his stiff-backed deputy, Angelo, the dolls are swept behind closed doors. Thanks to video cameras, however, they are never wholly out of sight and we are constantly reminded of the secret world of vice and torture that exists behind the puritanical facade of Angelo's city.
Admittedly, Hill-Gibbins's production is full of echoes. The idea of Vienna as a place of close surveillance and brutal punishment owes something to Simon McBurney's 2004 National Theatre production. Hill-Gibbins, in the use of video to record the grim reality behind public events, also plunders devices used in his own Edward II at the National. But this production strikes me as much superior to that. What it captures brilliantly are the contradictions of a play in which justice is confronted by mercy, death is seen as a blessed release and a source of terror, and power both corrupts and is beneficently deployed.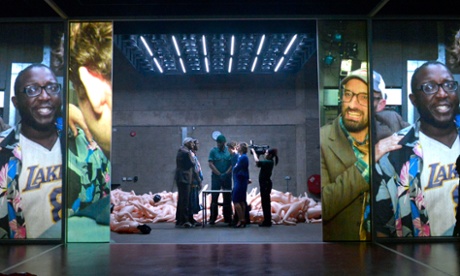 I also can't remember a Measure for Measure in which religion was so foregrounded. All the main characters are seen in urgent prayer. Garai's Isabella has the scrubbed purity and shining virtue of the religious novice, and her initial reaction to Angelo's assault on her virtue is one of baffled incomprehension followed by moral outrage. "Seeming, seeming!" she screams before assailing him with her fists. It is an excellent performance that makes "more than our brother is our chastity" seem like a ringing declaration of faith. Garai brings unusual pathos to the later scenes when, having passed on her nun's habit to Mariana, she looks totally lost in a white dress.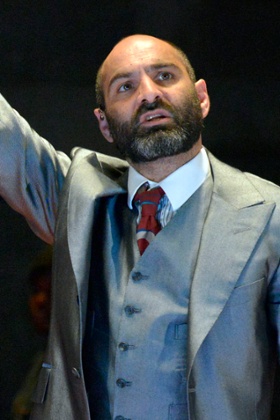 Paul Ready also brings out vividly the religious implications of Angelo's fall. First seen clutching a Bible, he is reduced to palm-sweating panic by the recognition of his lust and, at the end, craves "sequent death" in punishment. That still leaves the eternal enigma of the Duke who, in Zubin Varla's performance, is the usual mix of seedy fixer and surrogate divine. If he is a god, you feel, as he rapidly pairs everyone off at the end, he is one who moves in extremely mysterious ways.
At times, the production goes over the top. It is hard to focus on one of the Duke's soliloquies when it is backed by an image of kaleidoscopically rotating pudenda. But there are strong performances from Cath Whitefield as an Angelo-fixated Mariana, and from Ivanno Jeremiah as a death-haunted Claudio. Above all, this is a serious response to a serious play that implies that the flesh and the spirit are engaged in unending conflict.
• At the Young Vic, London, until 14 November. Box office: 020-7922 2923.