The artwork for Weird Al Yankovic's album and tour posits the "white and nerdy" musical parodist as the dictator of a fun-based totalitarian state. It's meant to be a daft juxtaposition – but there is, indeed, something of the personality cult about this world-touring show. It's drilled as efficiently as anything North Korea could muster, and there are video montages of Yankovic's appearances and namechecks in countless US TV shows (Friends, The Simpsons, Veep …) over the past three decades. But all that self-assertion isn't necessary: the man is dominant enough, steamrollering through set pieces, costume changes and an extensive back catalogue of (other people's) well-loved tunes in full-tilt dedication to our entertainment.
What you don't get is spontaneity, the slightest interaction with Yankovic, or any let-up in these two hours of machine-tooled musical pastiche. Yes, he smooches snake-hipped with the front few rows when performing Wanna B Ur Lovr. But that, like everything else, is ruthlessly rehearsed, in a gig more airtight than is usual for comedy. Given that Yankovic's lyrics aren't always audible, and his videos appear only in snatches, the laugh count is fairly low – excepting some sketches screened while Al swaps outfits, which include mickey-taking faux interviews with Eminem and Celine Dion.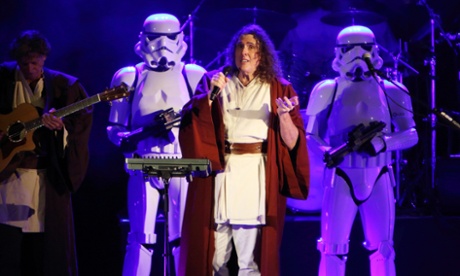 The experience is more akin to watching a tribute band, where the homage being paid is tongue-in-cheek, if scarcely less affectionate, and the source material extends to every major pop song since the early 80s. Highlights include a swing version of Yankovic's breakout Michael Jackson pastiche Eat It, and his Star Wars/Don McLean mashup The Saga Begins, replete with stormtroopers. Throughout, Yankovic's voice is strong, whether he's aping Kurt Cobain or crooning barbershop with his excellent band. The personal touch is lacking, but there's no denying, Weird Al gives good show.
At Limelight, Belfast, 7 October. Box office: 028-9032 7007; then at O2 ABC Glasgow, 9 October.