It's a sign of the classic status of JM Barrie's 1904 masterpiece that everyone feels the need to reimagine it. After Ella Hickson's intriguing feminist rewrite, Wendy and Peter Pan, we have a radical new production by Timothy Sheader and Liam Steel that shows the story being re-enacted by the occupants of a military hospital in the first world war. I admired the production's ingenuity while feeling it sacrificed the weird magic of Barrie's original.
The rationale behind this version is that the Llewelyn Davies boys who inspired the story were directly affected by the war and that a whole generation learned the tragic absurdity of Peter's proud vaunt: "To die will be an awfully big adventure." So this account starts with a military nurse reading Barrie's tale to a ward of maimed and wounded soldiers. In the process, she is transformed into Wendy, the soldiers into the lost boys and pirates, and a captain with a badly damaged eye into the iron-clawed Hook. As for Peter, flying with the aid of lieutenants who strap him into the gear, he becomes the symbol of a defiant but ultimately doomed boyish heroism.
The basic idea is followed through with a remorseless cleverness. The mermaids' lagoon is re-created through stacked-up beds and billowing shirts suggesting marine life. The fairy Tinker Bell is a metallic hand puppet made from old copper, while the gigantic jaw of the Hook-pursuing crocodile is evoked through the flapping struts of a horizontal stepladder. But the overall effect is of a series of problems waiting to be solved, and what you lose is the direct emotional appeal of the original. Hook, in particular, has none of the dandified, spaniel-wigged grandeur of Barrie's conception. He instead becomes a captain clearly suffering a form of post-traumatic stress disorder.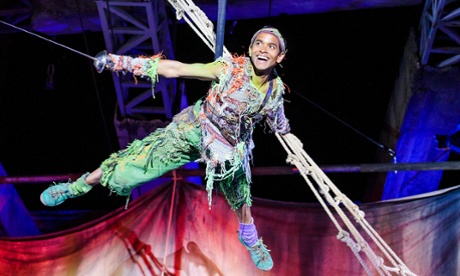 The production is at its best when you forget the framework. The sight of Hiran Abeysekera's dauntless Peter soaring into the night air, suspended from Jon Bausor's overhead steel gantries, is genuinely exhilarating. Kae Alexander also makes Wendy a figure of appealing tenderness, David Birrell lends the diminished Hook a wounded dignity and there is lively support from Beverly Rudd as a busily sewing, mother-fixated Smee. It is all done with phenomenal skill. But I am a little suspicious of the attempt to turn Barrie's play into a sophisticated variant on Oh What a Lovely War and endow it with a retrospective irony it cannot quite sustain.
• At Open Air theatre, Regent's Park, London, until 14 June. Box office: 0844 826 4242.