Patrick Marber said that he liked the title Closer, which he took from a Joy Division album, because it implied motion. In David Leveaux's production at the Donmar, you advised the cast on their movement.

I've known David for a very long time. He invited me to work on The Marriage of Figaro, one of his first operas, in the 90s in Scotland. Then we went on to do Salome at ENO. He has a very choreographic approach to directing, an instinctive way of working with bodies. It's a pleasure to be in the rehearsal room with him because he has that sensibility.

We all carry a physical signature in our bodies. When we're under any kind of stress, our bodies behave in their usual habits – it's called "physical leakage". Your real personality starts to come out. Often, actors and dancers aren't aware of what those habits are. Having someone who can look at them, and suggest ways of avoiding them, helps them to find a proper physicality for the character they're playing.
Could you explain that process of understanding an actor's "physical signature"?
If you're an expert in bodies, it's what you do all the time. When I meet someone I can tell something about their physical characteristics, the ways in which they hold tension in their body and the ways in which they communicate when they feel uncomfortable about something. We all have them. It's like in poker when you can tell if someone's cheating.
I've been working around bodies for 25 years. You pick up a kind of extra sense about what the body is communicating. But we all do it implicitly as human beings … You get a sense of someone just from the way in which they are in their bodies.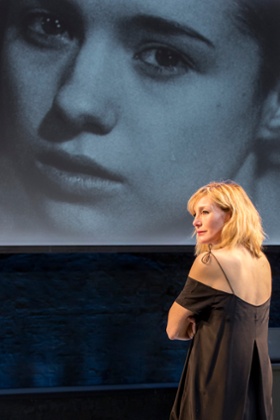 In the theatre, when you're playing a different person, the character's history must impact on the way in which they move. It's very important that the actors' own physical behaviours don't get in the way of the character they are playing.
With expert actors like those guys at the Donmar, it's not about choreographing, it's not telling them how to move … It's just noticing things about their choices and giving them some more physical options to take. They're skilled professionals – they decide what to do with that information. I'm not saying, "Move like this, don't move your arm like that."
Closer was first staged at the National's Cottesloe and Lyttelton theatres. The Donmar is a much more intimate space. How did that effect the movement?
The proximity dictates what happens physically – you don't need to telegraph physicality in that kind of environment. The Lyttelton is a huge space where the signifiers – the ways in which the body behaves – have to be different to reach the back of the auditorium.
What are your memories of seeing Closer the first time round?
It was quite shocking, partly because of that depiction of relationships that are, in a way, brutal. I really remember all the baggage collecting at the back of the stage [props were used to represent the characters' emotional baggage].
I was excited when David said he was doing it at the Donmar, where that viscerality can be communicated extremely directly. When I was at the previews, there was an uncomfortableness with the way in which some people watched. It's interesting to watch the audience as much as you attend to what's happening on stage. It still packs a punch.
You can really see the other audience members at the Donmar…
Yes – and how they sit back from something, or feel the need to discuss something with the person next to them, to deal with it. You're all, in quite a voyeuristic way, participating in this unravelling.
You've done a range of stage work including dance, opera and theatre. What does theatre offer in particular?
Words! A very direct relationship between text and bodies, which is not something I do in my own practice. I'm often making something from nothing. You get constraints with words. In theatre, you've got words, you've got meaning, you've got a director's approach and in some way you have to deliver against those things. I find that thrilling.