Ted Whitehead's play caused a stir at the Royal Court in 1972 and has rarely been seen since. I can't think why; as a portrait of domestic entrapment, it rivals Strindberg's The Dance of Death. In Purni Morell's impressively claustrophobic revival, we find ourselves close-up spectators of the unending war between a young Liverpool couple, Frank and Norma Elliott. What makes this such a painfully honest play is that Whitehead makes it clear it is a war no one can win, one that simply leaves its combatants in a state of despairing exhaustion.
Neither party can claim the moral high ground. Frank, who describes himself as an "apostolic alcoholic", has a residual Catholicism but is prone to lacerating verbal tirades. Norma, while outwardly more controlled, is equally capable of vindictive attack and is not above using threatened suicide as a tactic. Whitehead's ultimate point is that marriage, as we know it, is an institution no longer fit for purpose. While much has changed since the play was written, the vision of a couple bound together by a deadlocked, love-hate relationship still has potent currency.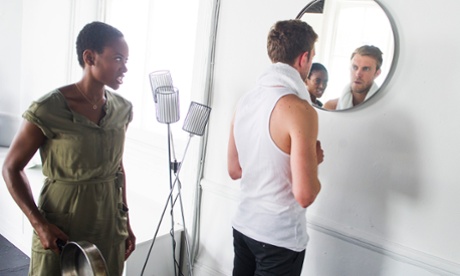 The only oddity of Morell's production is that it takes place in a modern world of mobile phones yet retains references to a distant era when a quarterly gas bill was £4/18/-. Yet this calculated contradiction pales beside the intensity of the two performances. Christian Roe exhibits all the volatile self-loathing of the freedom-seeking Frank, while Tracy Ifeachor uses a remarkable capacity for stillness to convey Norma's steely anxiety. That quietude is shattered, however, in the frightening scene where the couple resort to physical abuse and rampage all over Verity Quinn's pristine white set. It is as shocking as anything on the London stage since the audience, seated in the midst of the action, become helpless witnesses to a violently disintegrating marriage.