This was one of the strangest first nights I can remember. Lenny Henry, newly ennobled and lately triumphant in Shakespeare and August Wilson, is playing Frank, the shambolic tutor in Willy Russell's celebrated 1980 play. Early on, Frank has a speech in which he declares – wrongly, I believe – that "criticism is purely objective". Sir Lenny got in a muddle over the text and, announcing: "I've completely gone," walked off stage, to be followed by his co-star, Lashana Lynch. After a minute or so, they both returned and, with commendable courage, Henry carried on to give a perfectly good performance.
In truth, Frank is not the easiest of roles. While Rita grows from a naive Liverpool hairdresser into a buoyantly independent spirit, Frank sinks deeper into a self-pitying alcoholic lethargy. But Henry conveyed well Frank's disillusion with his own unfulfilled poetic career and delicately hinted at the character's emotional and sexual attachment to his sparky protege.
Having stumbled at the start, Henry ended the evening looking totally assured. But Russell's play really belongs to Rita and this production uncovers a potential star in Lashana Lynch. Her composure, and ability to stay in character during the initial hiccup, was astonishing. But, more importantly, she captured Rita's stage-by-stage development from a cheekily comedic figure, who thinks Yeats is the name of a wine lodge, into a woman who uses literature as the path to self-discovery. I think it's a mistake to chart Rita's growth by having her sport a new costume in every scene, since Rita herself announces that there is more to life than buying new dresses. But Lynch mixes bright-eyed excitement with steely determination and even suggests a wary affection for her hopelessly messed-up mentor.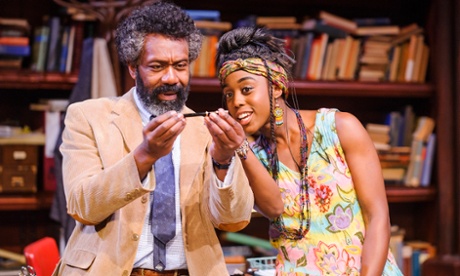 It's a great role but, in some respects, Russell's play has not aged well. Seeing it again, I was struck by the blatancy of its debt to Shaw's Pygmalion. Like Eliza Doolittle, Rita is a tough cookie who outgrows her tutor, who provokes his possessive jealousy and who, in one scene, even starts to affect an alien, cut-glass accent. Given that this is a play about books as a path to progress, one would like even more hard-nosed literary analysis. But what keeps the play alive, and touches the audience, is its demonstration of Rita's self-realisation and ability to transcend the pigeonholing limitations of the class system: as Rita conclusively tells her tutor at the play's end, she is now free to make her own choices.
Without stressing the point, Russell also reminds us that the Open University, of which Rita is a beneficiary, is arguably the greatest legacy of the 1964-70 Labour government. Michael Buffong, who runs Talawa theatre company, directs with cool clarity. My main cavil, aside from Rita's endless quick-changes, is that Ellen Cairns's mountainous set makes it look as if Frank inhabits a college library rather than a bookishly untidy den. But a first night that began with a nervous hiatus ended with calm conviction and left one dwelling yet again on the resilience of actors in overcoming the terrors of live performance.