At 11.45am on 5 July 2009, Terry Herbert, a keen metal-detecting enthusiast, was in a field well known to him in Hammerwich, Staffordshire. He had not been there long when his machine went crazy. He began digging and unearthed some fragments of metal. The muddy items kept on coming. For a while he thought that a friend might be playing a practical joke on him and had buried some costume jewellery for him to uncover, but it soon became clear that this was a significant find. The Staffordshire hoard, as it has become known, is the largest, most noteworthy collection of Anglo-Saxon gold and silver metalwork ever found, comprising 4,000 objects and fragments, most of military origin.
"What I remember feeling when I first heard about it," says Theresa Heskins, artistic director of the New Vic theatre in Newcastle-under-Lyme, "was excitement. Sometimes I think that, here in Staffordshire, we get lost in the middle of the country. We're not London and we're not the 'northern powerhouse'. It was exciting to think something so important was found here and it reminded us, as we learned more, that in Anglo-Saxon times this was once a noteworthy place, the powerful kingdom of Mercia."
Over the next month at the New Vic, Heskins and a team of writers and theatre-makers will be attempting to spin theatrical gold out of the stories and myths that surround the Staffordshire hoard. The New Vic, in its previous premises in Stoke, was the theatre which – long before London Road – gave birth to a string of musical documentary plays, under director Peter Cheeseman, exploring local life and issues. So it's appropriate that the Hoard festival kicks off with a new verbatim-style play, Unearthed, based on 80 hours of interviews with those involved in the find and who have studied it in depth.
But the festival almost didn't happen. When Heskins, on attachment at the National Theatre Studio, visited experts with the idea of producing a play about the hoard, she was taken aback to discover how little they knew about it. "For the entire week, I was asking the scientists and historians questions about the hoard and its meanings – why it was there, and what it signified – and all I heard back was: 'We don't know. It can be anything you want it to be.' So I asked: 'When will you know, so I can commission a play?'"
She was crestfallen when she was told that it might take 10 years or more for the experts to reach any conclusions. Then she realised that there were so many theories about the hoard – some fact-based, others entirely fanciful – that she couldn't commission just one play, but that there had to be many to encompass them all and explore a range of myths and meaning.
The fact that we still know so little about Anglo-Saxon England or the hoard has been liberating for those commissioned to make shows for the festival. There is nothing like an over-abundance of cast-iron facts to cramp the imagination. The TV historian Michael Wood, patron of the festival, believes that our fascination with the Staffordshire hoard springs from history's ability "to give value and meaning to the present". He observes: "The archaeologists, of course, have found no evidence of dragons; but a dramatist? A dramatist could find a dragon …"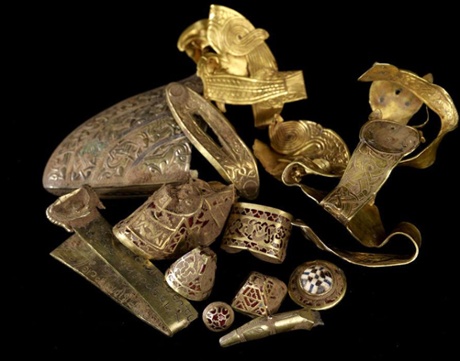 Samuel Adamson, who wrote the book and lyrics for the Tori Amos musical The Light Princess at the NT, has indeed found a dragon in his play for the festival, My Name is Freda, and theatre-makers have unearthed plenty else mythical too. Besides the four main stage plays there is an abundance of other performances, a lot of them created by artists with a connection to the area and the theatre. Cat Harrison, who was involved with the New Vic's youth theatre as a teenager, is part of Non Zero One, whose new headphones piece for the festival, A Thing Worth Keeping, takes audiences on an audio journey around the building, giving them space to consider the objects to which they are personally attached.
Caroline Horton, best known for Mess and Islands, who grew up just five minutes away from the field where the hoard was found, is creating a comedy using puppetry and object manipulation: Tranklements is about underdogs and Midlands spirit, and features a woman called Mercia, who is a bit of an underachiever.
"Theresa is right," says Horton. "Staffordshire is an area that is often overlooked and undersold. When I was growing up, I thought it was the centre of the universe. It was only when I left that I realised people don't know where it is. And it's a place that often holds its treasures to its chest. It's like the hoard itself, that looks so unspectacular and can be fitted into a carrier bag, but is full of so many meanings. Tranklements is a chance to talk about the middle, and the treasures that can be found hidden there if you look hard enough."
Birmingham-based Francesca Millican-Slater will be looking at why gold still holds such power over us. Then there's Andy Field's community project 500 Pieces, a story told in fragments by ordinary people that gives a portrait of the world as it was experienced by them at exactly 11.45 on the morning the hoard was discovered.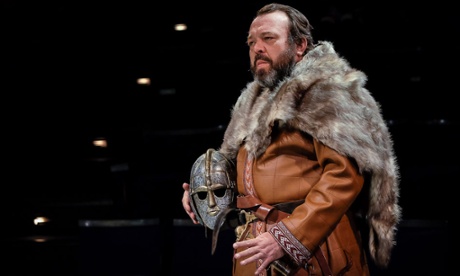 When I visit the New Vic on a sunny morning in early June, the place is buzzing. In the workshops, the delicate gold filigree of Anglo-Saxon pommel caps and sword hilts is being re-created, Non Zero One are making a recording, and in the bar, April de Angelis's Rune – one of 12 five-minute plays that theatregoers can order to be performed before the main show, at their table in the bar – is getting its first outing in front of an audience. It's a gorgeous little nugget of a show in which a bored teenager on a school trip to see the hoard at the Potteries museum suddenly discovers a power within her when she gets to hold a piece of it..
Alan Garner, Isy Suttie, Tom Wells and Lemn Sissay are among others who have contributed short pieces that director Gemma Fairlie, who is directing all 12, describes as being "startlingly different", but exploring "personal archaeologies" and "how we can relate to something so distant from us", and the chance to "re-evaluate how we see ourselves and our worth."
Heskins believes that the New Vic audience deserves to see as good a range of ambitious and experimental work as London audiences. "When I was at the National Theatre studio, it was a huge boost for us as an organisation. People all over the country deserve a stake in the National Theatre, and our affiliation with the studio was a way of making that possible for us and the people of Staffordshire. It gave us self-confidence and made us feel part of the nation's theatre, even though we're not a big theatre in a city."
"It also reminded me of the huge variety and availability of theatre that London audiences take for granted. In Staffordshire, audiences don't get that. We're the only theatre national portfolio organisation in a county where there is a lot of deprivation … The Hoard festival gives New Vic audiences a chance to see something new, but it also gives lots of theatre-makers the opportunities to meet a regional theatre audience."
It's a win-win situation for everyone involved. "We don't have star casting, so the audience's relationship is with us and the building, never with the star names," says Heskins. "And they like a good story. So when we are producing we never say, 'Look at the form', but: 'Look at the story that just happens to use aerial dance.' That's very grounding, and stops us from being in any way emperor's new clothes, and also means that the audience has learned to trust us. I've always believed that what our audience deserve is full-fat work that doesn't stint and which uses all the possibilities of theatre."
The Hoard festival is until 25 July at the New Vic theatre, Newcastle-under-Lyme. Box office: 01782 717962