Over six years in charge as the Octagon's artistic director, David Thacker has transformed a stable if slightly unspectacular repertory theatre into a first-call destination for classic American plays, English social realism and regionally centred new writing. So it is a pleasure to report that his farewell production is a catalogue of unmitigated disaster.

Where to begin? There are doors that stick when they should open, doors that swing open when they ought to be closed. As well as the accident-prone cast, the stage management team add to the confusion, putting out front-of-house calls that the performance will commence in one minute, three minutes, two minutes and finally three minutes again.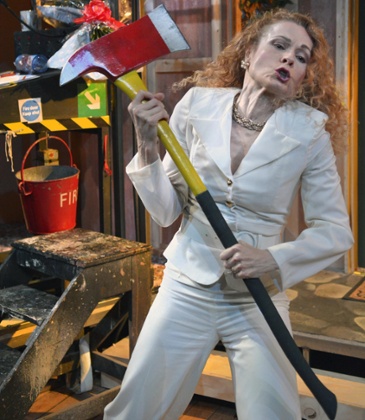 Of course this is all exactly as it should be, in Michael Frayn's brilliant back-to-front farce about a dysfunctional touring company clearly destined never to make it to Leamington Spa. It has been observed before that the central theme of doors and sardines could be taken as a metaphor for the inexplicable rituals without which life is a single step from chaos. But I wonder if Thacker's presentation of a tax evader, caught with his trousers round his ankles while his second home falls to pieces, could equally be a premonition of what to expect during the next five years of Conservative government.


There's a depth to the casting, which brings the peerless Kenneth Alan Taylor to the role of an old stager whose secret hoard of tipple keeps having to be removed from the bushes. The only genuine technical downside is that the challenge of turning the entire set round twice necessitates two lengthy intervals. But since another legacy of the Thacker era has been a handsome refurbishment of the bar and restaurant, it's a win-win situation either way.



• At Octagon, Bolton, until 4 July. Box office: 01204 520 661.