Under artistic director Daniel Evans, the Crucible has cannily picked up interesting new plays staged elsewhere, giving Yorkshire audiences a chance to see them at their best. The latest is Lucy Prebble's 2012 National Theatre hit, a challenging, funny and heartbreaking play set during a clinical trial of a new unlicensed antidepressant on paid volunteers who are not depressed.
Connie (Ophelia Lovibond) and Tristan (Henry Pettigrew) are two of the guinea pigs under the supervision of the depression-prone Dr Lorna James (Priyanga Burford), who, unlike the suave Toby (Stuart Bunce), the trial director and her former lover, doesn't believe that depression is a chemical imbalance of the brain that can be cured by pills. Maybe, Lorna believes, depressed people just have a more accurate view of the world and themselves and the things life dumps on them?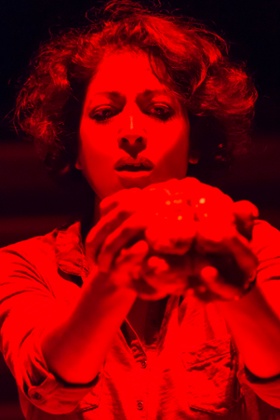 When Connie and Tristan start falling for each other, Toby is excited by the possibility that the drug company has discovered "a Viagra for the heart". But Lorna knows something that he doesn't.
"I can tell the difference between who I am and a side effect," declares Tristan when Connie worries that their passion for each other might simply be the result of being given large doses of dopamine. But of course all love is a drug, so how can we ever really trust our feelings? This is a knotty drama, dealing with scientific objectivity, guilt, the mysteries of the human heart and brain and what makes us who we are, wrapped up in a deceptively simple and constantly entertaining package.
There are times when it can seem a wee bit schematic. But it gets a generous, light-touch staging from Evans on Amanda Stoodley's effective, clinically white design, and Priyanga Burford has a conduit straight to the heart as the doctor who feels as if the layers of her skin have been removed, leaving her exposed.
• At Sheffield Crucible studio until 18 July. Box office: 0114-249 6000.