The morning after the choreographer and movement director Steven Hoggett was snapped looking dapper on the red carpet at the New York premiere of Sting's The Last Ship, Scott Graham – his former co-director at Frantic Assembly, the company the duo founded in 1994 – could be found in a rehearsal room in east London. He was working with a group of untrained, often disadvantaged young men as part of Frantic's highly acclaimed Ignition access programme.

Stratford Circus is a far cry from the bright lights of Broadway. Looking at those first-night photos, I couldn't help recalling the year 2006. Just a few months after the astonishing Black Watch gave an almighty fillip to Hoggett's burgeoning solo career – he has since enjoyed a string of Broadway and West End hits including Once, Let the Right One In and American Idiot – the two of them collaborated with Mark Ravenhill on Pool (No Water), a blistering, warts-and-all look at the fragility of friendship and artistic jealousy. A few days later, when I meet Graham – Frantic's sole artistic director since Hoggett's departure to pursue a freelance career – I raise those red carpet snaps.
"I'm chuffed for Steven," he says, "but of course, a bit of you goes: 'Grrr.' Who wouldn't? I have offers. But I turn down more than I take up, because I have a wife and two children, and wouldn't want it any other way. That means that I'm not as free to have his opportunities, and I never had the personality to put myself forward. Steven was always much more open and confident than me. I was the shy, quiet one, although I think maybe some people thought that meant I was quiet in the rehearsal room. Which I'm not. He was always better connected, too: before we even met he knew John Tiffany and Vicky Featherstone."
Both are keen to point out that, while Hoggett may have departed Frantic – a process of detachment that took place over three years, as his freelance commitments grew – it's not a divorce. After all, they recently worked together on the Broadway transfer of The Curious Incident of the Dog in the Night-Time, the success of which, as Simon Stephens has acknowledged, owes much to Graham and Hoggett's ability to stage the apparently unstageable – particularly young Christopher's journey by train and tube from Swindon to Cricklewood. Hoggett is eager, in a telephone conversation, to acknowledge his considerable debt to Graham: "Scott is part of the theatrical language I use every day. We learned it together."
It's a theatrical language that has entered the mainstream of British theatre, and not just through shows such as Curious; it can also be glimpsed in the work of many younger theatre-makers, including RashDash and Thickskin.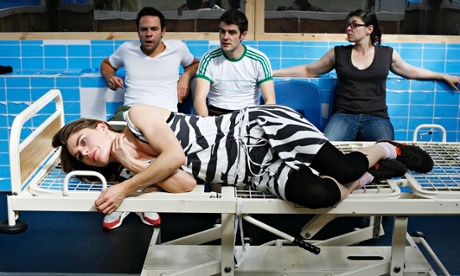 Graham jokes that one of Frantic's oddest but most cherished compliments is the sheer number of "really bad Frantic Assembly-style student productions" that he gets to see or hear about. He views it as a positive that "we've given them the confidence to go out there and learn on their feet, that they don't think that making theatre is inaccessible to them. There is nothing alienating about what Frantic Assembly do and the way we speak about it, and that's really important, particularly at a time when theatre education is being squeezed into the private sector, so most don't get a chance to see or have a go". The educational side of Frantic's work was always much more Graham's passion than Hoggett's.
Just having a go was what Graham and Hoggett, a couple of untrained Swansea students, decided to do after attending a workshop by the Welsh company Volcano. They set up their own company and never really looked back, drawing initially on club culture and their own lives to make shows that were visceral, immediate, young and distinctive, not just in their physical dynamism but also in their emotional eloquence. It's this emotional undertow that is frequently apparent in Hoggett's recent work, most particularly Let the Right One In, the frostbitten vampire romance on which he collaborated with John Tiffany, in which the movement had a flayed tenderness that said as much, or more, than Jack Thorne's script.
As they acknowledge in the Frantic Assembly Book of Devising Theatre (first published in 2009 and still a terrifically useful primer for anyone setting out to make devised theatre), Graham and Hoggett discovered what they liked through trial and error and by "finding out what we didn't like". They were magpies, too, stealing not just from theatre but from music, popular culture and the visual arts. Nan Goldin's photographs, for instance, were strong influences on both Dirty Wonderland and Pool (No Water).
"Scott and I were very inspired by DV8. There was an ignition moment watching Lloyd Newson and Nigel Charnock demanding that dance did more. We wanted theatre to do more too," recalls Hoggett.
The great thing about ignorance in the theatre is that it tends to make you stupidly brave and forces you into becoming a collaborator because you need inspiration, help and advice. Long before collaboration became a buzz term in British theatre, Graham and Hoggett were hooking up with DJs, classically trained actors and writers because, although they had the ideas, they knew they needed other people to help them realise them. Hoggett, now working on the US premiere of a new musical, Brooklynite, says: "I like working with other people. It's where I flourish. With any production I know that, if I'm the smartest person in the room, I'm in the wrong room."
Frantic was quickly dubbed a physical theatre company, a term both Graham and Hoggett still find puzzling and unnecessary. "Surely all communication is physical, because the body speaks as much as the voice?" says Graham. "We never wanted the audience to be leaning back and going 'Wow' at the physicality, but leaning forward in their seats to catch the meaning and read what was happening on stage so they could really understand the characters and their relationships; see the emotional truth."
Hoggett has carried that into his commercial work too. As the New York Times's Charles Isherwood wrote in his review of The Last Ship: "Hoggett has provided dancing that seems to spring from the sinews of the characters."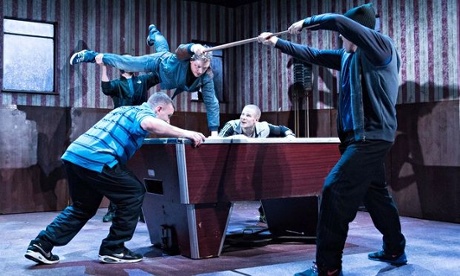 Not that Hoggett really sees himself as a choreographer or somebody who creates dances. "Being called a choreographer is very much an American thing, and as much to do with politics and contracts as anything else. I don't get jobs with dancers – both London and New York are packed with brilliant choreographers who know how to work with trained dancers, and I don't have that particular language. I get jobs that need someone who can work on movement with actors."
It's something Frantic always excelled at, whether it was with older actors in Lovesong, a touching show about ageing and loss, or the young guns in the company's 2008 version of Othello, a production inspired by the Yorkshire race riots of 2001. The latter unlocked Shakespeare's text through movement, so it seemed as if the play had been gutted and reinvented for a 21st-century audience. Graham has reimagined and redirected the production, which arrives at the Lyric in London this week after a successful tour.
"You have to get it right. You know that, for lots of young people coming to see this show, it may be the only Shakespeare they are going to get a chance to see. You don't want to put them off for ever. The world is full of people who never want to see another Shakespeare play because they saw one and hated it. I'd hate that to be mine," says Graham, who has grown in confidence since Hoggett's departure from the company and feels he's got a new lease of creative life.
"Of course I miss Steven. We worked together for 20 years. We inspired each other. The first time I walked into a rehearsal room to make a new show [The Believers], which premiered last spring] without him felt strange. But I've found a new confidence, and know that when I have an idea I can just get on with it and not wait to hear back from someone in another time zone. It's invigorating and liberating, and I learn something new every day."
• Othello is at the Lyric Hammersmith from 13 January. Box office: 020-8741 6850.