A film of the Royal Exchange's Hamlet is released in cinemas in March. How much Shakespeare had you done before taking on the role?
I'd only played Ophelia before. I did sort of think: "What am I doing?" Maybe I should have done a few warm-up gigs first ... But I didn't think of it as doing Shakespeare. I know that seems bizarre. I just wanted to do Hamlet. It's a bit of a cliche but it's that class thing, feeling like Shakespeare is not for you. But I never felt that the language would be difficult in Hamlet because of the way Sarah [Frankcom, the director] works. She's done a lot of new writing – she comes to everything fresh. So it was about making sense of it, not just speaking beautiful verse.
I was 28 when I did Ophelia [at the West Yorkshire Playhouse with Christopher Eccleston]. In a strange way she's slightly more complicated than Hamlet. I thought she was slightly mad from the beginning because she's in this oppressive regime and then she completely loses her grip on reality by the end of it. When I did it, it was all about her heartbreak. So I was blown away by what Sarah and Katie West did in our production. I realised – maybe because it was a female director or because Polonius was Polonia – it's because she's lost a parent. In the production I did with Christopher Eccleston, it was all about Hamlet's rejection that sent her mad, which I found difficult.
So I did Ophelia, and then nothing in between, and then I went for the biggie!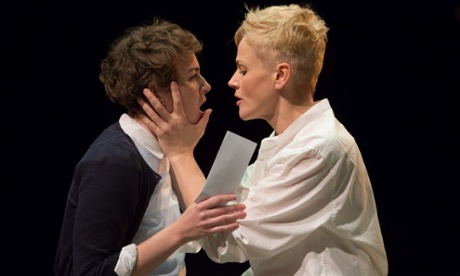 Did the character of Hamlet in particular lend itself to a gender-blind approach?
Yes, definitely. It didn't feel complicated. It's just Hamlet as Hamlet: it's about humanity. It's such a universal story that I don't think it needs to be the preserve of men. I didn't feel I came up against any blocks, like "I don't know how to attack that bit because I'm female." It was quite enlightening as an actress, being in a part where you are the centre of the play and everything revolves around you – being that young prince with everyone deferring to you. That's not normally the situation that we are in – especially on stage. Even lead female parts rarely have that power within the production. In Hamlet, you take the production along with you – it really is your story.
It feels like there has been a sort of feminist shift in theatre, not least with Sarah Frankcom's Exchange and Phyllida Lloyd's all-female Shakespeare productions at the Donmar
There's a new guard isn't there? Vicky Featherstone, Sarah Frankcom, Josie Rourke … It feels like there's going to be a real sea change in theatre. We've got the confidence. It's like what I said to Sarah: "We don't have to pitch this to anybody, why can't we just do it? It's your theatre! Just do it!" We didn't think we'd be great at it – we just thought, "Why not?" I never thought I was going to be a fantastic Hamlet, I just thought, "What an opportunity!" … There aren't that many great female roles in Shakespeare – none that I'd be desperate to play.
Which of Shakespeare's other male roles would you like to play?
I'd quite like a go at Henry V. Yeah! Who knows? You don't want it to become a novelty. There was talk of another female Hamlet going on at the same time as us and they decided not to do it because we did it. And I thought, "No, that's not right. Anyone can do it." Think of how many male Hamlets there are going on. I hope more women now will say, "Yeah, I'll have a go at that."
So many lines in Hamlet are so well known. Is the whole "To be or not to be" bit something of a hurdle? It came quite late on in your production...
It came right after the interval, straight into it. I found that difficult in some respects … I was absolutely petrified. The words mean so much to people – they're very possessive about Shakespeare. I was quite prepared for a bit of a backlash.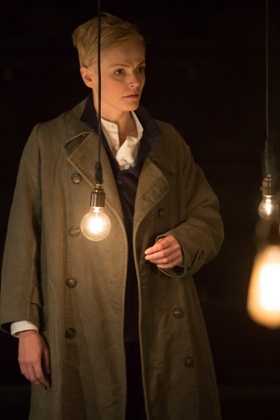 What makes Hamlet such a fascinating character?
It covers the human question doesn't it? The whole play is about humanity – life, the afterlife. It's also a domestic drama – it's about a family. I was doing The Village with John Simm and he had played Hamlet a few years ago in Sheffield. He'd met Mark Rylance. I said: "What did Mark Rylance say?! What pearls of wisdom did Mark Rylance have?!" He said: "Don't forget it's a family drama and always be in the moment." And that was the best piece of advice.
Your costume as Hamlet was seemingly inspired by Tilda Swinton and David Bowie…

We wanted that androgynous look and they both came up in the conversation. And we thought about Hamlet's backstory – him living quite a bohemian student life and then coming back to the court and how that affected him. Quite a lot of people he knew when he was studying didn't know he was a prince. For me, Hamlet was a woman but she felt trapped in a male body. She was male as far as she was concerned. Gender's changing today. Male? Female? It's not always relevant to some people. They are who they are – they might not fit into a specific box. That's what we were trying to do. And [Swinton and Bowie] are just two very cool people! … My style is quite masculine anyway so we worked from that and who I am as a person and what I feel comfortable in.
There's an ongoing debate about whether there's a lack of working-class characters being represented on stage and screen. Many have expressed concern that a career in the arts is becoming the preserve of the privileged …

It's always been a bit of a struggle … I got a scholarship to Rada and at the time they were really good at finding the money for the students they wanted – there was a real mixed bag. I've got friends who go and direct in drama schools now and they say it's changed, there's been a shift – there aren't as many classes represented. So it's shocking – but also annoying that it's taken so long for people to open their eyes. There are quite a few working-class dramas on TV but there's a real problem with film … Everyone's looking at the men but it's really difficult for working-class women in film. Where are those lead parts? We haven't had them since the 60s.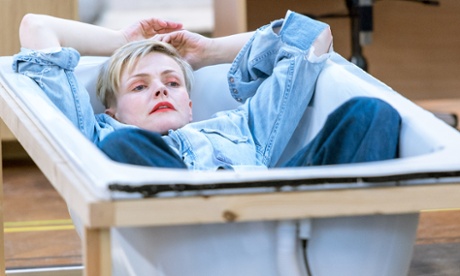 You're back on stage in Zinnie Harris's How to Hold Your Breath at the Royal Court. What can you tell us about the play?
It's about a woman who has a one night stand with a man who says he's the devil. It's about capitalism, feminism, how we are teetering in the west financially … It's very witty – fun, fast, quite magical. She's an extraordinary writer and Vicky Featherstone has a fantastic vision. We just need to get our lines out now and do it justice!
And there's a film in the works in which you play a standup comedian in the 70s?
A friend of mine, Tony Pitts, was commissioned to write something for me. I told him it was something I'd always been fascinated in. We've tinkered with the script and Martin Freeman's agreed to come onboard – as well as Stephen Graham and John Hannah. But like every low-budget British film, it's trying to get the funding in place. It's a minefield. It's so tough to get a film made. I don't think [a female working-class lead] flashes pound signs up in financiers' eyes. It's bleak but funny and it has hope in it – a beautiful script. It's one of those parts where I think, "If I could play this then maybe I could retire…"