On 12 December 1940, more than 600 people died during seven hours of continuous bombing in the Sheffield blitz. Out of that horrific event, Kieran Knowles has fashioned a remarkable first play that charts the memories and experiences of four steelworkers who were trapped in a cellar of the city's all-but-demolished Marples hotel.
Professionally, the men see themselves as a team: a key feature of the play is the pride they take in their work whether in peace or in war, when they find themselves making casings for bombs or engine shafts for Spitfires. But, while showing that steelwork depends on a carefully synchronised collaboration, Knowles also individualises the men. Bob is a guileless apprentice, Phil an anxious husband, Tommy a philosophical loner and Arthur a figure bred from youth into the world of the blast furnace.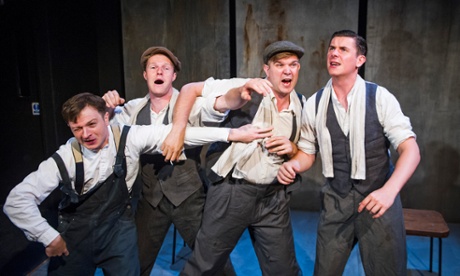 While celebrating the men's courage, Knowles also shows how, in the crisis of enforced incarceration, their solidarity breaks down: a fight erupts over Phil's desire to be with his family, and the men's private fears and dreams come bubbling to the surface. This is worlds away from the cheerful camaraderie of the standard British war movie.
Bryony Shanahan's production ensures Knowles's rhythmic dialogue is delivered at great speed. But even if their speech could afford to slow down a bit, there are outstanding performances from Salvatore D'Aquilla as the rueful, dog-loving Bob, Paul Tinto as the fretful Phil, James Wallwork as Arthur and Knowles himself as Tommy, both of whom are sustained by memories of their ancestors.
Although created from research, this is a play that vividly evokes both the terrors of wartime bombing and Sheffield's capacity for survival.
• At the Finborough until 22 August. Box office: 0844 847 1652.