Seven Brides for Seven Brothers could have been called Seven Hides for Seven Hayseeds. Caleb, Ephraim, Gideon et al come down from the wilds, throw blankets over the heads of some pretty townswomen, carry them off to the land of wolves. And the women decide they like it. The whole thing is barmy (while not quite knowing it) and Rachel Kavanaugh's production gets it just right.
She raises an eyebrow while not making it seem daft to put on this 1954 musical. The show is not a seamless flow of golden songs, but it has the tuneful Spring, Spring, Spring and Wonderful, Wonderful Day. And it has the original nuttiness in Bless Your Beautiful Hide, in which the thigh-slapping, fringe-jacketed head hillbilly proclaims his intention to bag a gal: "prepare to bend your knee".
This is no a rapist's charter. It's a joke. When an avalanche traps the unmarrieds there for the winter (a white sheet flaps over the audience), the guys stick to their sleeping quarters, clutching cushions to their private parts, and sing of the hell of being "stuck in a barn with Cupid's cramp". It also has some startling references. Plutarch's Lives is packed in chief bride Milly's trunk (the chaste gal heist is based on the Rape of the Sabine Women – hear Sobbin' Women).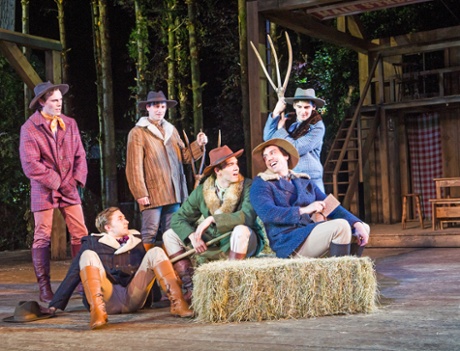 There is enough gingham to kit out a royal infant school, a startling line-up of long johns (pale green, tangerine and turquoise), and a barn raising that should make Ikea blush. Above all there are beards: jutting, straggling, bushy and trim. All are jettisoned to woo women. Weirdly, as soon as the seven brothers shave, they can dance, tuck their shirts into their trews and utter a sentence that goes beyond: "nice night for a raccoon hunt".
Dance is at the idiosyncratic heart of this musical. Alistair David's spot-on choreography is nimble, cheering, skilled but never elegant, with high kicks and scissoring legs and jack-knife bends. And what could be better for those backwoodsman than a background of murmuring trees in the park?
• At Regent's Park Open Air theatre, London until 29 August. Buy tickets for Seven Brides for Seven Brothers from theguardianboxoffice.com