This radically redeveloped theatre positively brims with youthful energy. Before the show, spectators get to tour the new, two-storey Reuben Foundation Wing where budding actors, dancers, musicians and film-makers ply their craft in ideal spaces. And the main stage is occupied by a re-creation of the celebrated 1975 Alan Parker film in which kids perform a musical spoof of the gangster movies of Hollywood in its heyday.
It is all staged by Sean Holmes with great elan, the cast is highly talented, and the audience went wild with delight. The Lyric clearly has a hit on its hands. If my own rapture was distinctly measured, it was for several reasons. One is that Parker's concept doesn't have anything new to say about the gangster tradition, but, as the New Yorker's Pauline Kael pointed out, simply reactivates its cliches by unusual casting. The other problem is that there is an unavoidable cutesiness about the sight of kids apeing adult mannerisms: boys strut around with coats draped lightly over their shoulders, and one of the girls is obliged to adopt the slinky postures of a Hollywood vamp.
But, even if I'd rather see young people doing a show that related to their own experience rather than to adult, movie-based nostalgia, this one has its pleasures. It's a nice idea to portray the speakeasy owner Fat Sam, engaged in a turf war with the slick Dandy Dan, as a stumblebum who can't see a bucket without inadvertently putting his foot in it. The slapstick, with custard pies vainly countering goo-shooting splurge guns, is fun. And Paul Williams's numbers yield, in Drew McOnie's choreography, some well-executed dance routines. Much the best is So You Wanna Be a Boxer in which a reluctant pugilist (the towering Hammad Animashaun) finds himself drawn into a display of fleet-footed ringcraft.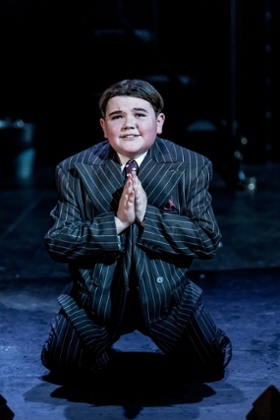 The principal roles are rotated among three different sets of performers, and the cast I saw was very good. Max Gill as Fat Sam, with plastered-down hair and two-tone shoes, showed a natural ebullience and ease on stage. Ashton Henry-Reid, as a janitor with showbiz leanings, did the old dancing-with-a-mop routine with a laid-back insouciance. And Thea Lamb as Blousey Brown, the love interest to Daniel Purves's spry Bugsy, proved she could deliver a soul number with heartfelt yearning.
The good thing about the show is that, aided by Jon Bausor's design, it has a vaudevillian bounce denied to Parker's movie. But, while I may well be in a minority of one, I found something resistible about its desperate desire to be loved.
• At Lyric Hammersmith, London, until 1 August. Box office: 020-8741 6850.