As far back as I can remember, I always wanted to be a gangster. Not a Goodfella or a Godfather, but one of the half-pint hoodlums from Bugsy Malone. I wanted a pedal car. I wanted a pencil-drawn pencil moustache. And more than anything, I wanted a splurge gun.
Well, dreams really do come true: I'm 30 years old and I'm holding an actual, real-life, working splurge gun on the stage at the Lyric Hammersmith. It may be a paintball gun modified to look like a rat-a-tat tommy, with a few shots of strawberry Angel Delight injected down the barrel, but my residual nine-year-old self is turning somersaults. I squeeze the trigger. Angel Delight goes everywhere. By August, the Lyric will have worked through half a ton of the strawberry stuff. "We're basically going to smell of Angel Delight for six months," sighs stage manager Claire Bryan.
Any Bugsy Malone has to contend with nostalgia like this. Alan Parker's iconic film, with its miniature mobsters and their squirty-cream shooters, turns 40 next year. Its original child stars are well into middle age and it has spawned a whole cottage industry of school plays and Christmas repeats. "People have grown up with it," says Parker, who is now in his 70s. "Everyone has a memory of it."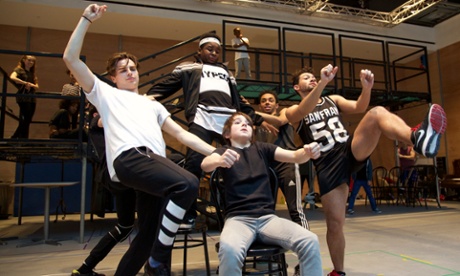 We all remember Fat Sam Stacetto, his rival Dandy Dan and the turf war that escalates into an almighty arms race. We remember the smooth-faced Bugsy, doing his all to woo Blousey Brown; Tallulah and her backing dancers; Fizzy and his dreams of Tomorrow – all backed by Paul Williams's songs, as sung – bizarrely – by adult voices.
Nostalgia might pull in the punters, but it often holds productions back. Parker has spent years rejecting rights requests, tired of seeing the film's imagery recreated on the cheap. Too many have been "glitzy school plays", he says. "The last version in the West End was so naff, I left at the interval." Ouch.
Sean Holmes isn't worried. The Lyric's artistic director is reopening the building, after a major refurb, with the first professional Bugsy in over a decade. "If we get it right, we'll give everyone exactly what they expect of Bugsy Malone – splurge guns, pedal cars, all the things you love from the film – but also, hopefully, we'll bring something else to it."
Holmes believes there is a contemporary spirit in Bugsy – it's just that it doesn't always come out. "It's all to do with the casting," he says. Rather than stage-school sorts, with perfect diction and dance training, he's sought out more streetwise and raw talent. "We've got a real range of ages, from eight to 20, but what I hope is that they all feel very contemporary, very now."
The aim is to put young people on stage as they really are. "What's interesting is the energy," Holmes adds. And by harnessing it on stage, he wants to confront "a culture that increasingly fetishises childhood, distrusts adolescence and doesn't know what to do with young adults".
His concept is that the kids have taken over the theatre to stage a gang war. "Imagine the box office staff have been bound and gagged behind the counter," says designer Jon Bausor, "while all these kids run amok, grabbing bits of scenery to make their show." The costumes are all a little too big, as if raided from the wardrobe, and the whole thing has a slightly handmade aesthetic.
That's partly in homage to Parker's original, with its combination of naivety and knowingness. The film is naff in places – the dubbed adult singing, for instance – but it also spoofed naffness elsewhere, poking fun at studio-shot mob movies. Parker wanted "a rag-bag of cinematic cliches". Bausor and Holmes are trying to honour that using theatre's equivalents.
Beneath its frivolity, though, Bugsy actually does quite a lot. Holmes sees "a deeper logic that makes sense" – not just because casting kids as gangsters and having them wage custard warfare shows gang violence up for the ludicrous and childish activity it is. Bugsy's dramaturgy is really tight. Its characters all dream of escape – Fizzy of dancing, Blousey of acting, Leroy of boxing – but they're all bogged down by their reality.
"It's about austerity, isn't it?" says Bausor. It's set against a backdrop of prohibition, as it nudged into the Great Depression. "It keeps pinging with these little moments of resonance, particularly in terms of rising up against big authority figures that are in the way." Cast out, Bugsy ends up leading the so-called "down and outs" in an all-out revolt against the two head honchos, Sam and Dandy.
Think about it, says cast member Isaac Gryn, 16: "We all stand there singing to the adults in the audience: 'You don't have to sit around complaining 'bout the way your life has wound up.'" It's a call to arms – just as long as they only shoot Angel Delight.
Bugsy Malone is at the Lyric Hammersmith until 1 August 2015