Roald Dahl's The Twits is filled with comic grotesquerie but is a bit light on plot. Enda Walsh, who has "mischievously adapted" the book, has had to devise a story to make an evening in the theatre. The result, while vivaciously staged and clearly appealing to a young audience, often feels a touch tortuous, as if Dahl's taste for bizarre fantasy has been overlaid by Walsh's own gothic imagination.
Seeing the work on stage, one thing instantly struck me: the revoltingly sadistic Mr and Mrs Twit are direct descendants of Pa and Ma Ubu from Alfred Jarry's surrealist satire Ubu Roi. Mr Twit is a shaggy-bearded, pot-bellied monster, while Mrs Twit has birds-nest hair, a glass eye and teeth that it would take a road-drill to straighten. As in the book, the Twits spend much of their time viciously attacking each other. They bop each other over the head with frying pans and, when Mrs Twit feeds her husband a disgusting meal of worm-filled spaghetti, he gets his revenge by elongating her walking stick to make her believe she is shrinking.
All this is suitably diabolical Dahl. But, seizing on the book's hint that the Twits once worked in a circus, Walsh has them throw a garden party for a trio of entertainers whose fairground they have stolen. On the pretext of restoring the missing fairground, the Twits get their own captive monkeys to re-enact traumatic moments from the performers' past. So we see how the Yorkshire Terrier Man tragically lost his dog, the Handsome Waltzer Boy was shown to be a stammering wreck and the Tattooed Fortune Teller Lady betrayed her friends.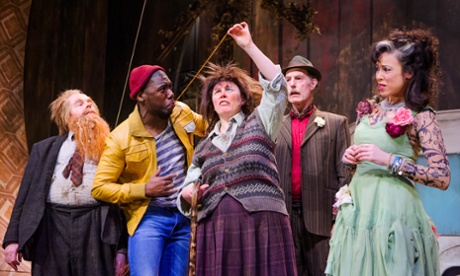 It is all strongly reminiscent of Walsh's own The Walworth Farce, in which hermetic characters are forced to engage in endless performance rituals. The problem is that it makes for a convoluted narrative framework and for long periods reduces the Twits to mere lookers-on. The piece is at its best when it opts for headily irrelevant absurdity. There is a lovely first-act climax in which all the characters engage in a handkerchief-waving morris dance (movement by Steven Hoggett) to the sounds of Pomp and Circumstance. To mark Christmas, Mrs Twit also does a dizzily parodic Queen's speech which turns into an attack on children, whether shyly introvert or noisily inquisitive, at which WC Fields might have blanched.
Even if the basic story is overburdened, John Tiffany's production conveys a sense of barely controlled anarchy. Chloe Lamford's design, which gives the impression one is viewing the action through an oval-shaped porthole and which boasts a climactic visual coup, is characteristically ingenious. The performances also have the right exaggerated intensity. Monica Dolan, in particular, makes Mrs Twit a nightmarish ratbag prone to hurling herself at the stage while Jason Watkins's bushy-bearded Mr Twit suggests a demonic Edward Lear. Sam Cox, Dwane Walcott and Christine Entwistle are perfectly good as their fairground victims and the four actors who play the monkeys are suitably simian.
It is all very jolly, if a bit strenuous, but the best is saved till last when, in a gesture fitting the Royal Court's season of revolution, we literally see the world turned upside down.