Once may be quite enough for some, but this cunningly unassuming musical – which opened in the West End last year and is based on the 2006 movie – is clearly hoping to clean up at the box office with its new star. Former Boyzone singer Ronan Keating has taken over the role of a Dublin singer-songwriter with a broken heart but lungs in perfectly good working order.
Director John Tiffany sprinkles bucket-loads of theatrical fairy dust over this guy-meets-girl musical with considerable help from movement director Steven Hoggett; designer Bob Crowley, who sets the whole thing in a pub-like space full of mottled mirrors; and the gorgeous melting, shadowy illuminations of lighting designer Natasha Katz.
Tiffany makes it look simple as he creates a moody, textured evening full of cracked hearts and an almost Chekhovian sadness at life's missed opportunities. It makes the traditional musical and jukebox shows, still so dominant on our stages, look like an alien life form. It's just a pity that the yearning ballads all sound so similar and similarly tasteful.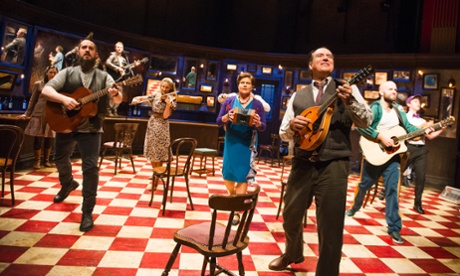 Keating's Guy, bereft at the departure of his girlfriend to live in New York, spends his evenings singing in the kind of Dublin bar where every customer is a skilled musician, and his days mending things in his Da's shop. Then just as he's about to chuck in the performing, Girl (Jill Winternitz) walks into the bar. She's a talented pianist with a husband back home in the Czech Republic, and a broken vacuum cleaner. Guy and Girl bond over a domestic appliance – and a love of music.
In many ways this is a lovely show, made all the better by the fact that it doesn't follow either the traditional love story or the failure-to-fame story formula. It's full of ambiguities. This is a show about all those Cinderellas who never get to go to the ball, and the most moving moment comes in the recording studio when they each reveal the hidden hinterland of their emotional and daily lives in a sequence that is like a low-key version of A Chorus Line. There is another fantastic scene as Guy and Girl argue their case with a bank manager for a loan, during which we simultaneously glimpse the frustrations of other everyday lives going nowhere via Hoggett's inspired choreography.
But while Winternitz's quirky Girl is the story's motor and brings momentum, Guy is such a passive figure that it's hard to detect his appeal. Keating acquits himself decently, but there's not much he can do with a character whose default setting is anguished yearning and who is little more than a vacuum. The lack of personality and energy at the heart of the show is partially made up for by Enda Walsh's array of colourful characters, and the piece is best when all the brilliant actor-musicians on stage are involved: playing, stamping, dancing and also hinting at the waterfalls of sadness and desperation behind their smiling eyes.
• Until 21 March. Box office: 0844 b871 7629. Venue: Phoenix, London
• Ronan Keating: 'Acting the role of a singer does my head in'