After more than two decades of unprecedented economic growth, the number of Indians living in poverty has declined from around half to less than a third. For the majority of Indian families, and especially those in India's cities, the challenge is no longer bare subsistence: it's how to realise the new, widespread hope for upward mobility.
There's no doubt that 25 years of globalisation and market capitalism has increased the standard of living for most Indians. In the early 1990s, a crisis-ridden Indian economy began to liberalise under pressure from international financial institutions. Policy reforms created more scope for private investment and entrepreneurship, and gradually opened India's economy to global flows of capital. Something pent-up was released. The number of cars on India's roads has increased more than eight-fold since the reforms began; a decade ago 5% of Indians owned mobile phones, last year 71% did. And as the west's economic miracle seemed to deflate during the global recession, many Indian citizens wondered if it wasn't their nation's turn to be – as one cheerleading Indian newspaper regularly predicted – The World's Next Great Superpower.
In the uppermost echelons of India's social hierarchy, this thesis didn't seem implausible. By 2008, the time of the events of David Hare's stage adaptation of Katherine Boo's study of Mumbai slum life, Behind the Beautiful Forevers, the city's billionaire population (in dollar terms) was fast approaching that of Los Angeles – and included, if briefly, the world's richest man, who was building for himself the world's most expensive house.
In the years since, Mumbai's city has become more and more like any other global city. Today the wealthy can order a limousine ride from Philippe Starck-appointed apartments to Versace boutiques to seafront sushi restaurants via smooth highways and a beautiful, sea‑crossing bridge. An elevated expressway lined with palm trees leads to the city's glimmering new airport terminal – "the most magnificent building built since independence", as cabinet minister Praful Patel declared at its January 2014 inauguration. But looking down, travellers to the airport might glimpse the Annawadi slum, literally an empty bottle-throw away.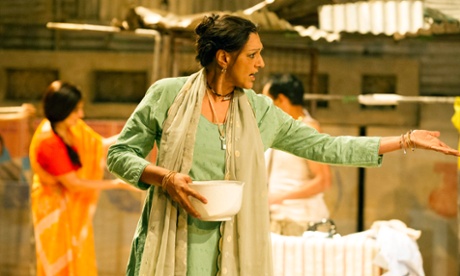 Despite India's economic growth, more than 40% of Mumbai's residents still live in slums like Annawadi. But like most slum dwellers in other Indian cities, these residents are rarely counted as poor by the Indian government. In the statistics, they're among the hundreds of millions of Indians lifted out of poverty since economic liberalisation began. That fact may bear re‑emphasising: Behind the Beautiful Forevers is a glimpse of what not-poor looks like in a global market age.
Pulitzer prizewinning New Yorker writer Boo spent more than three years investigating and documenting life in one tiny corner of a vast country in the throes of breathtakingly fast change. It's unfashionable work, in that it doesn't generate the large data-sets beloved of modern-day social scientists. Most of all, it's uncomfortable, because it asks us to live in the worlds and minds of the poor. The pressing challenges in Annawadi are similar to those facing many households in undercities elsewhere in the world. How do I get my ID papers, how can I be sure my shack won't be bulldozed by government or corporate authorities in search of more land, how do I get my child a basic education and some skills, bag myself a steady job with a uniform or clothing allowance, upgrade my basic mobile to a smartphone, maybe even invest in a two-wheeler? Meanwhile, how do I avoid the water-borne illness that could deliver me to a public hospital that may have neither medicine nor food? And how do I avoid encounters with the police or other authorities who may exploit me because they know there's little possibility of redress?
India's growth has been what economists call "precocious": rapid in certain sectors, but not in the ones that generate jobs. Almost no one in Annawadi has permanent work, or the health insurance and pensions that permanent work might bring. A single mistake, a bit of poor luck, or a neighbour's envy can unravel a lifetime of hard work and planning. To the real-life teenager Abdul Husain, whose story is recorded in the book, "A decent life was the train that hadn't hit you, the slumlord you hadn't offended, the malaria you hadn't caught."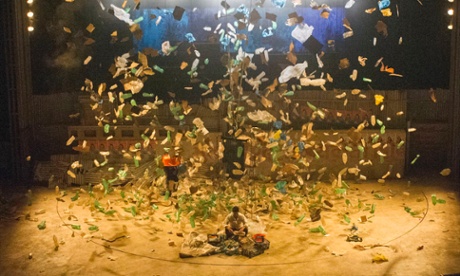 It was ever thus, you might be saying. But in recent decades the precarious existence of slum dwellers has converged with the volatility of global markets. In the new, hyper-connected economy, what happens in New York or London financial markets oceans away can swiftly obliterate the dignity and life chances of 12-year-old children who pick up airport trash in India. Sunil Sharma, the unschooled boy whom you meet as the curtain goes up in Hare's staging, comes to understand a fair bit about how global markets operate: "Everyone says 'Wall Street'. They all say 'Wall Street's crashed'… And here I can tell you what's changed. A kilo of empty water bottles – a few weeks ago, you got 25 rupees. Today you get 10."
The instant impoverishment of Sunil and other waste pickers across the world was one of the lesser-known effects of the collapse of banks that began with Lehman Brothers in 2008. Such stories should be told and heard, because they illuminate the nuances of an intricately entangled 21st-century economy. Surveys show young Indians are more hopeful today than they have been since the country had enough wealth to care about hope-and-happiness surveys. Meanwhile, the non-elite among them have never been more vulnerable to decisions that are invisible and unfathomable to them: decisions made in the richest substrate of the global economy.
What is amazing about a place like Annawadi is the ingenuity with which individuals attempt to navigate this unstable and often unforgiving new system. Selling samosas on the pavement by the gas station, attaching yourself to a political patron, gathering street garbage, standing among the other men at the day-labour market and puffing out your tubercular chest when contractors in trucks drive by: try anything, everything, because eventually something has got to work. But as Zehrunisa, Abdul's mother, says: "The world doesn't work in our favour."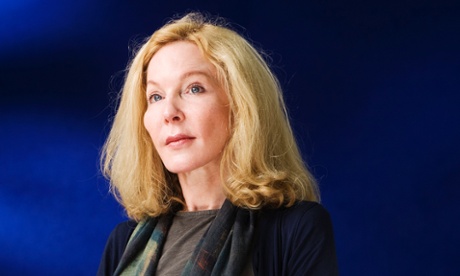 It is worth remembering while watching the play that the corrupt police officers and government officials who exploit the Annawadians are also hopeful strivers, strategising in their own ways about achieving economic security. It's also worth remembering that in other parts of the country, the intensity of the competition for the global economy's spoils makes Annawadi life seem as gentle in its contours as a game of maidan cricket. In the least developed regions of central and eastern India – where the state has barely existed except to permit its own agents or private contractors to extract the resources that lie beneath and on these lands – desperate and disenfranchised citizens have for several decades now turned to Maoist-led insurgency. In other rural areas, particular in north India, caste discrimination – something less frequent in the cities after concerted government effort – remains so brutal that a rape or murder of a low-caste woman is sometimes seen as no crime at all. To recognise this context is to better understand how most Annawadians see their city: difficult, yes. Unjust, often. Also better by leagues than where they've come from.
In Britain and other western countries, citizens live in the twilight era of the richly provisioned social state, and the age of the temp-job economy is well underway. The new Indian economy, playing out in elemental form in cities like Mumbai, may be hope-stoked in the way that western economies no longer are, but in many of its particulars, it looks very much like the new global economy. And it's coming to your city soon.
Behind the Beautiful Forevers is at the National Theatre, London SE1, until April. nationaltheatre.org.uk. Sunil Khilnani is the author of The Idea of India and is the husband of Katherine Boo.

• The footnote was amended on 16 November 2014 to include the fact that the author is married to Katherine Boo, in line with the Guardian's editorial code.