There have long been arguments about the existence, or non-existence, of a definable Royal Ballet style. And they flare up whenever ballets by Frederick Ashton, the company's founder choreographer, are performed. For New Yorker critic Arlene Croce, Royal Ballet style achieved "a pitch of perfection" in the 1960s, but declined when succeeding directors neglected the "pearly classicism" of Ashton in favour of a "religiose preoccupation with the human body and its contortions".
Croce wrote those words in 1981, the Royal's 50th anniversary year. Ashton had retired a decade earlier and his admirers, like Croce, feared his work would be neglected and his style forgotten. In fact Ashtonian style is making a comeback. It's particularly evident in some of the Royal's younger dancers. In the charm of Yasmine Naghdi's petit allegro, the evolving eloquence of Beatriz Stix-Brunell's upper body work, the brightness and bounding energy of Kevin Emerton and Tristan Dyer. These dancers and others are assembled in Ashton's Rhapsody, a late work set to Rachmaninov's Rhapsody on a Theme of Paganini, with the lead roles performed by James Hay and Francesca Hayward.
In Ashton's ballets, the wit and subtle melancholy that characterise his work are conveyed through choreography of daunting exactitude. With his cool manner and high, whippy line, Hay is equal to the challenge, but the technical flourishes take him right to the cliff edge of his technique – unsurprisingly, given that the role was made for Mikhail Baryshnikov. Hayward enters quietly, almost invisibly, against the backdrop of the evening sky. To begin with her gaze is cool, her dancing succinct and precise. And then, as the music gathers force, her line acquires breadth and grandeur. Hayward dances, as every Ashtonian must, with her eyes; she is at once the obedient instrument of the choreographer's vision and the radiantly assured performer seizing her chance. She really gets Ashton – you can see it in the lyrical épaulement, the rapturous finger-flicks, the reckless plunge of her head. The ovation that she and Hay receive confirms that this is a performance that crosses the years, marrying golden-age style with new-century finish.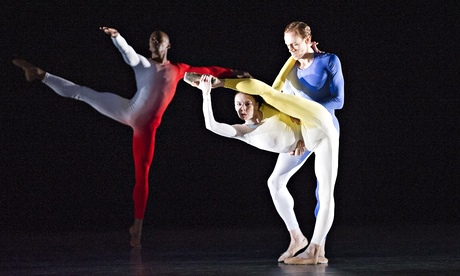 Wayne McGregor's Tetractys: The Art of Fugue is a work for 12 dancers set to Bach. In theory, the pairing of Bach and McGregor makes sense, in that both are acutely alive to the mathematics and architecture of composition. In practice, their conversation is only sporadically comprehensible. An opening duet between Edward Watson and Natalia Osipova is a fascinating exercise, as McGregor meets Bach's baroque algebra with choreography of slippery, live-eel complexity. But as the stage fills, the music's ineluctable cadences seem increasingly at odds with the production. Extreme, hyperextended dancing; partnering of precipitous complexity and risk; the icily probing lighting of Lucy Carter; the neon installations and electric-hued unitards of Tauba Auerbach: these elements seem to exist in a different dimension from the subtle, enigmatic score unfurling beneath them. In Tetractys, Bach plays second fiddle to the movement he's inspired. But then whatever the ostensible theme of a McGregor ballet, its real subject is always itself. Croce was right, it seems, about that "preoccupation with the human body and its contortions".
Kenneth MacMillan's Gloria completes the bill. A plangent condemnation of the human cost of war, set to a Poulenc score, it is made resonant by the intensity and anguish of the central performance by Edward Watson. He is ably assisted, particularly by Ryoichi Hirano and Melissa Hamilton, but in the end carries the tragic weight of the piece alone. His dancing, and MacMillan's choreography, speaks for a new generation of war dead.