Lutz Förster
I performed with the company from 1975 and joined in 1978. The dance world was completely different at that time. There was just one modern dance company in Germany apart from Pina's. Our first audience was theatre people not dance people. We were not moving the way people expected from dance performances but there was a great fascination about the work. People were touched by it.
Pina had a kind of authority. I don't know where it came from – it was just there. She never talked loudly, she never screamed, she talked so low that everyone had to be quiet to understand what she said.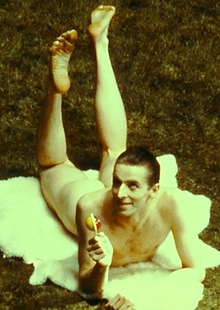 After the death of her longtime partner and closest collaborator, Rolf Borzik, it took some time for her to decide to work on her next piece, which became 1980. It was a difficult time. All the people involved in its creation tried to entertain and distract Pina. I felt freer to do anything stupid to cheer her up. And then I was surprised that she put many of those things into the final piece. Some people find 1980 hilariously funny; some very melancholic. It depends what you focus on.
It's exhausting to perform. There are a lot of things happening at the same time so everyone sees a different piece. It's nice to see it more than once.
After our appearance at Sadler's Wells in 1982 a group was founded to organise our return. A lot of actors who are now famous, including Fiona Shaw and Alan Rickman, were part of the group. Fiona was at theatre school at that time and said she was overwhelmed by 1980. The reaction of the audience was incredible. We've performed it all over the world since.
Over the years Pina made a few changes but it's still basically the same piece. There are four people left from the original cast who are performing it now in London. Some of the other performers have done it for maybe 20, 15, 10 or five years. There's a new girl who has never done it before. So there is a mixture of old and young. Pina liked that combination – it's like real life.
Eddie Martinez
They put down the grass on the stage today: it's cold and damp. We've used so many different sorts of sets and they all take you to a different place. You're transported.
Be ready for a big theatrical experience – you will go from some highs to some lows. You'll be touched. Have patience.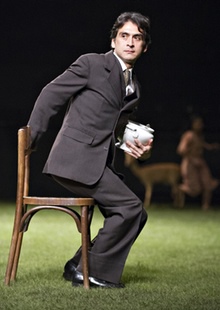 I felt a lot of heaviness, a lot of sadness when I started performing this piece. Pina told me, "Eddie, it's not sad. Be careful." She said that 1980 is about the past and about remembering, but it's not about being sad. There is a lot of humour in there.
She let you try to figure out your own role so that it comes from yourself and is not a copy of someone else. It's important that we come out as individuals in the dance. That it's us. I learned my role in 1980 from videos, trying to figure out what things meant, and I did many performances before I talked to Janusz Subicz, who had originated the role. He offered to help me and took it to another level. He helped me with even the little things: just how you carry a chair; or how you present a spoon of pudding to the audience.
I came to Tanztheater Wuppertal when I was 32. That's pretty old. And I've been with the company for 18 years now. Many of us have been here a long time. There are 30 of us and they are my family. Like any family, there are tough times and good times. We're with each other so much every day – in Wuppertal and on tour. And they all make me better.
We didn't perform 1980 for a while but now we are doing it a lot. This is a very heavy piece: for four hours we are pretty much always on stage. 1980 is more of a theatre piece – Pina's big dance pieces came later – but even though we're not dancing, we're exhausted. I always need a little downtime after a performance. I'm a biker so sometimes I go bike a little after the show because I need to come down a bit. It's not easy to shake off.
Julie Shanahan
Pina's pieces were groundbreaking: people had never seen anything like them. I first saw her work at the Adelaide festival, where I was performing with a small fringe company, when I was 18 or 19. We saw Kontakthof, Bluebeard and 1980: three massive pieces. I've now been with the company for 26 years.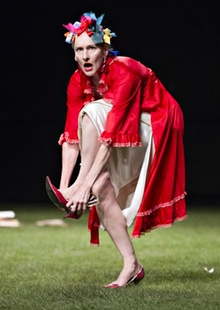 You need to let yourself become a part of 1980. There are so many slow moments in it – moments where you can just be. It's four hours long and by the end it's like everybody – the audience and the performers – knows each other.
When I first performed it, I took someone's place because they were pregnant. It was a different part to the one I'm doing now. I remember all the details, even down to the colour of the cigarette lighter that was used. There are so many worlds going on among all the people on the stage.
Pina told me to follow my instincts. That was somehow the key between her and me. She didn't really have to say too much. Maybe at the beginning, when she did say something, it would churn inside me and then I'd understand it by the end. Pina would keep on pulling you back to yourself.
She liked to watch things as if for the first time. Every time I do a performance I feel like I'm living it for the first time. The next day, after you've done the performance, you become like a new person and you need to do it again.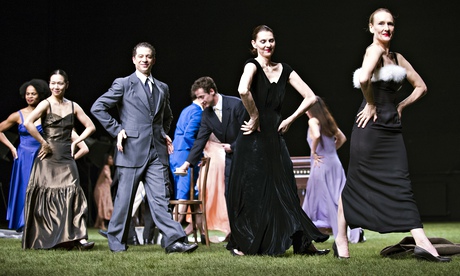 The grass on the stage is fantastic: you smell it and feel it. When we rehearse, everything is loud because you're walking with high heels. But with the grass on stage, there's a quietness just like with snow. And the beauty of the green comes out – you see it on a stage and suddenly grass looks completely amazing. That's what Pina did: she made you look at simple everyday things and realise that they are beautiful.
• 'Shot through with sadness, but also delicious comedy': Judith Mackrell reviews 1980
• 1980 – A Piece by Pina Bausch is at Sadler's Wells until 16 February 2014