Panto is Hackney Empire's golden egg, and it certainly knows how to lay a whopper. What other panto in the UK boasts not just one Olivier award-winner, but two: Clive Rowe and Sharon D Clarke? Which other panto has an audience that is quite so boisterous?
There is nothing in the slightest bit refined about this evening: it's gaudy, garish and all the better for it. Even the band and the ushers appear to be having the time of their lives. Things take on an extra glow this year with the return of Rowe, after an absence of four years, to play one of the greatest dames of them all: Mother Goose, a part written in the early 20th century for the great Dan Leno.
Susie McKenna's script updates this age-old Faust with feathers to Hackneytopia, where Sharon D Clarke's very nicely sung good fairy, Charity, is at war with her sister, Vanity (McKenna herself), over Mother Goose's soul. Will the much-loved Mother Goose, whose adorable goose Priscilla (Alix Ross) starts laying golden eggs, be corrupted by wealth and tempted by the opportunity to be young and beautiful? Oh yes, she most certainly will.
The storytelling is a wee bit clumsy, but the show is well worth a gander. There are plenty of compensations, not least in Rowe's costume changes, with each outfit more outlandish than the last. This Mother Goose, a riot of clashing colours, has clearly not heeded PJ O'Rourke's wise counsel that it's advisable never to wear anything that panics the cat.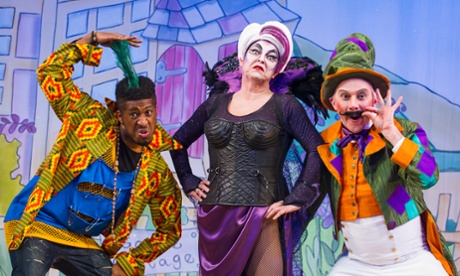 You may indeed spot Puss in Boots running away, and a host of other fairytale characters, from Goldilocks to Little Red Riding Hood. There's also a smattering of topical jokes ranging from the bedroom tax to the closure of local post offices and the failure of Boris Johnson's estuary airport dreams. When a giant vulture swoops down on Mother Goose, she turns to it crossly and says: "I told you, I'm not voting Ukip."
This is a show stuffed with silliness rather than satire. There's an entertaining baddie double act from Tony Timberlake as Baron Barmy and Darren Hart as Frightening Freddie, although the plate-breaking sequence is a sad substitute for the splosh/custard-pie scene. There are effective Lion King-style flying geese, lots of energetic goose-influenced choreography, and Clarke and Rowe are both on high-spirited, full-throated form. This goose comes with all the trimmings, and couldn't possibly be mistaken for a turkey.
• Until 4 January. Box office: 020-8985 2424. Venue: Hackney Empire, London.
• The best festive shows this Christmas
• Lyn Gardner: children at the theatre are best seen and heard
• Waiting in the wings: backstage at Mother Goose – in pictures