When the director Wim Wenders thinks of his friend Pina Bausch he hears Henry Purcell's Dido and Aeneas. The great German choreographer used music from Purcell's baroque opera for her landmark 1978 piece Café Müller, in which lonely souls including Bausch – in a long night gown, arms outstretched, apparently sleepwalking – drift around a stage cluttered with chairs. "That places Pina in front of me right away," reckons Wenders.
The aria When I Am Laid in Earth (Dido's Lament) is a perfect reflection of the dancers' desperation. After I saw Café Müller in a Bausch pairing at Sadler's Wells in 2008, Purcell's music stayed in my head for days. The earth itself was central to the other piece that night, The Rite of Spring, in which the stage is covered with soil; by its climax, the dancers were covered in mud and the scent filled the auditorium. When I hear Stravinsky now, I still smell soil.
Such is the power of the eclectic tracks used in the performances of her company, Tanztheater Wuppertal, it is the music as well as the moves that stays with you. Her company of dancers hail from around the world – Australian Julie Shanahan, Russian Andrey Berezin, Daphnis Kokkinos from Greece, to choose just three – and her soundtracks have a similarly international mix. Take Sweet Mambo, one of the highlights at this year's Edinburgh international festival. The featured artists include Brian Eno, Ryuichi Sakamoto and Gustavo Santaolalla. When Wenders made his 3D documentary Pina, there was even a release for its spectacular soundtrack which includes everything from the Sephardic folksong La Prima Vez, sung by Owain Phyfe, to the jazzy rump-shaker Fat Ass Joint by Brazilian producer Amon Tobin.
When I ask Wenders which of Bausch's pieces use music best, he responds in desperation ("Where would I begin?") but settles on a favourite. "After Café Müller, maybe Lutz Förster's pantomime solo in Nelken (Carnations) would come to mind, with The Man I Love." It's a sensational solo in which Förster – who took over as artistic director of the company after Bausch's 2009 death – interprets the Gershwins' yearning song through sign language.
Wenders remembers the "great complicity" Bausch had with her two music advisers, Matthias Burkert and Andreas Eisenschneider. "Pina always gave them credit for introducing her to a lot of musicians." I corresponded with Burkert, who worked with Bausch for 30 years, and began by asking him whether the choreography began with specific music in mind. "Mostly – 99% – the dance was created independent of any music," he replies. "Pina didn't want the movements, the dancers, being influenced by any mood from the outside. It was important for her that the form of the dance had an independent life, an independent story to tell. It was always the most exciting moment, when we dared to let the dance meet a piece of music or the other way around. It was always a courageous step – there was always the risk of disturbing or even destroying something through a wrong choice."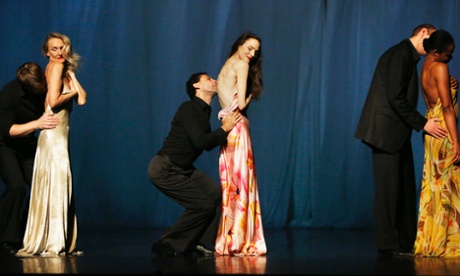 And how did they begin to select a piece of music? "We both always started from zero, like on a white sheet of paper. It was a permanent play with trial and error. And the condition was always: listening, listening, listening ... it didn't matter for what ... we were looking for everything, without thinking of dance or of scenes of the stage or whatsoever. It was just about being touched by sounds, songs, voices, musicians ... My colleague Andreas Eisenschneider and I collected all kind of music, watching the process of rehearsals, watching the development of movements and growing dances, each dancer in their individual way. We tried to prepare suggestions for the next rehearsal on the basis of what we have seen. Step for step, music met the slowly developing scenes."
Perhaps surprisingly, Burkert never selected music specifically composed for dance-theatre. "There were many offers from contemporary composers in the post over the years. For me it was mostly too intellectual, too uninspired, too theoretical ... We met composers when we fell in love with their music, being composed independent of any idea about dance or a bigger form." Burkert singles out the work of the Romanian violinist Alexander Balanescu whose "emotions support so much Pina's sentiment and the powerful and tender dances. With Alexander's music we found very often solutions, when we felt to be stranded in a dead end."
So what do musicians make of Bausch's work? In one of Sweet Mambo's most thrilling scenes, the New York group Hazmat Modine's riotous track Bahamut – also heard on the soundtrack to Wenders' documentary about Pina – accompanies a hide-and-seek dance through billowing curtains. The group's founder and lead vocalist is Wade Schuman, a professor at New York Academy of Art. "It's a special thing to have your music combined with another art form," he says. "Long films about people dancing are generally something I don't look forward to! But the Wenders film is completely captivating. What Pina Bausch did was something different to dance. She invented her own vocabulary – it's a very original conception of movement. I find her work consistent with German expressionism – there are ugly gestures as well rather than a solely refined sense of movement."
Madeleine Peyroux's To Love You All Over Again is featured in Bausch's final piece, "...como el musguito en la piedra, ay si, si, si..." Peyroux was thrilled to find out: "It's mind-boggling to think that something of mine was in a Pina Bausch choreography," she tells me. "I discovered her work last year – I happened to see the Wim Wenders documentary and then I was in Hong Kong at the end of my tour and I saw her company perform Iphigenie auf Tauris [one of Bausch's earliest works, based on Gluck's opera], which is all about female characters triumphing in a self-sufficient way ... I found the music in Iphigenie difficult to relate to on occasion but the dance tied it all together. The essence of things is where her focus is. There's nothing extraneous: no wasted energy or movement."
Another of Bausch's late works, Vollmond, which was premiered in 2006 and filmed by Wenders, features music from the British electronic duo Leftfield. "She used a version of our track Rino's Prayer," says Leftfield's Neil Barnes, whose son is a contemporary dancer. "The original track is very ambient but she chose a techno remix."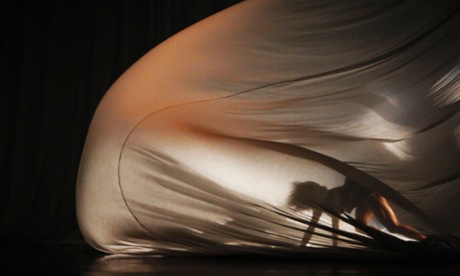 In Vollmond, as in Sweet Mambo, water splashes around the stage (and is often matched by rippling piano music). The title means both full moon and high water. Barnes says: "It's elemental - with all the water on stage and the earthy feel of the performance ... When I create music, the rhythm is the essential thing. With Leftfield it's about taking people on a journey through rhythm – teasing people with rhythm and then dropping in new directions. It's all about emotion. All the time in my head when I'm making music, I'm thinking about the dance floor. Pina Bausch picked really rhythmic music. Music's always been in contemporary dance – and Leftfield's work is used quite a lot - but it's often in a supporting role to the movement. The music is essential to the power of Vollmond."
In Sweet Mambo, lovers' squabbles and seductions are staged in a series of violent, comical and poignant vignettes. There's a hair-pulling duet that becomes especially glacial when accompanied by Portishead; a striking silhouetted solo performed on hands and knees behind white drapes to Cry Me a River, sung by Lisa Ekdahl; and the famous scene in which Shanahan is drenched in buckets of water to Mari Boine's Vuoi Vuoi Me. Women are continually the focus, whether it's Shanahan racing across the stage, repeatedly thwarted by two male dancers, or the wise-cracking Nazareth Panadero, continually making mischief as Mina Agossi's Ain't Misbehavin' plays.
For Burkert, it all represents a "balance of pain, sentiment, peace, elements, melancholia" and a "brutal driving until hopeless exhaustion, falling into deepest grief, dreaming". Bausch told him that the quality of each music in a piece has to be "I can't wait to listen to the next one". She knew the works would endure and that, as Burkert says, "this sensation has to last forever, because we have to live with all these chosen pieces of music for many decades in hundreds of performances, and the sensation shouldn't get weaker. For myself, this demand has been fulfilled in the sound of Sweet Mambo."
• Sweet Mambo is at the Edinburgh international festival until 25 August 2014. Box office: 0131-473 2000. Venue: Playhouse, Edinburgh
• The passion of Pina Bausch: Sweet Mambo in pictures
• Sweet Mambo – an exquisite love letter to Pina Bausch