He's back. But then he was never away. Woody Allen, still battered with controversy from the Dylan Farrow allegations, still enjoying a residual glow from Cate Blanchett's Oscar for Blue Jasmine, now returns to centre-stage in his hometown. His screwball comedy thriller Bullets Over Broadway is about to open on, well, Broadway. The book is by Allen himself, based on the screenplay he co-wrote with Douglas McGrath, and the music will be the classic 1920s numbers he loves.
Zach Braff makes his Broadway debut as David Shayne, the struggling playwright in 1920s New York, originally played on screen with an array of Allenesque tics by John Cusack. This penniless dramatist is thrilled when his solemn play, God of Our Fathers, finds a rich backer willing to put it on Broadway. But the backer is Nick Valenti, a terrifying crime boss who insists David casts his girlfriend, Olive, a fantastically talentless, squeaky-voiced dancer yearning to be a real actor. The dizzying plot whizzes around, and it all ends in gangster gunfire.
Turning Bullets into a musical is a great idea. The obvious comparison is with Mel Brooks's The Producers, the film that became a hit musical and then another film. Allen is a seasoned dramatist, steeped in Broadway lore: Bullets Over Burbank wouldn't have the same ring for this east-coast legend. Allen was a successful playwright before he ever became a movie icon, admired for his cheeky, fantastical stage wit, much like Noël Coward a generation before. His 1966 play Don't Drink the Water established him as a player; then, three years later, Play It Again, Sam was a Broadway smash, and later a film.
Throughout his career, Allen has continued to write for the stage, taking a keen interest in how his work is put on, although he's reputed to have mellowed out since 1994 – when his one-act play Death Knocks was part of a Broadway triple-bill, and he famously sent director Michael Blakemore notes saying things like "That was terrible!", "Just awful" and "Still shit".
Twenty years after its release, the film Bullets Over Broadway still holds up terrifically well. A middle-to-late period gem, it is elegant, effervescent, superbly constructed, and very funny. Allen makes it look easy. Chazz Palminteri is excellent as Cheech, the mobster with literary talent who helps out David; Jim Broadbent and Tracey Ullman are great as highly strung actors; and Dianne Wiest is outstanding in the role that won her a best actress Oscar – the impossibly haughty leading lady Helen Sinclair, too self-involved and tipsy to realise how preposterous the situation is. Helen has a compulsive need to seduce David, and in her purring voice she flirts and flatters him into a state of nervous hysteria: "The world will open up to you like a magnificent vagina … Are you OK? You look a little flushed!"
Meanwhile, David is stunned by his wife's confession that she is having an affair with a writer who brings artistry to sex: "He brings intercourse to the level of an artform?" — "Not just intercourse, foreplay, too!" But among the zingers, there's an act of violence and a backlash of guilt that reminds you of Allen's earlier masterpiece, 1989's Crimes and Misdemeanors.
Allen fans know the extraordinary place Bullets Over Broadway has in his CV. It was the movie he conceived, wrote and directed during the most cataclysmic year of his life: 1993. That was the year he was showing up in court for an acrimonious custody dispute with his former partner Mia Farrow; it was the year he was vehemently attacked in the media; and it was the year in which Frank Maco, the Litchfield County prosecutor investigating the child-abuse charges connected with Dylan Farrow, controversially announced that – although he personally had no doubt Dylan had been molested – he was dropping the charges (Allen has always vehemently denied the claims).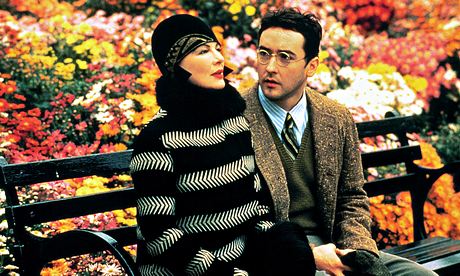 Made in the midst of all this, Bullets Over Broadway is today generally seen as an example of how Allen retreated from ambitious personal work into light comedies that would provide escapist fun for his audiences and himself. But is that the whole story? It is intriguing to read the movie and its production backstory for echoes of personal trauma. Around this time, Allen's sister and producing partner Letty Aronson was telling the press that Mia Farrow had made so many angry phone calls to Allen's elderly parents they had had to change their number. "She eats bullets," she said. A memorable turn of phrase.
At the time, too, his co-writer McGrath said he would show up at Allen's apartment for brainstorming script sessions, and Allen would often break off for tense phone calls with lawyers. "OK, get a detective," he said at one stage. There was something pretty hardboiled about his situation. Might a hostile critic even find strains of a misogynist revenge fantasy in Bullets Over Broadway – a terrible fate for a troublesome woman messing things up for a sweet-natured creative artist with spectacles and a stammer?
Well, that's too far-fetched. But the genesis of Bullets Over Broadway is in other ways very relevant. In the early 1990s, with Allen's films performing poorly at the box office, TriStar Pictures ended its contract with him. Allen was forced to look around for a new patron. His friend, the producer Jean Doumanian, led him to a more modest outfit: Sweetland Films, basically the creation of Doumanian's partner, Jacob "Jacqui" Safra, a colossally rich member of a Swiss-Lebanese banking dynasty. Now the amiable Safra is of course nothing like Nick Valenti, that awful mafia kingpin who demands a role for his girlfriend. But as it happened, Allen had given Safra small acting roles in two of his films, Radio Days and Stardust Memories, under the stage name JE Beaucaire. He became an executive producer on Bullets Over Broadway and a string of other Allen films in the 1990s. Film-making can be a tough business that rewards those willing to make shrewd accommodations with reality, and Allen is nothing if not a survivor.
Bullets may not be his very finest work, but it is a brilliantly sharp comedy: nimble and smart, yet occasionally possessed of a gloomy, glowering seriousness. Will the Broadway musical turn it into one of his most famous and lucrative creations? Or will a song'n'dance approach just slow things down and mess things up? We shall see when the curtain goes up this week.
• Bullets Over Broadway opens at the St James theatre, New York, on Thursday.
• More Broadway coverage: Denzel Washington and Sophie Okonedo star in a bracing revival of A Raisin in the Sun