For Alina Cojocaru, lead principal dancer at English National Ballet, life is good. She loves the company, which she joined after leaving the Royal Ballet earlier this year, and has "a wonderful relationship and understanding" with its artistic director, Tamara Rojo. She's also winning ecstatic reviews in ENB's new production of Le Corsaire (The Pirate). In fact, there's only one cloud on 32-year-old Cojocaru's horizon. "I'm missing Johan," she says.
Johan Kobborg is the Romanian-born ballerina's onstage and offstage partner. For more than a decade, they were the Royal's golden couple, and their departure from Covent Garden this summer sent shock waves through the dance world. Now, as Cojocaru prepares for ENB's seasonal run of Nutcracker, Kobborg is in Bucharest, staging his own production of La Sylphide. "We don't get enough time together" Cojocaru says. "We danced together at the Kremlin Palace in Moscow two days ago, but it's getting harder to be in the same place at the same time".
Love pangs aside, Cojocaru has no regrets about leaving the Royal Ballet, which she first joined in 1999 as a corps de ballet dancer. Her rise was rapid. She combined rapier-sharp technique with glorious musicality and a profound gift for characterisation, particularly in 19th-century romantic roles such as Giselle. Her partnership with Kobborg, a Danish actor-dancer of mesmerising intensity, has been one of the greatest in ballet history.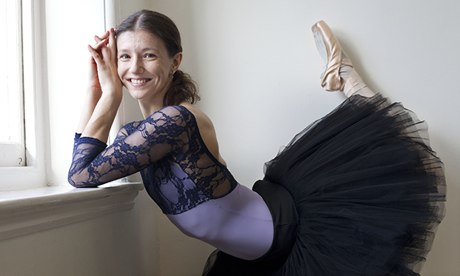 In person, Cojocaru is tiny, with fine features and a quizzical amber gaze. Her voice, still Romanian-accented, is almost a whisper. But this delicacy masks a steely will and, on occasion, a volatile temperament. In 2008, during rehearsals she suffered a whiplash injury that almost ended her career and required surgery and months of rehabilitation. There were cancellations and run-ins with management, particularly over the issue of balletic style. "I can't do the same thing twice, even if I try. But at the Royal there was one way of doing things – the Royal Ballet way. Now I've cut the ropes that were holding me, I can experiment, and I'm not afraid to fall."
Having spent most of her career surrounded by the gilt and grandeur of the Royal Opera House, Cojocaru is happy to be working in less formal surroundings. "There's more intimacy in a smaller theatre. You're closer to people. I've always been good at touring and I'm really looking forward to going to places where there's less ballet than in London. You feel you matter."
For Cojocaru, home is the London flat she shares with Kobborg and their dog, Charlie. But she will continue to travel, both on tour with ENB and as an international guest artist. "I've always been a perfectionist, but now I take life day by day. It won't last for ever, this dancing life, so I'm making it count."
Le Corsaire continues in Bristol, London and Manchester (until 15 Feb); Nutcracker is at the Coliseum, London, 11 Dec-5 Jan