"To Russia with Love", say the placards carried by the cast of The Pride at their second curtain call (they could have taken half a dozen). A voice from the back of the stalls shouts: "Thank you!"
Go to Alexi Kaye Campbell's 2008 drama to see a play that makes an exceptional connection with its audience: there were not just murmurs of recognition but ripples of relieved laughter. Strongly felt and ingeniously structured, The Pride may be about to take on the mantle of Patrick Marber's Closer: a drama at which you can see and hear people acknowledging their own hopes and disappointments. It's a true documentary of contemporary emotions, and Jamie Lloyd's fine revival is particularly timely.
Scenes from 1958 and from 50 years later are plaited. The earlier episodes are triggered by a closeted homosexual man; the latter by an unhappily promiscuous gay man. Both are played, with delicacy and gusto, by Al Weaver, who moves in an instant from a 50s gabardine to Calvin Klein jockeys. Around him, Hayley Atwell (in the moving character of the wife who knows she is loved but not desired in the 50s, and the genial best friend of the 00s) is first beautifully cut-glass and then cutting-edge. Everyone slides between Noël Coward clippedness (I think these vowels are rather overdone for the 50s, but they're delivered cleverly) to slack-jawed slouchiness. Harry Hadden-Paton is impressive as the reluctantly gay husband and Mathew Horne extraordinarily chameleon-like as "a make-believe Nazi", a sinister aversion-therapy doctor and a venal magazine editor who wants an article about gay sex with a straight man ("keep it light"). All in front of Soutra Gilmour's magnificent design of a tarnished (guilt-ridden?) mirror, in which, like the characters, you may see parts of yourself.
It's often said that lying in bed with someone you don't love is the loneliest thing in the world. Not getting the joke in the theatre comes close: there are few things more dispiriting than hearing a laugh whiz past you and land on your neighbours.
I wonder whether anything could make me giggle uncontrollably at Georges Feydeau's 1894 farce, A Little Hotel on the Side. Lindsay Posner's production certainly did not. You may not expect plot surprises, and you won't get them: ill-assorted couples meet up in a hotel and are wrongly (or rightly) suspected of having illicit liaisons. Predictability wouldn't matter – indeed, might be part of the fun – if the action were quick and light, but it does when someone who threatens to come down the stairs takes ages to get there. You might expect a few stock characters, but not the totally uninflected beings we see here. Hannah Waddingham mugs it up as a martinet: the idea of a grumpy woman is supposed to reduce the audience to helpless laughter, with every insult thrown at her treated as if it were a finely honed shaft of wit.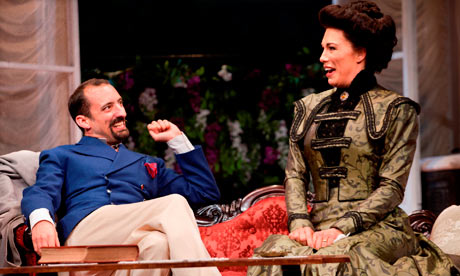 Still, Richard McCabe gets it spot on as the wanting-to-have-it-away husband: always on the grope and rather appealing. There are a couple of good wheezes: a chorus of girls repeat their father's every mot as if they were in The Sound of Music. One character stammers; the stammer is tediously strained into jokes ("Wee – wee – wee…") then cleverly made into a plot device, and given a wonderfully surreal twist: he stammers only when it rains.
John Mortimer's version chortles along with something flavoursome every now and then. "I'm leading the emotional life of a stuffed aubergine," wails one woman. "Stuffed – surely not," comes the reply. That's as good as it gets.