A baggy cardigan; a battered fedora; a starchy dress fastened high at the neck. The stage costumes designed by Rosemary Vercoe, who has died aged 96, were often unglamorous, but always steeped in character. Frequently working with her husband, the set designer Patrick Robertson, she was for many years a prime collaborator on Jonathan Miller's theatre and opera productions, creating landmark visions of Shakespeare and Chekhov, Janáček and Verdi.
"There's no such thing as a nice person," remarked Miller, and his revisionist portraits of the protagonists of Shakespeare and Chekhov made them not tragic heroes but bores, prigs and blunderers. This approach suited Vercoe perfectly – she always gravitated to the real rather than the romantic. Her period designs were clothes, not costumes – fully researched, profoundly imagined. At Greenwich, she combined with Miller and Robertson on an inspired season entitled Family Romances (1974), which cast Peter Eyre, Irene Worth and Robert Stephens in echoing roles – misfit son, overbearing mother, interloper – in Ghosts, The Seagull and Hamlet.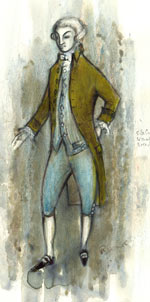 Other Shakespeares with Miller included King Lear (1969), with a sombre Michael Hordern; a dour All's Well That Ends Well (1975); and Joan Plowright as a spoilt girl in silks, taking on Anthony Hopkins's leather-clad puritan in The Taming of the Shrew at Chichester (1972). An influential Tempest (1970) made Ariel and Caliban not supernatural beings but the indigenous inhabitants of a colonised territory; Norman Beaton's spirit resembled a suave civil servant.
Vercoe's costumes were at their shrewdest in Miller's Chekhov productions, including The Seagull (1974) and Three Sisters (1976). Austere settings concentrated attention on the vexed relationships, as Miller teased out sighs, sulks and helpless tics. Eyre's black-suited Konstantin meticulously tidied away before killing himself. Irina, youngest of the three sisters, was considered by Miller to be no "delicate flower" but "very hard, worn-down and impatient". The playwright Rodney Ackland noted how Angela Down played her "in a stiff and starchy high-necked dress, abrasive and unyielding in manner as the material the dress was made of". Vercoe's clothes aided these acute visions of the ordinary: "Conversations and veal cutlets," Miller said, quoting The Seagull, "that's all there is to life."
Born in Swiss Cottage, north-west London, Vercoe was the second of five children of Richard, a doctor, and his wife, Selina. She went to Chelmsford County high school for girls and was taught by Henry Moore and Graham Sutherland (neither much cop as teachers, she thought) at Chelsea School of Art (now Chelsea College of Art and Design). She moved into acting, surviving on ship's biscuits in "tatty rep", but after the Shakespeare Memorial Theatre Company's 1949‑50 tour to Australia she decided to concentrate on costume design – conquering her hatred of sewing to understand precisely how costumes were made, and earning the respect of wardrobe departments throughout her career.
She also worked at Glyndebourne as costume supervisor during the 1950s, but her own work as a designer began at Bristol Old Vic in 1951. Initially responsible for sets and costumes – her Comedy of Errors had winding streets like the Pied Piper's Hamelin – in 1953, she began to collaborate with Robertson, whom she married in 1958. Working in separate rooms, they shared not only an emotional bond but also an uncluttered approach to design – apparent in Bristol's bleak Cherry Orchard and grotesque Volpone (Vercoe's dark sense of humour was often apparent). In 1964, they became resident designers at the pioneering Nottingham Playhouse, producing difficult classics, pantomimes and new plays such as Brassneck by Howard Brenton and David Hare.
On Miller's production of The School for Scandal, he gave them a detailed brief down the phone, dismissing period flummery in favour of a tawdry, louse-infested, avaricious world from Hogarth or Smollett. This acrid vision recurred in their later productions of the same play at the Old Vic and Harvard. "Jonathan had a very visual interest in his productions and was always very concerned about their look," Vercoe recalled; often he "would shower us with pictures and photographs". As the collaboration progressed, "after a time, we felt we didn't need words any more".
Among new plays, Vercoe's most triumphant premiere was Tom Stoppard's Jumpers (1972). Hordern's lugubrious philosopher boggled at Diana Rigg's sparkly ex-showgirl and a troupe of canary-clad tumblers, with his hands bunched in the pockets of his baggy cardigan. Other designs for emerging British playwrights included The National Health by Peter Nichols (1969), an ambitious panorama at the Old Vic that played rancid hospital reality against a gleaming soap opera. Twelve years later came Nichols's ingenious adultery drama Passion Play at the RSC. In Howard Barker's scabrous Fair Slaughter (Royal Court, 1977), Max Wall played an unrepentant communist and murderer, mouldering in striped prison pyjamas. Vercoe also designed two Alan Ayckbourn plays in the West End – the creeping despair of Just Between Ourselves and Ten Times Table, where a fractious local pageant collapses amid arguments over ill-fitting costumes.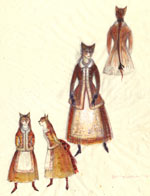 Miller led Vercoe back to opera – and to Glyndebourne – with an acclaimed production of The Cunning Little Vixen (1975). The designers were initially stumped by Janáček's anthropomorphism – exultant, raucous, red in tooth and claw – until Vercoe proposed Moravian ethnic costume to contrast (in Robertson's words) "grey, drab humans" with "colourfully attired animals". This immediately released the creatures: neat foxes in sensible aprons, a cockerel strutting in a military jacket, all plume and frogging.
Work with Miller for English National Opera began with a subdued Marriage of Figaro (1978), dressed in pale blues and terracotta to evoke the domestic harmony soured by the lascivious Count. The frequently revived The Turn of the Screw (1979), with ghostly projections scudding over a skeletal setting, held its characters in cumbersome Victorian dress. The sensational 1982 Rigoletto transplanted Verdi's tragedy to the Little Italy of 1950s New York: seedy tenements and mafia nightclubs, desolate diners out of Edward Hopper. Rigoletto worked the room in a barman's white tux, the Duke went tomcatting in GI fatigues, while John Tomlinson's hired assassin loomed from the shadows in a soft fedora and shabby jacket.
Rigoletto remained a jewel of ENO's repertory for almost three decades, but the designers retired from stage work in 1988; Vercoe began a distinguished new career as a glass engraver. She and Robertson lived in the same street in Highbury, north London, for nearly 50 years, first in a neglected house that had been damaged by wartime bombs – she said it was "like walking into a tropical rainforest". Opera might play as she cooked Sunday lunch, but Vercoe's personal passion was for folk music. She taught herself the guitar, and responded to folk's plangent, insistent themes – a grave humour and stubborn reality that informed her own remarkable work.
Vercoe and Robertson had twins, Teresa and Adam. Vercoe is survived by Teresa, an artist, and her grandsons, Callum, Leo and Lawrence. Adam died in a motorcycle crash aged 28 and Robertson died in 2009.
• Rosemary Vercoe, stage designer, born 29 April 1917; died 28 July 2013