Romeo And Juliet In Baghdad, Stratford-upon-Avon
With the Globe To Globe season already underway on London's South Bank, offering 37 plays in 37 languages, the World Shakespeare Festival gets into its stride with the arrival of the Iraqi Theatre Company's Romeo And Juliet In Baghdad at Stratford-upon-Avon's Swan Theatre. Director Monadhil Daood draws upon the sectarian strife between Sunni and Shia in present-day Iraq to tell the story of the young lovers doomed by enmity and cycles of violence. Performed in Arabic with English surtitles, the show heads to London as part of the London International Festival of Theatre (Riverside Studios, W6, 27-30 Jun), and is the first of a series of high-profile international Shakespeare productions that will be seen in the UK this summer.
Swan Theatre, to 5 May
Lyn Gardner
Love Love Love; Belong, London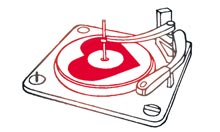 There's a brace of openings at the Royal Court this week. On the main stage Mike Bartlett – whose new adaptation of Chariots Of Fire opens at Hampstead next month – offers Love Love Love, which looks at the baby boomer generation as it hits retirement, through a story running from 1967 to the present day. The cast includes Claire Foy, recently seen on TV in the similarly time-framed White Heat, Victoria Hamilton and Ben Miles. The co-production with Drum Theatre Plymouth and Paines Plough is directed by the latter's artistic director, James Grieve. At the upstairs theatre, Bola Agbaje's Belong is a satirical drama about the exact nature of home and belonging, focusing on a black MP who flees to Nigeria.
Royal Court, SW1, to 26 May (Belong) and 2 Jun (Love Love Love)
Mark Cook
GIFT – Gateshead International Festival Of Theatre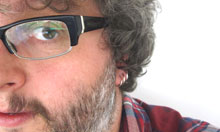 Short festivals are very much in vogue and one of the newest is GIFT, the north-east's only dedicated festival of contemporary performance. The programme features a good array of works in progress alongside full shows from a range of national and international theatre artists, not to mention brilliant Tyneside-based companies such as Unfolding Theatre. Its new darts-inspired production Best In The World is at Northern Stage in Newcastle tonight before heading to London's Battersea Arts Centre (3-5 May). GIFT artists also include Spain's acclaimed Sleepwalk Collective; regular Tim Crouch collaborator a smith; Third Angel and Fiona Wright. Add to that a showcase from recently graduated theatre-makers and it should be a very lively weekend.
Various venues, Fri to 6 May, giftfestival.co.uk
LG
Enquirer, Glasgow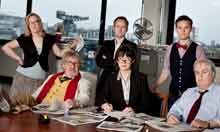 An empty floor of a media office block in Glasgow is the venue for this new verbatim piece from the National Theatre of Scotland. With the phone hacking scandal shaking the public's faith in journalism, the Guardian's Deborah Orr, style writer Paul Flynn and Scottish journalist Ruth Wishart have interviewed over 50 people involved in the newspaper industry. Those interviews have been edited and shaped by Andrew O'Hagan, Vicky Featherstone and John Tiffany to create a promenade piece that provides a rapid response to recent events.
The Hub At Pacific Quay, to 12 May
LG
Epsom Downs, Salisbury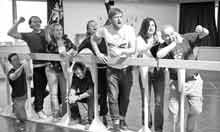 As the Queen's diamond jubilee looms, Salisbury Playhouse's new artistic director Gareth Machin looks back to the year of the silver jubilee, and most particularly Derby Day. Howard Brenton's 1977 play, written for Joint Stock, originally premiered at London's Roundhouse, which was perfectly suited to stand in for the Epsom racetrack. This revival's designer will have to work a little harder to turn the Playhouse into a winner, but Brenton's bustling play – with its host of characters from stable lads to toffs – should provide as good a piece of entertainment as any day at the races; indeed the play feels very much like a 20th-century Bartholomew Fair.
Salisbury Playhouse, Wed to 26 May
LG
Three Kingdoms, London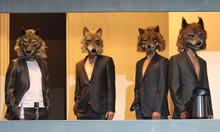 You can hardly switch on a TV without catching a thriller, whether of the homegrown or Scandi variety. It's not a genre that lends itself as well to the stage; think of creaky Christie or the Deathtrap-style puzzler. Three Kingdoms hints at the new European thrillers with the action taking in London, Munich and Tallinn. Simon Stephens's play starts with the severed head of a woman found by the Thames, and the hunt for those responsible by two detectives who gradually find themselves drawn into the dangers of the European vice trade. Olivier award-winner Stephens returns to the Lyric after his hugely successful Punk Rock there, to be reunited with Sebastian Nübling, who directed his play Pornography.
Lyric Hammersmith, W6, Thu to 19 May
MC
Birmingham Royal Ballet, Birmingham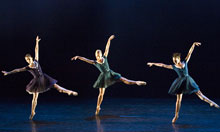 BRB's contribution to the city's International Dance Festival is a triple bill of short ballets, all created in-house, two of which are premieres. Jessica Lang, former dancer with Twyla Tharp, uses piano music by Grieg to float through Lyric Pieces. In robust contrast is David Bintley's Take Five, a homage to the music of Dave Brubeck set to designs by the elegant stylist Jean-Marc Puissant. Finally, 9-5 is an expanded version of the drum'n'bass party piece that Kit Holder created for BRB's recent gala, now boasting an extended electronic score.
The Crescent Theatre, Thu & Fri
Judith Mackrell
The Royal Ballet: La Fille Mal Gardée, London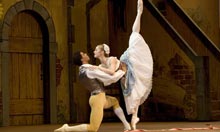 Frederick Ashton's 1960 version of this 19th-century comedy sets the bar high: it's not only one of the funniest ballets in the repertory but also one of the most perfectly constructed. It tells the story of Lise, – wayward daughter of Widow Simone – who's in love with poor but handsome Colas. It mixes tenderness, romance virtuosity and adorable silliness as Lise tries to wriggle out of her engagement to rich but simple Alain, son of the local squire. And who else but Ashton would have got away with dancing chickens, a transvestite clog-dancing Widow and a live pony, not to mention some of the wittiest and most inventive choreography he ever created?
Royal Opera House, WC2, to 16 May
JM