Alain Platel, artistic director, Les Ballets C de la B
For me, Pina's work was a trigger when I saw it in the early 80s. She opened a lot of doors for many of us. She was the first one to ask questions of her dancers and use the answers to make performances. She had little lists of questions. They could go from the absurd, like "What did you eat for Christmas?" to "How do you feel about love?" There were a thousand other questions in between. It was quite revolutionary. Many of us use that method now.
Her masterpiece is without doubt Café Müller. I was asked in 2001 to organise a dance festival, and I contacted Pina. Everyone told me that it would be impossible, that she never showed only Café Müller – and that she would never show it just for one evening. But she invited me to Wuppertal, and we talked, and she came! She came to the festival to show Café Müller in a theatre that was too small for the set to fit in.
The way she talked about her own and others' performances was very subtle and poetic. What I liked about her was that she would never talk about your work in terms of good and bad; she would always try to understand why somebody would do something.
I probably will not be the only one who was extremely in love with her. She would give you a lot of attention in a very positive way. She would share you with the people she was with. She was extremely intelligent and sensitive – and, in that way, a mirror of her own performances.
Wayne McGregor, choreographer
An artist of true inspiration, Pina Bausch has changed the dance and theatre landscape forever. Always provocative, her amazing body of work stands testament to her enduring vision, innovation and creativity.
Lloyd Newson, DV8 Physical Theatre
When Pina Bausch first came to London in 1982, I remember swathes of audience members walking out and many critics sullenly dismissing her work as "not dance", "structureless" or "self-indulgent", and some still do. But Bausch was not a person to kowtow to audiences' or critics' demands to change her work. The rewards of that singular, uncompromising vision mean that nowadays for every person leaving one of her shows, there are 20 others waiting for their seat.

Bausch understood that dance and linear narrative weren't always the best vehicles for discussing the human condition. Even if you were a disciple of her work from the outset, like I was, her work could delight you but just as easily frustrate and annoy you. That was her magnificence. Bausch made you feel. She had the courage to relentlessly pursue, on stage, her own fascinations and obsessions about time and human relations no matter how minuscule or epic those ideas might be; and that was her genius.
It is rare to find dance- or theatre-makers with such vision and courage. Her work truly allowed people to see the world from another perspective that, had she not been around, we would never have known. Her legacy is monumental.
Deborah Bull, creative director, Royal Opera House
I first saw Pina Bausch's company in 1980, in what I now gather was an "unsuccessful" season at Sadler's Wells. In retrospect, that makes sense: as a graduate student at the Royal Ballet School, I certainly couldn't have afforded the seat I occupied at its face value. I don't remember much about the performance other than a line of black-clad women advancing towards the audience and answering, one by one, the question of a disembodied voice: "What are you afraid of?" "Death." "Is that all?" "Isn't that enough?"
I knew I had seen something huge, something groundbreaking, something which would change forever what I believe can be expressed through dance, and how. Watching Bausch's choreography is like watching life through a train window: unexpected peeks into private places, swathes of day-to-day drabness and life's flotsam and jetsam washed up at the side of the track. A living tapestry which, like life, doesn't always make sense. So some bits of Bausch wash past, leaving you unmoved, while there are moments which leave you wondering how she got the keys to your soul.
Siobhan Davies, choreographer
I know that Pina's company is on tour at the moment and I send them heartfelt good wishes and strength as they continue. Pina must have triggered a continuous circle of enquiry and knowledge that rebounded around the artists that gathered to work with her and make years and years of outstanding performances. The loyalty that Pina and her company exchanged produced the power to make every minute of work count. An unconnected collection of felt images from performances ping into my mind as I write; many of then are of Dominique Mercy, whom I thank. Pina and her close associates must sometimes have taken each other to the edges of where performances can be made and sustained, but by the time they reached the stage, the wealth of energy and detail came from a whole company.
Pedro Almodóvar, film-maker
With a perennial cigarette in her hand, and her indescribable smile, Pina Bausch established a turning point in contemporary dance for the last quarter of the last century ... Our friendship was intense and forever. Pina was very feminine and very sensual … She sparked very diverse emotions in me and always inspired me.
Sidi Larbi Cherkaoui, dancer and choreographer
Pina Bausch's work was the first "contemporary" choreography I felt I understood. She somehow found a way to reflect reality, or at least show in movements and metaphors, a view on real life, on real relationships. Compared to classical dance, where men and women were pushed in specific and limited archetypes, her work touched me deeply as I recognised the tensions, the issues she was handling in her pieces. It moved me to tears, every time I saw something of hers.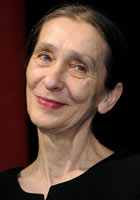 She inspired me to this day to do what I do as a choreographer. She made me, through her art, believe in asking questions, and dancing the answers away, forever searching for a moment of grace. I was blessed in meeting her a couple of times and was invited to dance at her festival in Germany. I will cherish those moments of seeing her think, seeing her energy, and how she tried to make everyone feel welcome and taken care of. She had so much clarity and kindness, such power and vision, so much mystery also.
It's a great loss to have her pass away, and a lot of tears have been shed since the sad news. I was struck by how extremely sad and empty I felt when I heard she left us. Death is not a new thing for me, yet I felt lost hearing of her passing away. In many ways, Pina was such a powerful inspiration, such a beacon, it's like we are all her children. Suddenly we have to wake up and realise we have to become grownups and handle reality on our own, it's a difficult shift to make for everyone staying behind.
My heart goes out to her family and to all her dancers and company members, to everyone in Wuppertal. I wish them a lot of courage in these difficult times. Pina leaves us with an incredible oeuvre, limitless inspiration and a vision of dance as a reflection of human lives, of human feelings, of human struggle. She will dance on forever in all our hearts, in our memories, in our bodies, in our movements. Let's all keep (or start!) dancing to honour her. I feel she would have liked that ... to see us all unite in dance.
Shobana Jeyasingh, choreographer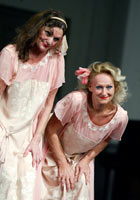 When I started choreographing, Pina Bausch was already an icon. She was like a huge mountain we all admired but also wanted to run away from. We were slightly scared that we'd be so influenced by her we wouldn't find our own voice. In her work, there was an incredible theatricality of the body. You came out of the theatre gasping for breath. The Pina Bausch experience was like someone turning on a cold shower. It was an incredible assault on the senses. She's a nice contrast to someone like Merce Cunningham. Cunningham is incredibly cool; it's like looking at something from a very long distance but it still engages you. With Pina Bausch, it's like looking at something at completely close quarters; you don't get the freedom to have an emotional perspective. It's thrown at you with such vigour and drama and energy.
Jan Fabre, theatre-maker
My last beautiful encounter with Pina was a night in an Antwerp restaurant a year ago. They closed the restaurant especially for us in order that we could smoke. Pina was a great lady, a great artist, and a fantastic smoker! I imagine that she died with a cigarette in her mouth: you have to stay loyal to the things that kill you.
Ramin Gray, associate director, Royal Court theatre
I saw Nelken in Venice in 1983. Half the audience had walked out in disgust by the end, but I was mesmerised. For years I had a poster of the girl with the accordion wandering through that endless field of carnations on my bedroom wall. The trouble with Pina is that her stuff is so distinctive you've got a real problem passing it off as your own without getting nabbed. Fortunately I did a youth theatre show in Ashford in 1990 where I offloaded most of it but she still haunts me after all these years.
Jasmin Vardimon, choreographer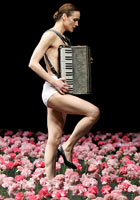 I was sorry to hear the news of the death of a great artist, the pioneer of the dance-theatre genre. My first introduction to dance was her piece 1980, which I saw as a young teenager. A year later I had the privilege of helping to set the stage for Nelken and of observing the dress rehearsal – an experience that had a great influence on my development as an artist and my creative life today. Her work had the kind of impact that stays for a long time after you've seen it, and I'm sure this impact will stay for generations to come.
Cornelia Parker, artist
I first met Pina a few years ago, when Viktor was being performed at Sadler's Wells. I'd always assumed that she would be a larger-than-life character because of those incredible images that she created, but the reverse was true. With her shyness, modesty and wraith-like physique, she seemed like somebody from an Edvard Munch painting.
There was a lot of humour in her work. People think of her as this dark German expressionist but there was lots of wit as well as tragedy, she used the whole emotional register. Her works weren't about people having the perfect body. There were dancers of all ages – you might have 30 old age pensioners pirouetting on the stage, alongside sheep and dancers with impossibly long limbs. There's a hypnotic refrain that seems to consistently resurface, like a slowed-down, Hawaiian hula. What is great about experiencing her work is the generosity and the space it allows you for your own thoughts.
A couple of years ago, I was asked to do a project in Wuppertal. There's a suspended monorail in the city that passes right by the windows of Pina's studio. I covered the windows of the trains with transparent gels, each carriage a different colour. I hoped that she might look out from her studio at night and see those mood trains go by.
Alistair Spalding, artistic director, Sadler's Wells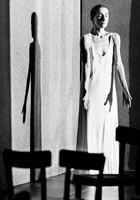 It has been a great privilege to have been able to first present the work and then become a friend of Pina Bausch over the last eight years. Pina was first and last an artist who lived and breathed her work with the Tanztheater Wuppertal. She rarely took holidays but rather spent time travelling everywhere with her company, creating a new work every year and, most importantly and remarkably, keeping all of the works she ever made available in the repertoire. She had incredible stamina and there were regular, very late-night dinners after performances in Wuppertal and all around the world with a customary clinking of red wine glasses to start proceedings. Little did I know that the toast after her most recent premiere would be the last one I would have with her. Pina inspired absolute devotion from her company and collaborators, they all loved her deeply and so did I.
Monica Mason, director of the Royal Ballet
I was shocked and very saddened to hear of the death of Pina Bausch. She was a genius and a giant in the field of modern dance theatre and I wish I'd had the chance to know her and to perform in a piece of her work. It was always so exciting and inspiring to spend an evening watching her company performing. Her death leaves dance devastated.
Michael Morris, co-director, Artangel
Pina was well known for not talking about her work to journalists. She very rarely talked about her work to anyone at all. Whenever I went to Wuppertal, everything under the sun would be discussed around the dinner table but not the work. It wasn't that she didn't want to; she didn't know how to talk about it. She was not an intellectual. She was motivated only by emotional truth and was not frightened to put difficult and paradoxical feelings on stage, almost as a way of evacuating aspects of humanity that she was fearful of. She made so many works, but they're all one piece really. And it's all about staging the full complexity of human emotion and impulse, however tough to look at. She celebrated humanity in all of its guises. Increasingly, she perhaps celebrated happiness more than pain. She always fused humour with horror, offsetting anxiety with compassion.
Ten days ago, I saw what has turned out to be her last piece. She would always show a new work without naming it; the title would come later. So this piece remains "ein stück von Pina Bausch". It felt particularly complete and had a real integration of the more experienced members of the company and some younger dancers, making their debut.
Pina's vision was second to none. I'd put her up there with Beckett and Bacon as one of the towering figures of the 20th century. All of the work is in repertoire and she kept it fresh so there can be a future for it. The company gave a performance in Poland the night that she died and they will perform over the weekend in Spoleto. The determination to keep her spirit alive through the work is fierce. The company were all asked if they wanted to perform on Tuesday, and they unanimously wanted to – and needed to.