Michael Jordan's big score: why his NBA ownership tenure is far from a failure
The Charlotte Hornets have struggled to achieve on-court success under the Hall of Famer. But in business terms, his achievements are nothing but net
Andrew Lawrence
29, Mar, 2023 @7:15 AM
Why are there so few Black team owners in US professional sports?
A look at the fortified glass ceiling that casts a shadow over one of the most exclusive clubs in the world
Merlisa Lawrence Corbett
14, Mar, 2023 @10:00 AM
'I changed kids' perspectives': Muggsy Bogues, the 5ft 3in star who broke NBA norms
This year's draft marks the 35th anniversary of the point guard's entry into the league. It's easy to forget just how good a player he was
Joseph Palmer
22, Jun, 2022 @7:45 AM
Hawks and Pelicans keep seasons alive with NBA play-in tournament wins
The Atlanta Hawks and New Orleans Pelicans avoided elimination on Wednesday night with victories in the NBA play-in tournament
Agencies
14, Apr, 2022 @2:42 AM
NBA play-in tournament: Tatum's 50 lift Celtics to No 7 seed as Pacers romp
The Celtics and the Pacers cruised in their Eastern Conference play-in games on Tuesday night as the postseason picture came into closer focus
Agencies
19, May, 2021 @1:21 AM
How LaVar and LaMelo Ball outsmarted the student-athlete industrial complex
The NBA's most notorious father gave plenty of prophecies that failed to come true. But it's hard to argue his plans for his youngest son haven't worked out
Andrew Lawrence
26, Mar, 2021 @8:23 AM
Michael Jordan opens first of two health clinics for underprivileged in Charlotte
The NBA legend unveiled the first of two medical clinics he and his family funded to provide care to underprivileged members of the Charlotte community
Guardian sport and agencies
18, Oct, 2019 @4:02 PM
Clippers' coup to Lakers' lament: NBA free-agency winners and losers
The Los Angeles Clippers and the Brooklyn Nets just got a whole lot better during free agency, but things weren't as great for their cross-city rivals
Hunter Felt
10, Jul, 2019 @8:34 AM
Michael Jordan says slap of one of his Hornets players was 'only love'
Michael Jordan, whose intense competitive spirit propelled him to six NBA titles has taken that fire into his role as the owner of the Charlotte Hornets
Guardian sport
13, Dec, 2018 @6:01 PM
And one of the stars of the NBA playoffs is ... Jeremy Lin?
The Hornets guard is playing brilliantly but it's mostly gone unnoticed outside of Charlotte and Miami
DJ Gallo
27, Apr, 2016 @11:42 AM
Steph Curry's ankle shouldn't worry the Warriors – but other teams aren't so lucky
For the reigning NBA MVP, the Warriors are erring on the side of caution. Other teams' injuries might end up having a bigger impact in this playoff series

Hunter Felt
20, Apr, 2016 @3:57 PM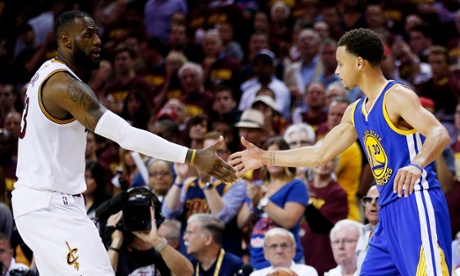 The Hunters: the alternative 2014-15 end of season NBA awards
Who was the most valuable player in basketball? Who deserves Coach of the Year honors? Why does the league vote on these things before the NBA season has even ended?

Hunter Felt
23, Jun, 2015 @9:00 AM