How the Carolina Hurricanes hit back against the NHL's war on fun
The 'Canes have taken a stand in the name of silliness, and have ended up winning a battle of values in a league that often takes itself too seriously
Colin Horgan
08, May, 2019 @8:30 AM
Was Alex Ovechkin's knockout of Andrei Svechnikov just part of hockey?
The Washington Capitals star left a 19-year-old rookie in the concussion protocol after they came to blows. But fights in the NHL are not what they once were
Colin Horgan
17, Apr, 2019 @11:01 AM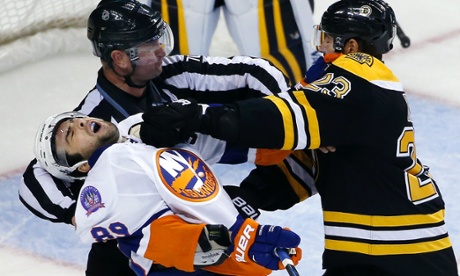 Bruins highlight NHL's East but plenty of questions remain for the rest
With the puck dropping on the NHL season tomorrow, Colin Horgan previews the Eastern Conference and wonders whether the Bruins, Rangers, or Canadiens have enough mettle to end the West's recent Cup dominance
Colin Horgan
07, Oct, 2014 @5:18 PM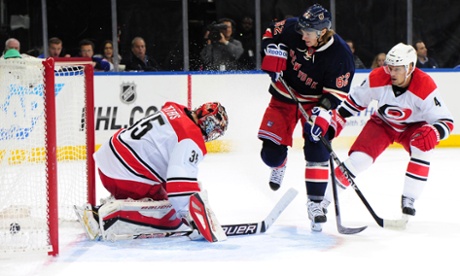 Rangers wrangle Hurricanes 5-1 and Islanders best Bruins 3-1
New York celebrates wins from two of its three teams, though the Buffalo Sabres fail to shine against the Anaheim Ducks

Devil is in the detail as New Jersey fans wonder 'who can beat us?' writes Ian Winwood
Ian Winwood: New Jersey Devils beat the Carolina Hurricanes 4-1 as the play-offs open to prompt wild optimism from their fans
Ian Winwood
16, Apr, 2009 @12:57 PM

NHL: New Jersey Devils are beaten 4–2 by the Carolina Hurricanes
NHL: New Jersey Devils paid the price for resting record breaking netminder Martin Brodeur as Carolina Hurricanes won 4–2
NHL results round-up
Results: Atlanta Thrashers 3-5 Carolina Hurricanes, Buffalo Sabres 7-4 Tampa Bay Lightning, Chicago Blackhawks 5-0 Washington Capitals, Dallas Stars 1-2 Anaheim Ducks, Detroit Red Wings 3-1 Columbus Blue Jackets, New Jersey Devils 1-2 New York Rangers (SO), San Jose Sharks 4-3 Minnesota Wild 3 (SO).
Staff and agencies
20, Mar, 2008 @8:31 AM
Ice hockey: Hurricanes blow away Oilers to win Stanley Cup
The Carolina Hurricanes beat the Edmonton Oilers 3-1 in game seven of the NHL finals to win their first Stanley Cup.
Reg Dunlop
21, Jun, 2006 @8:33 AM