England v New Zealand: rugby league third Test – as it happened!
England took the three-match series 2-1 despite a late Kiwi comeback thanks to two tries from Elliott Whitehead and one from the captain Sean O'Loughlin
Stuart Goodwin
14, Nov, 2015 @3:13 PM
Sean O'Loughlin seals England's thrilling win against New Zealand
England beat New Zealand 20-14 at the DW Stadium to retain the Baskerville Shield 2-1, thanks to two tries from Elliott Whitehead and a clincher from Sean O'Loughlin
Aaron Bower at DW Stadium
14, Nov, 2015 @3:06 PM
NBA's French stars play through the grief: 'I was thinking about it the whole game'
Alexis Ajinca admitted he found it difficult to concentrate on basketball after the Paris attacks, while Joakim Noah says 'I just know it's very, very sad'
Guardian sport
14, Nov, 2015 @2:52 PM
Men in Blazers: 'This final frontier – America – is wide open'
Roger Bennett and Michael Davies's 'little podcast that could' has grown into a mini-empire. As BlazerCon opens in New York, Graham Parker asks what drives them
Graham Parker in New York
14, Nov, 2015 @11:00 AM
Jason Pierre-Paul: ready to rev it up after losing a finger to fireworks
After a fireworks accident left him missing part of his hand, the defensive end returned to the Giants last week – and now he's ready to go against Tom Brady
Dave Caldwell
14, Nov, 2015 @11:00 AM
Australia v New Zealand: the second day of the second Test – as it happened
Over-by-over report: all the action from day two at the Waca as New Zealand fought back with their most determined effort of the series
Russell Jackson first and Will Macpherson later
14, Nov, 2015 @10:11 AM
The gifs that keep on giving: nutmegs, vision, glorious failure and a corner flag
Featuring precision on the tennis court, an inch-perfect pass to the corner flag, cars in formation, a new winter sport and a blame game among champions
Paul Campbell
14, Nov, 2015 @9:45 AM
Talking Horses: Saturday's best bets plus the latest racing news | Chris Cook
Buywise has not always lived up to his name in recent times at Cheltenham but Saturday's Paddy Power Gold Cup could be the moment he justifies the hype
Chris Cook
14, Nov, 2015 @12:01 AM
What next for the main players in the Russia doping scandal?
Sebastian Coe is on the front foot after pushing through Russia suspension but the IAAF is not out of the woods with several former staff under investigation
Sean Ingle
13, Nov, 2015 @11:15 PM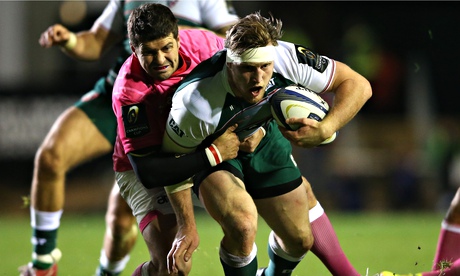 Brendon O'Connor makes early impact for Leicester against Stade Français
The New Zealander Brendon O'Connor was at the heart of an improved Leicester display in their 33-20 win over Stade Français
Robert Kitson at Welford Road
13, Nov, 2015 @10:41 PM
Pragmatism saves Russia from greater punishment after doping scandal
Despite the damning report proof of moves to clean up the system would bring Russia back in time for the Rio Olympics
Owen Gibson
13, Nov, 2015 @10:36 PM
Missouri coach Gary Pinkel to step down following cancer diagnosis
Shock decision comes days after his team threatened to boycott Saturday's game against BYU over concerns about racial strife on campus
Les Carpenter
13, Nov, 2015 @10:25 PM