Pakistan spinner Yasir Shah suspended after failing drug test against England
Pakistan's Yasir Shah is not allowed to play until an ICC disciplinary process is complete after testing positive for a banned diuretic in the one-day series against England last month
Ali Martin
27, Dec, 2015 @11:10 AM
England beat Pakistan as third T20 goes to a super over decider
England 154-8, beat Pakistan, 154-7, after a super over with James Vince top scoring and Chris Jordan holding his nerve
Vic Marks in Sharjah
30, Nov, 2015 @8:29 PM
Pakistan v England: third T20 international – as it happened!
Chris Jordan bowled a magnificent super over as England beat Pakistan by the narrowest of margins, to take the T20 series in the UAE 3-0.
Dan Lucas
30, Nov, 2015 @7:53 PM
England and James Vince have cause to end with flourish against Pakistan
England have already won the T20 series against Pakistan but James Vince and three team-mates staying on in Dubai want to make impact
Vic Marks in Dubai
29, Nov, 2015 @12:51 PM
Fearless England give selectors welcome problem in buildup to World T20
Jos Buttler revelled in his first taste of captaincy for a long time in the T20 series-clinching victory over Pakistan and said he is committed to Eoin Morgan's free approach to white-ball cricket
Vic Marks in Dubai
28, Nov, 2015 @6:00 PM
England beat Pakistan in thrilling finish to win second T20 and seal series
England won a dramatic second Twenty20 international against Pakistan by three runs in Dubai to take an unassailable 2-0 lead in the three-match series
Vic Marks in Dubai
27, Nov, 2015 @7:43 PM
Pakistan v England: second T20 international – as it happened
England survived a stunning late assault from Shahid Afridi, who hit 24 from eight balls after taking three for 15 with the ball, to seal a series win with victory in Dubai.
Dan Lucas
27, Nov, 2015 @7:34 PM
Sam Billings and James Vince help England to T20 victory over Pakistan
The Twenty20 International novices Sam Billings and James Vince helped England go 1-0 up against Pakistan with a 14-run win at the Dubai International Stadium
Vic Marks in Dubai
26, Nov, 2015 @8:04 PM
Pakistan v England: first T20 international – as it happened
England beat Pakistan by 14 runs in the first T20 in Dubai, thanks to a half-century by Sam Billings and three wickets for Liam Plunkett
Dan Lucas
26, Nov, 2015 @7:19 PM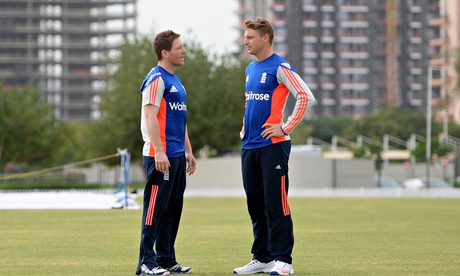 Dubai drizzle forces rethink in England's Twenty20 preparation for Pakistan
Eoin Morgan's England side are preparing for two games against Pakistan in Dubai and one in Sharjah, with next year's World Twenty20 looming large
Vic Marks in Dubai
25, Nov, 2015 @4:59 PM
Reece Topley plots first-class course on England's pathway to the top
The Hampshire bowler Reece Topley is focused in Dubai on England's T20 series against Pakistan but his vision for the future is as a force in the red-ball game
Vic Marks in Dubai
22, Nov, 2015 @3:25 PM
Jos Buttler shows Ian Bell there is a way back into England team
Jos Buttler's 46-ball century came after he was dropped from the England team, an experience Ian Bell will be hoping he can learn from
Vic Marks in Dubai
21, Nov, 2015 @6:00 PM