The vagaries of golf's world ranking system mean Jordan Spieth's stay at the summit may be a brief one. In fact, he could be replaced by Rory McIlroy after next weekend's Barclays Championship at Plainfield in New Jersey, an event the Northern Irishman is not even participating in.
Still, confirmation of Spieth's rise to the top was the significant subplot to the US PGA Championship. McIlroy described the claiming of No1 by Spieth as "inevitable" and was entirely correct; his season, at the age of 22, has been the stuff of dreams.
"That will never be taken away from me now; I'll always be a No1 player in the world," Spieth said. "When I look back on this year, the consistency that we have had this year and especially being able to step it up in the biggest stages, that's a huge confidence builder and that's what's allowed us as a team to become the best."
Context arrives by way of figures. Tiger Woods in 2000 was widely reckoned to be at the peak of his powers as a virtually unbeatable golfing force. In four majors, Woods scored an aggregate of 53 under par. That Spieth has beaten that by a shot highlights a sensational year.
So, too, does not only the claiming of the Masters and US Open, but the fact Spieth was a shot from an Open Championship play-off and was the player to push Jason Day, the eventual and record-breaking winner, at the US PGA. Through any generation, Spieth's run has to be regarded as one of the best ever. Whatever else he does in the future, this young Texan will be forever and intrinsically linked to 2015.
The simple analysis may be that McIlroy has been harmed by Spieth's success. In reality, the opposite may be true. Even Day's triumph is likely to be a spur for McIlroy, given the frustration he will associate with a major-less year. Few could have predicted that outcome.
History tells us McIlroy is at his best when challenged by something or someone. He relishes the prospect of endorsing what is the case: that he is the finest golfer in the world. Sometimes, without being pushed to demonstrate that, McIlroy looks as if he lacks a certain percentage in performance. This is an intriguing aspect of McIlroy's character, if perhaps an inevitable trait for someone to whom success has always come naturally.
Unlike Woods, McIlroy isn't obsessive about golfing success to the detriment of other things. There are other aspects to and strands within his life. For instance, it was encouraging to hear the 26-year-old insist last week that he has no intention of giving up football games with his friends on account of the injury that has disrupted his season.
Those who exhibit apparent disgust about McIlroy's free-time decision-making would be rueful about how out of touch modern sportspeople are with reality. McIlroy, quite deliberately, wants to remain as normal as possible. Good on him for that choice.
In what kind of world should young men be banned from kickabouts on account of phoney responsibility or commercial pressures? McIlroy's pursuits of choice could be far worse or far more dangerous than is actually the case.
The knock-on effect of McIlroy's ankle ligament woe is that his year has taken on a fresh dynamic, a scenario only enhanced by Spieth's rise through the rankings. By the time he appears in the FedEx playoffs, in China for the final WGC event of the year, and in the events that conclude the European Tour's Race to Dubai, McIlroy will in essence be starting 2015 over again.
He has a mission; to re-impose what was an earlier and substantial gap at the top of the rankings. For golf itself, which relishes the concept of duels, this cannot be anything other than an appealing situation.
Haigh's quiet diligence is a lesson to others
You have to work pretty hard to see or hear from Kerry Haigh, the man entrusted by the PGA of America to set up the venue for the final major of the year. Is it coincidence, then, that the US PGA is routinely the most thrilling of all four majors? At certain other events, those in the background make themselves more prominent than the competitors.
Haigh's work does not go unnoticed, especially by the batch of players – McIlroy among them – who afford him praise. That he has no interest in stealing the limelight only makes Haigh even more appealing. Golf could benefit from more like him.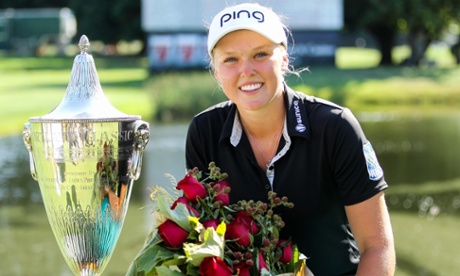 Teenage sensation Henderson targets double success
If there was an unfortunate aspect to last weekend, it came on account of the US PGA Championship overshadowing a stunning LPGA win by Brooke Henderson. At 21 under par, Henderson was eight clear of the field.
The 17-year-old Canadian has now been granted full membership on tour after claiming the Cambia Portland Classic. Henderson, once the top-ranked amateur in the world, had previously been denied that status because she was under 18.
This week in Vancouver, Henderson is assured of special attention at the Canadian Women's Open. Her ambition? "Back-to-back victories."