It was an appropriately shambolic end to an inglorious reign. When Lamine Diack bade farewell to 16 years as president of the International Association of Athletics Federations, he departed with a bitter, incoherent rant against the media in general and The Guardian in particular, and an insistence that athletics did not have a doping problem. His replacement, Sebastian Coe, meanwhile, sat alongside him and spoke of his "deep affection" and "great admiration" for Diack. He praised his predecessor's "shrewd stewardship" and thanked him for his "unflinching support and wise counsel", paying tribute to the man who would always be the "spiritual president".
If Lord Coe's fulsome tributes were explainable before his election by the need to stay ahead in a close race against his rival Sergey Bubka, after winning they could not help but now they appear ill-judged. It was hard not to bring those words to mind on Friday when the French prosecutor Elaine Houlette confirmed Diack's son Papa Massata would have joined his father plus the IAAF's former most senior doping official, Gabriel Dollé, and the IAAF legal adviser Habib Cissé in being arrested if he had set foot in France. With a nod to the still unfolding Fifa crisis, she concluded that sports federations "have become totally gangrenous with all this money".
The defence of those within the sport battling against an unprecedented crisis has been that athletics has at least taken the doping threat seriously; that, faced with the horrors of the institutionalised doping of the eastern bloc in the 1970s and 1980s and the Ben Johnson and Balco scandals of the 1980s and 1990s, it had introduced blood passports and redoubled its efforts.
If the ARD/Sunday Times claims this summer that the IAAF failed to follow up on suspicious blood values cast doubt over that claim, the idea that its most senior officials have been complicit in actively covering up positive drug tests in a multimillion-pound protection racket could blow it to smithereens.
This could yet be worse than Fifa. Skimming money from television contracts, sponsorship deals, bidding races and development grants is one thing, subverting the very sport you are supposed to be nurturing is quite another.
When Dick Pound, the former head of the World Anti Doping Agency commissioned by it to produce an independent report, sits down to speak to the world's press at the Mandarin Oriental hotel in Geneva on Monday he will deliver another hammer blow to a sport on its knees. But his report into allegations of systemic doping in Russian athletics, and attendant suggestions of an establishment cover-up, is just one front amid a range of allegations threatening to overwhelm the sport.
Just as the Swiss police raids at the behest of the US Department of Justice in May blew the lid off a Pandora's box of festering Fifa corruption that had been building for years, so the arrests of Lamine Diack, Cissé and Dollé in France threaten to expose the dark underbelly of track and field.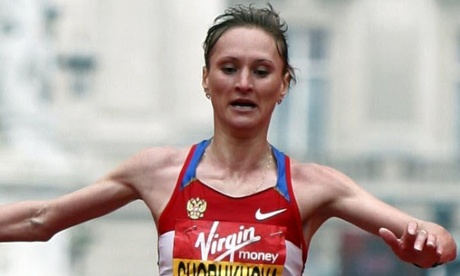 Pound's investigation was set in train last December when the German investigative reporter Hajo Seppelt alleged widespread doping in Russian athletics. At the same time, L'Équipe reported the case of Russian marathon runner Liliya Shobukhova, who was the victim of an alleged $450,000 extortion attempt by the Russian athletics federation in return for covering up a positive test. It was claimed the money was then used to pay off an IAAF official to suppress a positive result. We now know that Michael Beloff QC's independent IAAF ethics committee was by that point already investigating the same case.
The allegations coincided with Russia's hosting of the 2013 world championships in Moscow and, more widely, a push to project the country's power through major sporting events. Yet the scandal already goes beyond Russia. Thanks to Houlette, we know that Monday's Wada report will outline the case of Asli Cakir Alptekin. According to French prosecutors, the Turkish runner was approached a few months after she won gold in the 1500m at 2012 London and it was suggested she could pay to quash a positive test. "It was a sort of blackmail," Houlette said. "She refused."
The Russian doping allegations kickstarted a period of woe for the IAAF that took in allegations in the Guardian that Papa Massata Diack had requested $5m from Qatar during a period in which Doha was bidding to host the 2017 world championships and a range of other corruption claims. Through the IAAF, Diack Jr denied those claims.
His father is a contemporary of many of the cast list of Fifa rogues who have now been discredited and, indeed, appeared alongside many of them on a list of recipients of $100m in bribes from the now defunct sports marketing company ISL obtained by the BBC's Panorama in 2010. He claimed the $41,500 he received in three tranches in 1993 was assistance from friends to help him after his house in Senegal burned down without insurance. In 2011 he was censured by the International Olympic Committee over the affair, along with the current acting Fifa president Issa Hayatou. Both are of the generation who ascended to power when previously amateur sports suddenly became awash with cash from sponsors and broadcasters, yet retained governance structures and a lofty attitude more suited to a private members' club. Diack ran his fiefdom from Monaco, while his son and his associates ran amok among the scramble for events, sponsorship and broacasting contracts.
The case of the Russian marathon runner Shobukhova, who last year alleged two members of the Russian athletics federation extorted $450,000 from her in return for covering up a positive test, is the smoking gun that threatens to spiral into a deep-rooted crisis.
The story, which surfaced in L'Équipe last December, was based on a deposition by Shobukhova's agent, Andrei Baranov, to the IAAF's ethics commission. L'Équipe also suggested the money was used to pay off an IAAF official, or officials, to suppress Russian doping.
Separately from the Pound report and the linked French police investigation, the IAAF independent ethics committee, headed by Beloff, has been investigating the Russian claims since spring 2014.
After the IAAF changed its rules to allow the ethics committee to break its silence, it finally confirmed late on Friday that an investigation by the recently retired Lord Justice Sir Anthony Hooper had been completed.
As a result Papa Massata Diack, the former president of the Russian athletic federation, Valentin Balakhnichev, the former Russian head coach for long-distance runners and walkers, Alexei Melnikov, and Dollé were charged with various alleged breaches of the IAAF's ethics code. Their case will be heard in December in London.
Coe is likely to try to present this as an opportunity. He will say it definitively allows the IAAF to draw a line between its past and its future, to clear out the dead wood and on Saturday he came out fighting. "That people in our sport have allegedly extorted money from athletes guilty of doping violations is abhorrent," said Coe in a statement.
But his task is made difficult by the fact that he has been a member of the IAAF council since 2003 and a vice-president since 2007. Those gushing tributes to Diack, and his ill-judged assessment that this summer's allegations based on leaked data amounted to a "war on my sport", ring in the ears of all who heard them. Still, on Saturday Coe promised stronger action by the IAAF during his administration. "Where there are fragilities in the system that may have allowed extortion, no matter how unsuccessful, we will strengthen them," said Coe. "And the independent integrity unit which I will establish next month will include an independent tribunal to hear all integrity-related violations committed by international level athletes and their support personnel. We will take the hearing process out of the hands of individual member federations."
Yet Coe knows there is much more pain to come. The renowned international sports lawyer Richard McLaren is one of three Wada independent commissioners and coauthor of the Pound report that will be unveiled on Monday and is likely to prompt difficult questions not only for the IAAF but for Wada itself.
"This report is going to be a real gamechanger for sport. Unlike Fifa, where you have a bunch of old men who put a whole lot of extra money in their pockets, here you potentially have a bunch of old men who put a whole lot of extra money in their pockets, through extortion and bribes, but also caused significant changes to actual results and final standings of international athletics competitions," said McLaren.
"This is a whole different scale of corruption than the Fifa scandal or the IOC scandal in respect to Salt Lake City."