Precious few major championships are defined by a single player. Those that are offer a nod towards current or impending greatness. At 21, Jordan Spieth now deserves his place among the game's aristocracy.
What a tremendous Masters climax this would have been, minus Spieth as the detached, triumphant part of the field. Over four days the Texan looked like a kid playing a golfing computer game with the cheat password typed in. Seasoned onlookers could be seen scratching their heads, flicking back through history for comparison. They were not readily found.
But for the tale of Tiger Woods, who staged an admirable return from the apparent edge of a professional abyss here, talk surrounding the 79th Masters would involve Spieth and Spieth alone. Retrospectively, it should do. This young man waltzed his way towards victory in a style which even some legends of the game could not manage at Augusta National.
If it was not blatantly obvious before, it is now: golf has a new member of its superstar fraternity. On the very stage that Ben Crenshaw waved an emotional goodbye, the man he identified as destined for special things many years ago endorsed a legend's confidence.
In claiming the Masters, Spieth broke records as a matter of routine. His 26th birdie of the competition, produced as early as the 10th hole of his final roundon Sunday, was a tournament record. The 28th made him the only player ever to reach 19 under par in the Masters. He is the second youngest Masters champion in history. At an aggregate score of 270, 18 under, Spieth won by four. Raymond Floyd was the last player to lead from wire to wire in the first major of the year. That was in 1976.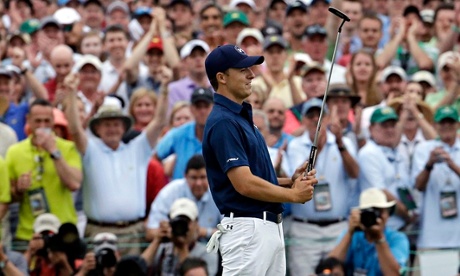 When he was an emerging professional, Spieth returned home to Dallas from every tournament with a gift for his teenage sister, who has special needs. How Ellie will cherish a Green Jacket, every bit as much as the brother who dotes on her and cites her as his personal inspiration.
More striking than Spieth's apparent disregard for the pitfalls of this venue was his unwillingness to be overawed by those seeking to overhaul him. At the start of the final day, when holding a four-shot lead, Spieth himself could not possibly have ignored fevered chat about how such margins can rapidly vanish. Rory McIlroy, in 2011 and on these very premises, offered a case in point. Spieth himself had let 54-hole leads slip through his grasp on four previous occasions.
In Justin Rose and Phil Mickelson Spieth had two major champions in close pursuit. It may as well have been 15 handicappers, such was the frontrunner's approach. He made mistakes – in dropping shots at the 5th, 7th and 12th – but these were counter-balanced precisely where opportunity arose.
Given he was six clear with seven to play, that final dropped shot was hardly relevant. Just on the off-chance it may have been, Spieth hit a wonderful second shot to a dozen feet at the par-five 13th. The victory march lasted five holes. Anticlimactic? Perhaps but that is simply another reason to laud the irrepressible Spieth.
Rose proved the most serious danger to the champion. The Englishman would probably have been delighted with a 14-under-par aggregate if it had been offered to him on Thursday morning but, alas, it was not enough. The final glimmer of hope extinguished for Rose on the 16th green, where Spieth completed merely his latest, nerveless up and down for par as a birdie putt from his playing partner slid by. When Rose made a bogey on the last, he slipped into a share of second with Mickelson.
Just when Mickelson needed a fast start, he could not produce one. A front half of 36 was not sufficient to apply pressure nor, ultimately, was a fourth round of 69. Typically, there was a late rally courtesy of a chip-in eagle on the 15th. Yet Mickelson simply ran out of holes. This marks the 11th time he has been inside the Masters top five.
The 44-year-old now turns his attention to another bid to secure the one major which has somehow escaped him, the US Open, which takes place at Chambers Bay in June. The emergence of youth seems to stir Mickelson's already strong competitive spirit. He is as worthy of respect as ever.
The remainder of the leaderboard was stellar. McIlroy's fourth, sealed with a 66, represents his best Masters finish. "I don't think anyone could have kept up with Jordan this week," he said.
Hideki Matsuyama, a brilliant talent from Japan, signed off with the same score to lie one adrift of McIlroy at minus 11. Paul Casey and Ian Poulter tied at nine under par, easily earning top-10 finishes, as did Dustin Johnson on the same score.
Woods, who exited with a 73, was far too caught up in his own business to focus on Spieth's manner of victory. There were parallels, though, to when the 14-times major winner used to see off all before him with consummate ease. As literally a child of the Woods era, Spieth will take such comparison as the ultimate compliment. Unlike the man he once dreamt about even partly emulating, Spieth has the world in front of him. Golf has entered a fresh, captivating era; Jordan Spieth, now ranked second only to McIlroy, is at its forefront.