For Rory McIlroy, a fourth major championship, the reclaiming of the Wanamaker Trophy and proof that he can indeed do it the hard way. Back-to-back major successes and a third tournament victory in a row endorse McIlroy's status as the best player in the world. This is Rory's time. The dawning of a new golfing era.
For anyone fortunate enough to watch the conclusion to the final major of 2014, there were memories that will not fade away quickly.
If anyone tries to belittle the US PGA Championship as the least significant of golf's four majors – and plenty do – the closing day of the tournament's 96th version will provide the strongest of antidotes. The bare facts, a McIlroy 68 and one stroke victory at 16 under par, do not even scratch the surface.
McIlroy's triumph was so brilliantly deserved given the epic battle he had on his hands when three shots adrift of Rickie Fowler with nine holes to play. By the time this gifted Northern Irishman holed out for birdie at the 17th, he led by two and wasn't to be caught.
"I didn't think in my wildest dreams I would have a summer like this," said McIlroy after sealing victory.

"To win a fourth major here, to be one behind Phil [Mickelson], one behind Seve [Ballesteros], level with Ernie [Els], level with Raymond Floyd; I never thought I'd get this far at 25 years of age.

"It's something that I'm just going to have to come to terms with. I was happy being a two-time major champion coming into this year, and all of a sudden I'm a four-time major champion."
In an unprecedented scene, McIlroy's group drove from the 18th tee with Fowler and Mickelson standing aside up ahead; fading light had become a serious issue. In keeping with all that had gone before, McIlroy came perilously close to sending his tee shot into a water hazard before firing shot two into a sand trap. Mickelson almost holed his chip from the front of the green, which would have tied the leader's score. McIlroy had to two-putt from 61ft for glory and tapped in for par in near darkness, bringing finality to an afternoon which had ripped and roared along.
Whereas this year's Masters, US Open and Open Championship have provided Sunday non-events due to runaway winners, this offered the opposite scenario. The custodians at Augusta National will bristle at a Kentucky denouement which represented everything the Masters should stand for. Excitement was provided on a shot by shot basis. It was the very definition of major championship golf, which ran right to the 72nd-hole wire. This was the most engrossing spell in this sport since day three of the 2012 Ryder Cup at Medinah.
Fittingly, on the outskirts of a city renowned for its racing derby, thoroughbreds by the names of Fowler, Mickelson, McIlroy and Henrik Stenson charged down Valhalla's closing stretch.
It was not solely on account of high humidity levels that serious levels of energy were expended. It was gripping stuff, the finest closing round of this and many other years. Proof, if needed, was supplied that there will be golfing life on the biggest stages without Tiger Woods. McIlroy's second shot to the 10th, a three wood from 281 yards which set up a converted 7ft eagle putt, is the best you will see anywhere all season.
That was the point from which a wounded McIlroy stirred. By the 16th fairway, the 25-year-old led by one; up ahead, a Mickelson pitch had hit the hole before he missed the subsequent putt for par. Fowler, who had held such a commanding position, had suddenly started to wobble. On the penultimate hole, McIlroy found a bunker with his drive but hit to 10ft and slammed home the putt.
After McIlroy had played four holes, he was involved in a five-way tie for the lead. Fowler chipped in at the 5th to steal the lead, Mickelson joined him on the 7th but only for seconds as the youngster skipped ahead again. Through six holes, McIlroy was two over par and struggling for inspiration.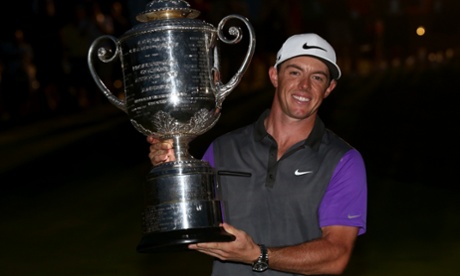 Just when McIlroy's race seemed run, he summoned up the spirit to fight again with a flawless back nine of 32. Stenson had started the day four adrift of McIlroy but made an early surge which left him in position to hang around until close of play. He duly did; the Swede needed at least a birdie on 18 but hit his second shot into a horrible, muddy lie, which meant he could manage no better than par.
And yet, Sunday had threatened to regress into literally a non-event. An inch of rain fell on Valhalla within 45 lunchtime minutes, prompting genuine fears that the championship could restart before a fifth day. The sterling work of greens staff limited the delay to under two hours but there was some griping from players about the PGA of America's refusal to allow preferred lies. Lift, clean and place has never been permitted in the history of major championship golf but there was a strong case for tradition being broken this time.
"Common sense has to prevail at some point," said Graeme McDowell after he closed with a 69.
Ernie Els made a stirring fourth round charge with a 65 which had him flirting with the leaders before that quartet pressed on accelerators on the back nine. Jim Furyk's 67 meant a tie for fifth.
Others to exit the scene before the true theatre played out included Ian Poulter. It remains a no-brainer that the Englishman, a Ryder Cup icon, will be selected as a wildcard pick to face the United States next month but Poulter still has a chance to qualify for Paul McGinley's team automatically.
Poulter's 72 to close at Valhalla was notable for a triple-bogey seven at the 12th. He had played the front nine in 32 but came back in eight strokes more. He will now enjoy a week off before returning to competitive action for the FedEx play-off series. Poulter joined his captain, McGinley, in playing down the significance of a string of injuries and other selection issues for the United States.
"It's a Ryder Cup and whether it's a weak team or a strong team? It doesn't matter who is playing, who is not playing," Poulter said. "It is still going to be a really difficult week.
"Whether we are the favourites is irrelevant. We have seen guys go there and demolish people that are much higher in the world rankings. It doesn't mean anything, really, when it comes down to it."
Scotland's Mark Warren carded 67 for his latest top-20 major finish. Brooks Koepka, who signed for an identical score, secured likewise. Lee Westwood's 69 will be of note to McGinley; given another prominent finish in a big event for the 41-year-old.
If they had any sense, the early finishers would have immediately propped themselves up in front of a television; golfing days like these do not come around very often. Unlike McIlroy major victories, that is.