"At times," says pub landlord Kevin Gardner, "it can be like standing under a cold shower ripping up £50 notes. But when you get that bite, it's just explosive – everyone on the boat is screaming and shouting, the fish is jumping, it's mayhem. It's fantastic. You can't explain it until you've done it."
The pumped-up pleasures of catching a monster of the deep were etched in Vladimir Putin's features this week after the Russian president was photographed with a humungous pike he had apparently hooked on a fishing excursion to Siberia. Not to be outdone, his counterpart in Belarus, Alexander Lukashenko, then boasted about reeling in a 126lb catfish. It is no longer enough to spend a tranquil day questing for a 2lb perch; fishing must now be an extreme adrenalin sport, travelling to the ends of the earth to land rare or gigantic leviathans. Robson Green's Extreme Fishing programmes have enjoyed huge success on Channel 5, while fishing's latest figurehead is Jeremy Wade, an authentically grizzled British biology teacher turned fisher-king who spent decades pursuing elusive underwater prizes before finding TV stardom with Discovery's River Monsters. The Animal Planet series has won the channel's best-ever audience figures in the US; Wade is now feted on US talk shows and idolised by small boys.
If Putin's 46lb pike is the high-water mark of extreme fishing, it may also be the moment the Russian president jumped the shark. His latest PR stunt was greeted with incredulity by social media mockers, who doubted the size of the pike and whether he really landed it. Recreational fishing has always been riddled with disputes over gargantuan catches, but many anglers are more profoundly troubled by the ethics and iffy image of "extreme fishing".
Captain Ahab, the whale-ship captain who so obsessively hunted down Moby Dick, was literature's first extreme fisherman, but the romance of pursuing big fish was popularised by Ernest Hemingway in The Old Man and the Sea. The novel that brought Hemingway international fame – as well as a Pulitzer and a Nobel prize – tells the epic struggle of a luckless old fisherman whose line is finally nibbled by a mighty marlin after 84 days of catching nothing.
"The line rose slowly and steadily and then the surface of the ocean bulged ahead of the boat and the fish came out," wrote Hemingway. "He came out unendingly and water poured from his sides. He was bright in the sun and his head and back were dark purple and in the sun the stripes on his sides showed wide and a light lavender. His sword was as long as a baseball bat and tapered like a rapier … "
Inspired by Hemingway and made possible by motor boats and aeroplanes, extreme fishing is now a big business. Like surfers on a pilgrimage to find mystically mammoth waves, extreme anglers journey to obscure and dangerous waters to find secretive subterranean behemoths. The less intrepid visit resorts in Thailand stocked with huge (and critically endangered) freshwater species from around the world – 400lb arapaima, 300lb Mekong catfish and 200lb freshwater stingray.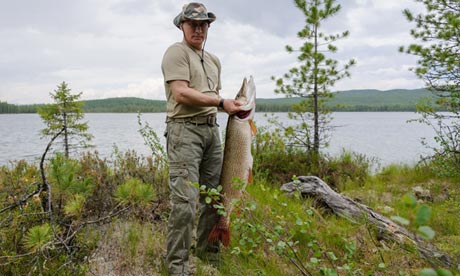 Justin Maxwell Stuart, who arranges global fly-fishing experiences, was inspired to create Where Wise Men Fish after watching angler John Wilson on TV in the 1990s. "At the end of one series he was seen disappearing down an Indian river in a little coracle attached to a 60lb fish. That was a very cool thing to do," he says. Maxwell Stuart, who typically sets up high-end saltwater fly-fishing in the Bahamas for $4,000 per person per week (alcohol included), says it is a misconception that big-game fishermen (and it is mostly men, although Maxwell Stuart gets scolded by the occasional woman angler who takes offence at his company name) have more money than sense. Many extreme fishermen are "working-class guys – butchers, carpenters – who just love fishing", he says.
Kevin Gardner agrees. His extreme angling friends are ordinary blokes. "None of us are rich, we live in modest homes. This is what we do." Gardner's 25-year love affair with marlin began when, aged 24, he pitched up in Cairns, Australia, to seek out black marlin, having sold his home to fund the trip. Saving for a trip once every two years, his Hemingway moment arrived off Ascension Island in February this year: his line tweaked with a 1,320lb blue marlin and he fought for three hours to reel it in.
"You need to be a decent angler and know when to let go and when to crank up the pressure," says Gardner of the art of extreme fishing. It also requires brute strength. Strapped to his rod, Gardner felt a great burning in his legs as he strained against the power of the marlin. Some anglers who hunt them are pulled over the side of their boat; others suffer heart attacks. In this case, however, it was the fish that died before it could be returned to the water, and so it was brought to land and photographed, its sword-like bill cut off for a trophy.
For some critics, this is as unsavoury as big game hunting on land – a cruel, macho hobby that traduces fishing's tranquil traditions. Having a big fish on your line may be exciting, says Jim Masters of the Marine Conservation Society (MCS), but that is because the animal thinks it is going to die. Like Gardner's marlin, many fish die in these epic struggles, exhausted after hours of fighting on a line or pulling a boat through the water (as Hemingway's marlin did).
Like many people, Masters became interested in conservation through his passion for fishing, and believes the sport – and its TV incarnations – can educate and inspire others to do the same. "I really like fish. I really respect them. I'm still happy to catch them, but I want to know they came from a healthy marine environment and I am not endangering their stocks in any way," he says. The MCS is particularly concerned about the welfare of big fish, and the hunting of endangered or slow-growing, deep-water species (such as the Greenland shark caught by Jeremy Wade in a memorably preposterous River Monsters episode in which he sought out the Loch Ness Monster). Masters wishes extreme fishing's television stars would discuss conservation more explicitly. "I don't want to see people wrestling with a marlin for their own satisfaction, just to make themselves look big and tough – I don't think that serves any conservation purpose – but if they can weave in stronger conservation messages, we'd welcome that."
Mark Lloyd, chief executive of the Angling Trust, welcomes the airtime given to fishing but says the extreme shows don't reflect the real wonder of fishing. "In the past, Robson Green has used techniques, such as shooting fish with a bow and arrows, that are abhorrent to most anglers, for whom the welfare of the fish is paramount," he says.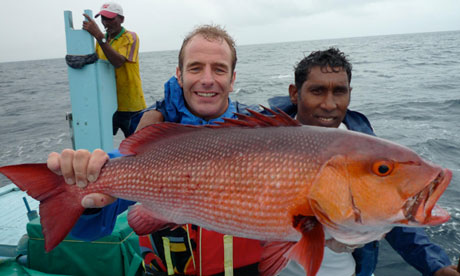 The angling author and broadcaster John Bailey – like Wade, a former teacher – has fished in 64 countries, caught enormous fish and lost even larger ones, including a Beluga sturgeon estimated to have weighed 1,800lbs. "I feel a little bit hypocritical saying the Robson Green, Jeremy Wade thing is a bit bollocks … but it is a bit bollocks," says Bailey, who knows and respects Wade. "I don't like this idea of gung-ho blokes travelling around the world ignoring their carbon footprint and smashing big fish all over the place. I don't think it's doing fishing any good."
When Bailey pursued his sturgeon it was "a six-hour ordeal for both of us," he says. "I remember thinking that did me no good, and it certainly didn't do the fish any good." Catching a fish that weighs more than a man is "much more stressful" for that fish than, say, reeling in a 5lb carp because of the disparity in body weight, reasons Bailey. "Whatever fish you catch may be going through the same process, whether it's a a 10lb carp or a two-ounce roach," argues Gardner. "If you feel that way about fish, you shouldn't be fishing."
Bailey, who prefers guiding enthusiasts to secret spots in Norfolk these days, is increasingly concerned with conserving fish in Britain. "To give the debate over to Robson Green trying to catch some man-eating turtle fish in Ethiopia is ignoring a massive situation on our own doorstep," says Bailey. "I genuinely think that the only people who care about fish are fishermen. Without us, our waters would be in a very difficult position. It's all about education, conservation and respect – and realising that fish have a huge amount of dignity and beauty."
Chris Yates is one of the most beautiful of writers on fishing, an angling legend who caught the first 50lb-plus carp in Britain and presented A Passion for Angling, which celebrates its 20th anniversary next month, and is still considered the best-ever television programme about fishing. Part of the problem with extreme fishing shows is the nature of modern television, thinks Yates. "They are tearing apart whatever the beauty of the subject is and showing one populist image," he says. His series took four-and-a-half years to film. "No one in their right mind would make a TV film about fishing. I was insane to agree to do it. Fishing doesn't translate into TV, unless you can somehow convey the sense of tranquility and mystery, as [A Passion for Angling's filmmaker] Hugh Miles managed to do. There's this mystery about why you are doing it and there's this unknown world happening below the surface of the water, and your line is connecting you to it."
Yates says the way people travel the world targeting huge fish "misses the point entirely". Then again, at some point all anglers, he suspects, succumb to an "Ahab complex", like the whaling captain who obsesses over Moby Dick. "Every fisherman dreams of getting that monster fish," he says, "even the ones who really do appreciate that you can fish yourself into a parallel universe."
The previous night, a warm, calm summer's evening, Yates stepped out of his home in Dorset and sat with his rod by a pool until gone 2am. "When the line moved, there was a little blister on the surface of the water, lit by the moon. You think, 'What is that?' and it can be completely terrifying. Even after 50 years of fishing, that makes my heart stop. That's my extreme fishing – getting into an intimacy with this unknown world and not knowing where it's going to lead, and what apparition you will behold."