Unions representing more than 100,000 NHS staff are threatening strike action in protest against what they say are insultingly small pay rises following the government's decision to backtrack on its promised 1% increase for all personnel.
Unite, which represents about 100,000 staff, including paramedics and scientists, plans to consult them about possible industrial action over the settlements announced on Thursday, which will deny 615,000 staff – about 55% of the total non-medical NHS workforce in England – the 1% rise.
"We will be consulting with our members about the possibility of industrial action," said Rachael Maskell, Unite's head of health.
She criticised Jeremy Hunt, the health secretary, for rendering the NHS pay review body "defunct" by ignoring its recommendation that all NHS staff should get a 1% consolidated pay rise, in line with what George Osborne, the chancellor, said last June public-sector workers should receive.
Instead Hunt had adopted a "divide and rule" policy in which those 615,000 staff will receive their usual annual increments but no actual pay increase, and the other 550,000 will get a 1% a year rise for each of the next two years, but as "additional income" rather than as a consolidated increase in their salary.
The GMB, which represents 30,000 NHS staff, ranging from paramedics to community nurses, said it too would ballot its members over an offer it described as "a personal insult" to the workforce.
"GMB members will not stand aside whilst the government makes such direct attacks on their pay and conditions," said Rehana Azam, the union's national officer for the NHS. "GMB will immediately begin making arrangements to consult members who will be asked to vote in a consultative ballot to decide the next steps in this dispute."
Danny Alexander, the chief secretary to the Treasury, said the government needed to press ahead with public-sector pay restraint and that the decisions would save £200m from the NHS budget in 2014-15 and £400m in 2015-16.
Christina McAnea, head of health at Unison, said: "This coalition government has taken a scalpel to the pay body's report and won't escape the anger of NHS staff. It's a disgrace that 70% of nurses will not even get a pay rise this year. What sort of message does this give to the value this government places on dedicated NHS staff?
"The government has shown complete contempt for the NHS, contempt for staff and contempt for patients and will pay the price at the ballot box. Even a straight 1% increase would be nowhere near enough to meet the massive cost-of-living increases that NHS staff have had to cope with since 2010. Staff are on average 10% worse off than when the coalition came to power."
Peter Carter, general secretary of the Royal College of Nursing, said loyal staff were being treated with contempt.
He said: "The government is once again ignoring the independent pay review body, holding the Agenda for Change pay system to ransom, while expecting NHS staff to be grateful while their contractually-agreed terms of employment are torn up.
"Less than half of nursing staff at the top of their pay increment will get a paltry 1% rise, following three years of pay restraint. The rest will simply get what they are contractually entitled to, if they can demonstrate they have developed their skills in the previous year."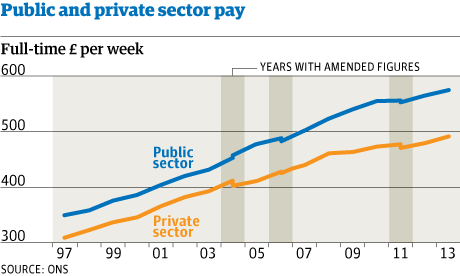 In a BBC interview during his trip to Israel, David Cameron was asked why he did not feel all NHS staff were worth a 1% pay rise.
Cameron replied: "NHS staff are worth a 1% pay rise and everyone in the NHS will get at least a 1% pay rise, either through the 1% raise or through the progression payments that they otherwise receive.
"But let's look at the big picture here. It is right to make difficult decisions about public-sector pay. It is good that it is increasing and not frozen but it is right to take those difficult decisions because it means we can keep more people employed, we can keep more people in work, and make sure we spend money on vital treatments, on hospitals, on delivering services, which is what patients so badly want."
The government set out how it would implement pay rises for 2014-15 after it asked the pay review bodies of public-sector workforces to examine how a 1% increase could be applied.
In addition to the NHS decision, the government announced a 1% increase for members of the armed forces, contractor doctors and nurses, and members of the judiciary.
Departments will award a 1% increase to senior civil servants on a discretionary basis and a 1% rise will be awarded to the majority of prison officers. Police and crime commissioners will receive no increase.
Alexander also announced that £1bn in employer public pension contributions would have to be paid by individual government departments rather than from the Treasury's central annually managed expenditure pot. This will give Osborne an extra £1bn in next week's budget, which he could invest in infrastructure.
But it also means individual departments will have to make a greater contribution to pensions.
The Department for Education will have to pay an extra 2.3%, working out at £330m in 2015-16 and £560m in 2016-17.
For the civil service it will mean an extra 2.2%, working out at £275m a year from 2015-16 onwards. For the NHS it will be a 0.3% increase, working out at £125m a year from 2015-16.
The Treasury chief secretary said of the 1% pay rises: "Public-sector workers make a vital contribution to the effective delivery of public services. We need to continue with public-sector pay restraint in order to put the nation's finances back on a sustainable footing. We are delivering on our commitment to a 1% pay rise for all except some of the most senior public-sector workers."
Downing Street suggested that public-sector pay restraint would continue for years to come.
Asked how long it would last, the prime minister's official spokesman said: "We have taken difficult decisions and those will have to continue going forward and into the next parliament … We have departmental budgets set through to 2015/16 and the government has plans to deal with the deficit by 2017/18, our fiscal plans. But look, it will continue into the next parliament, yes."
Asked whether that meant public-sector workers would see real terms pay-cuts for the next four years, he said: "In terms of today's announcement there were some people who received progression pay of an average of around 3%, in the NHS. I'm going to stick to what I had to say about the fact we have been clear about difficult decisions."
He also urged unions to talk to the Department of Health and NHS England rather than go on strike over the decision not to award a 1% pay rise to staff on progression pay.
"We have trade union legislation and a framework in which trade unions can take their decisions, but the prime minister's very clear view is that he always opposes actions which gives disruption to the public," he said. "I think there will be a recognition across the country that this is a difficult decision, I think everyone will understand that."